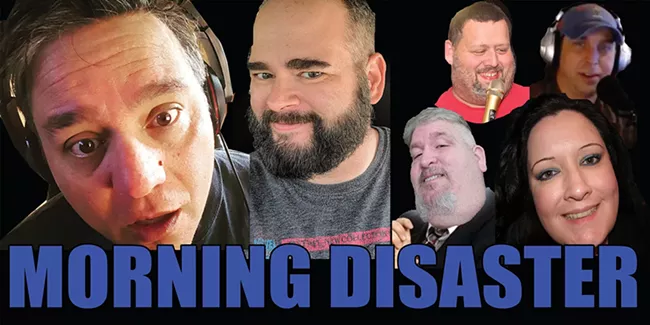 Long a staple on the Springfield-area radio scene, Ray Lytle moved into the internet radio world more than five years ago and brought his popular Morning Disaster program along for the wild ride. Basically, the podcast our readers voted to be the best is a variation of the irreverent talk show that Ray "the Master of Disaster" is known for and successfully produced live on air for decades.
Recorded for posterity and available at www.morningdisaster.net, you can listen to the very first podcast from May 18, 2015, when, according to information on the link, "after 10 long years, a sound from the past returns to the internet" all the way up to, well, whatever Ray and his cast of characters are talking about today.
Some of the crew Ray had on the popular WQLZ show that started all this wonderfully nutty behavior crop up now and again, plus there's a never-ending revolving cast of interviewees, crazy call-ins and much more, including silly stories about the late Jim the Photographer and whatever pops into the funny, fertile and seriously comedic, irreverent mind of Ray Lytle. Show participants listed on his website currently include Sh*t Stain Steve, Niki (she's been a Disaster worker since the 90s), F'ing Jason and Shawn Balint, plus Fat Nick and Fit Nick, who are two different Nicks that Ray brings on the show.
The strength of this unscripted, unpredictable and sometimes unbelievable online-radio-show-turned podcast rests on the perky and quirky personality of Ray as he tries to help us make sense of this wild and wooly world in which we live while interacting with these fellow disaster-makers. Our readers agree enough with that to say this is the best we have, and we're all good with that, too.