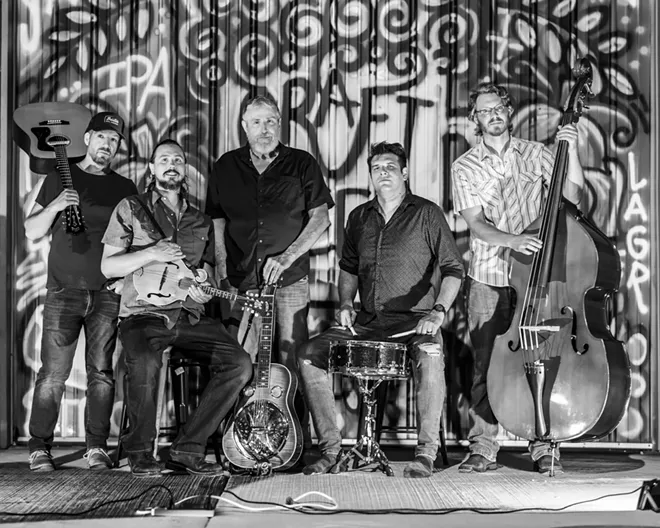 Hey there folks, saddle up for a big ride this weekend as there are more things happening than you could shake several sticks at, if you were ever so inclined to do such a thing.
Let's begin with the three-day celebration of 3Sixteen Wine Bar's fourth anniversary featuring – what else – live music to enhance and enrich the party. The inimitable Micah Walk performs on Friday night (6-9) and the Buddy Rogers Jazz Trio with Jose Gobbo and Ben Taylor improvises the jazz on Saturday (6-9), while Rhodes and Battles play in sweet harmony on Sunday (4-7). Congratulations on the four years, and thanks for keeping the music going.
On Friday night, a world-class, platinum-selling, heavy-hand band for the ages, Saliva, takes to the outdoor stage at Danenberger's Family Vineyards. This is a real-deal, world-renowned band and anyone who's heard them gets it. Inner Outlines, Influence and John Kennedy & the Multiple Shooters complete the loaded lineup, so visit the DFV website and get your tix now before you miss out.
Next up, there's a BuzzFest Squared Oktoberfest happening this Saturday at the Buzz Bomb Brewing Co. in downtown Springfield. The all-day street fest starts at 2 and goes on into the wee hours in part to salute Buzz Bomb buzzing around for some three-and-a-half years.
For the second part of the celebration, our very own homegrown band, Square of the Roots, plays a release party for their recording debut, "Unincorporated," while incorporating some very special guests for this very special occasion. Chicken Wire Empire headlines on the street stage, along with performances by Joshua Reilly, Peaches & Bacon and Randy Charles, plus Colt Ball plays inside after the outdoor festivities conclude. Go to the brewery website for the buzz on VIP seating, regular tickets and scheduling.
Fans of the now decades-old alt-country scene will be familiar with Wales, UK native and longtime Chicago resident Jon Langford of the Waco Brothers, the Mekons and other bands. Jon, joined by John Szymanski, will do two acoustic sets (11 a.m. and 2:30 p.m.) at the Abraham Lincoln Presidential Library and Museum in the main indoor plaza on Saturday, Sept. 25. The show is included with your museum admission fee.
There's another ALPLM show next Thursday, Sept. 30, when the Red Prairie Ramblers, a traditional, old-time folk and country band dedicated to playing and preserving rare southern and central Illinois songs and fiddle tunes, plays a ticketed event in the Union Theater. All this compliments the current museum exhibit, "The State of Sound: A World of Music from Illinois," which focuses on the history of music made in the Prairie State.
At Weebles, on Saturday, Sleeping Dogzz – after only 25 years of playing (haha) – are retiring to the doghouse, and this is the farewell gig. The current lineup welcomes three previous members to the stage for one last hurrah during this momentous occasion. You'll get only two more chances to catch these Dogzz, Oct. 17 at Weebles for a Crimestoppers benefit and Oct. 29 at Koo Koos 2 for the final gig, so get to going.
On Saturday, friends of pets unleash the Chatham Paws-a-Palooza in Community Park for a "pet-friendly (on leash) and family-friendly event" with plenty of live music, plus the St. Louis Disc Dogs, a pet/owner costume contest, animal shelters with adoptable animals, refreshments and other fun stuff. Groove Daddies go at 1 p.m., Dave Littrell is on at 3 and Wolf Crick Boys hit at 5:30 p.m. Oh, did I mention the big kite festival, too?
Well now, who says, there ain't nuttin' to do in this ol' town?