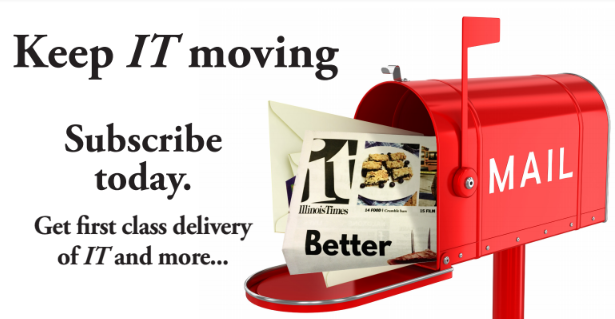 Like everyone else, the staff at Illinois Times has been impacted by the coronavirus crisis. While we've all stayed healthy so far, we have family members and friends who have been diagnosed with COVID-19. Our business, like so many others, has suffered a significant financial blow as a result of the pandemic. However, unlike the many companies who were forced to close as part of the statewide shutdown, we are considered an essential service and we continued to publish every week, just as we have for more than 40 years now.
In the past few months, Illinois Times has been busier than ever:
Our staff writers, Bruce Rushton and Rachel Otwell, have published more than 30 stories on the local impact of COVID-19.
With many public meetings now taking place virtually, it's more important than ever to keep the community informed. Whether it's the Springfield City Council, Sangamon County Board or District 186 meetings, our reporters are letting readers know about decisions being made and holding elected officials accountable.
We are emailing In Case You Missed IT newsletters every Friday and Monday with roundups of the week's top stories and online events. Click here to subscribe to the newsletter.
Speaking of events, our calendar editor, Stacie Lewis, has transitioned our popular events and live music listings to include virtual events and online resources, in addition to live happenings. Submissions can still be sent to calendar@illinoistimes.com.
Music columnist Tom Irwin and film reviewer Chuck Koplinski are both still writing their weekly columns, but now focusing on music and films that you can watch at home, in addition to live music happening around town.
Our marketing team is working with our advertisers to tweak their messages to let potential customers know how they've modified their operations.
We've compiled an online directory of local restaurants offering outdoor, takeout, delivery and curbside pickup.
Our drivers have continued to deliver print editions of Illinois Times each week to locations that are still open to public access.
Whether you're still not leaving the house much these days or simply want to be a friend of the paper, we've rolled out a subscription program that allows you to receive first-class delivery of the IT print edition to your home or office for the next 13 weeks. Visit illinoistimes.com/subscribe for details.
How you spend your money matters, and supporting local businesses is the best way to help support and preserve our community.
Michelle Ownbey, publisher
If you prefer to mail a check, please do. It will save us on credit card processing fees. Send the contribution along with your contact info to:
Illinois Times
Subscriptions
1240 S. 6th St
Springfield, IL 62703