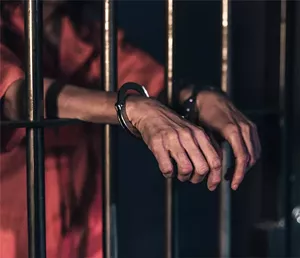 When they were young, they murdered and were sent away to prison. Now they are old, infirm and still incarcerated.
The Illinois Prisoner Review Board has voted to parole some of these individuals. And those votes have thrown the once obscure, Springfield-based board into controversy.
Illinois has been phasing out parole since 1978. Anyone sentenced after that year is not eligible to appear before the board to be considered for an early release. Over the past 44 years, the number of parole-eligible inmates has dropped from about 15,000 to about 50.
"We are basically talking about a bunch of old men in wheelchairs. They don't pose a threat to society anymore. The question is whether they should be allowed to go home and die with their families," said Bill Ryan, a longtime prison-reform advocate, who lives in Westchester, Illinois.
In recent years, the board has released some high-profile inmates such as the Starved Rock killer, Chester Weger, who is believed to have killed three women who were hiking together in the state park in 1960. He was tried and convicted in the murder of one of the women. He has since stood before the parole board more than 20 times but did not gain release until 2020 at age 80.
A group of Republican lawmakers led by state Sen. Steve McClure, R-Springfield, have objected to the board's action's and worked to block making the temporary appointments of some board members permanent.
"The real catalyst for this controversy is that they began releasing people that are the worst of the worst," the former Sangamon County prosecutor said.
McClure said it's not just a matter of whether the inmate continues to pose a danger to society, but also whether an early release would diminish the seriousness of the crime.
"Some people on the Prisoner Review Board were voting to release almost 50% of the people up before them. And these are people who murdered police officers. One of the cases was a man who attempted to rape two women. And one of them refused, and he shot her in the face. Four years before he was up in front of the Prisoner Review Board, he threatened a state's attorney. So, these are people found guilty of committing heinous crimes in which they should never get out of prison. But they also have shown demonstratively that they have not been rehabilitated."
Jennifer Soble, executive director of the reform group Illinois Prison Project, said it is unfair to judge a person's entire life based on the worst thing they have ever done.
"I would really hope that we live in a society where we celebrate and encourage growth, rehabilitation and transformation and acknowledge that no one is the worst thing that they've ever done and that everyone has the potential to contribute to our greater community."
Katrina Baugh, campaign director for Parole Illinois, said the legislative and media focus on the handful of inmates eligible for parole overshadows the larger responsibilities of the board.
When Illinois moved away from the parole system in the 1970s, it adopted a "good time" formula that allows for prison sentences to be reduced based on an inmate's behavior behind bars.
But when an inmate misbehaves, the board determines how much time to add back on to their sentences. Also, when any prisoner is released from the Illinois Department of Corrections, they go through a period of mandatory supervised release. The board sets the individual terms of supervisory release for each prisoner such as whether they are electronically monitored or when they are allowed to leave their homes. They also determine whether they should be returned to prison if they violate any of the rules.
Baugh added that legislative "grandstanding" on the few remaining inmates eligible for parole is a distraction from the other serious work done by the board.
"That is less than 1% of what the Prisoner Review Board does," Baugh said. "It's hard for other people to understand that because they're not looking at the whole person; they are literally just looking at the headline of whatever crime they committed 50 years ago.
"That person may only have six months to live. They're confined to a wheelchair. There is literally no way that they could present a threat to public safety and they have family that's been suffering for the last 45 years in their absence."
But Republicans say Gov. JB Pritzker has been playing games to place more lenient members on the board and avoiding the required confirmation by members of the state Senate.
The Illinois Constitution allows for the governor to appoint individuals to serve on the 15-member Prisoner Review Board. Once an appointment is made, the appointee can begin serving as long as the Illinois Senate confirms their appointment within 60 session days.
But during the past two years Pritzker has sidestepped the Senate. Once appointees were nearing their 60th session day, he withdrew their appointments. Days later, he would reappoint them, resetting the 60 session days.
The practice came to a head this month after the Senate rejected two Pritzker appointees and several others withdrew from consideration. This dropped the board's membership down to six – below the quorum needed to take any action.
In the waning hours of the legislative session, the Senate approved two new appointees: Rodger Heaton and Robin Shoffner, whose terms begin May 1. Both candidates received unanimous support and will give the board the eight members required to operate.
Heaton previously served as the U.S. attorney for Illinois' Central District and as former Gov. Bruce Rauner's chief of staff. Shoffner held a subcircuit judge position in the Cook County Circuit Court system.
Among the Pritzker nominees who withdrew their names from consideration after "temporarily" serving on the board was Max Certa, who had served time in prison for killing two people.
"One of his first votes was to let a cop killer out who he served time with in the Department of Corrections," McClure said. "He obviously had a conflict of interest."
But Soble, of the Illinois Prison Project, said Certa brought valuable perspective to the board. She noted that the Chicagoan has been out of prison for decades and dedicated himself since his release to ending the cycle of violence.
"He is an amazing human being, a real pillar of his community. He has done nothing but dedicate his life to his community and to kids who might get wrapped up in the criminal justice system. That's exactly who you want on the board. ... He brought this depth of experience, which I think was extremely special. It's really horrific that some senators have politicized his story and his journey."
Scott Reeder, a staff writer for Illinois Times, can be reached at sreeder@illinoistimes.com.