Harris "Buzz" Hatcher, 70, of Springfield, invited me on a tour, saying, "I want to tell you about the Hickox family." I was intrigued, since I had conducted research about homes the Hickox family owned over generations.
We stand at Fourth and Cook in front of the Hickox Apartment complex, which is listed on the National Register of Historic Places. Hatcher explains, "My grandfather, Harris Virgil Hickox, built these apartments in the 1920s."
The Hickox Apartments, four separate sections built over a decade, were luxury apartments that attracted the upper middle class and offered lobby staff and guards, its own ice plant and heating system, even a self-service elevator, the first in the city. Many ads ran in the newspapers during the 1920s listing apartments for rent.
Hatcher leads me a few yards west on Cook to a parking area tucked in between the apartments at Fourth and those next to the railroad tracks. "This is where my grandparents' house stood. You could walk from the house into the apartments through an archway." He then points across the parking lot. "You can still see a large smokestack (dating to 1918); that was for the coal-fired boiler."
We head to a separate building in the back of the complex near the Third Street railroad tracks. Hatcher continues, "This was the parking garage for the residents of the apartments. There was an elevator that lifted the cars to the second story. It is no longer in use."
We then walk north along the tracks, and Hatcher points to the back of a house with no windows. "My grandfather built this house during the 1950s. He didn't think anyone would want to look out on railroad tracks so he covered the back side with concrete. My family was living in the apartments and planned to move into the house, but we never did." The front of the home at 619 S. Fourth is a beautiful two-story, red brick structure. As we continue walking, Hatcher says, "I was named after my grandfather; he was called Buzz, too. His brother couldn't say 'brother' – it came out 'buzz' so the name stuck."
Fourth Street might just as well be called Hickox Avenue. In the 600 block, Harris Virgil Hickox built most of the buildings on both sides of the street and lived at several of the houses on the west side throughout his lifetime. He grew up in the home where John Todd Stuart, Lincoln's law partner, had once lived (site of the Mansion View Inn today). Another residence, a two-story home, still standing, at 611 S. Fourth, is in need of major repair. It was built in 1856 by William Wardell and purchased by J. Taylor Smith about 1864. It has 13-foot ceilings, marble fireplaces, a circular staircase and a circular drive in front of the home. Harris Virgil Hickox added the drive; he mixed brick dust into the cement, creating a pink hue.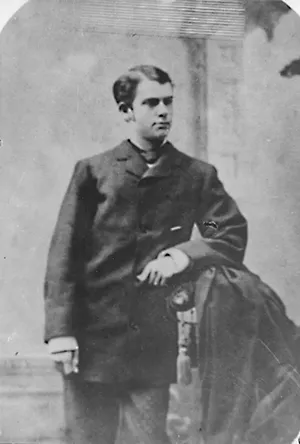 The Harris Virgil Hickox family later lived at 605 S. Fourth, once the home of John Condell (1818-1907), an owner of a downtown shop often patronized by Mary and Abraham Lincoln. Condell moved the house, built in 1842, to this location from Fifth and Monroe in 1852. It is now being renovated.
The Hickox family history in Springfield begins in 1834 when Virgil Hickox (1806-1880) arrived here from New York. He and his descendants, Harris Hickox (1858-1931), and Harris Virgil Hickox (1889-1972) left their mark on Springfield.
Virgil Hickox opened a mercantile store on the square that he operated for 19 years and in 1839 built his home at 518 E. Capitol Avenue. Additions were often made to the building, now on the National Register of Historic Places. It once housed the Sangamo Club, had a speakeasy in the basement during Prohibition, and, starting in 1938, housed Norb Andy's restaurant, which catered to politicians and locals for decades. Today it is the site of Anchors Away restaurant. Across the street from the home is a historical marker that tells its history.
Virgil Hickox was a friend of Stephen Douglas and often hosted Douglas when he came to Springfield. As chair of the Illinois Democratic Committee, Hickox aligned with Douglas, although he was on cordial terms with Abraham Lincoln. Hickox joined with other businessmen in 1851 to develop railroad service from Alton to Springfield and worked until 1874 to secure a rail extension to Chicago. He served as director of the Old State Bank from 1839 to 1841 and was president of Springfield Savings Bank, formerly at Sixth and Capitol, from 1874 until his death in 1880. In 1869, Governor John Palmer appointed him commissioner in the Office of the Canal, a position that put him in charge of contracts for the Chicago canal, separate from the Illinois and Michigan Canal. Hickox was also one of three men who laid out the city of Lincoln, Illinois.
Virgil and his wife, Catherine, had 10 children, six of whom survived to adulthood. One son, Charles, was in the coal business. He married Kate Chatterton, whose father ran the famed Chatterton Theater (now the site of the Abraham Lincoln Presidential Library). Another son, Harris (1858-1931), also went into the coal trade. By 1881 the brothers were officers of Beard, Hickox and Company. Harris married Louise Broadwell, sister of Stuart Broadwell, who operated Broadwell's Drug Store at Fifth and Washington, and daughter of Judge Norman Broadwell, mayor of Springfield in 1867 and 1869.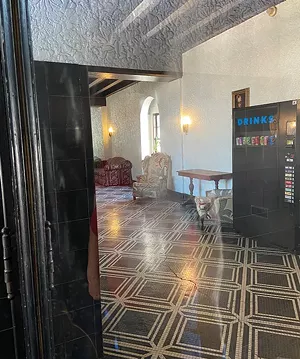 Harris and Louise Hickox had several children, one being Harris Virgil, Buzz Hatcher's grandfather. "My grandfather loved cars and went to Chicago to learn about auto repair," Buzz Hatcher says. By 1908 Hickox had opened an auto repair shop at Fourth and Jackson, one of the first in the city. In 1921 the Motor Inn, a huge parking garage on Fourth near Monroe, opened. By 1933 Hickox had built a large building next to the Motor Inn and acquired the Motor Inn, which he later operated for many years. One can still see the original sign hanging above the garage door on Fourth Street. In keeping with his love of cars, he also built the Firestone building and leased it to the company. It is still in operation at 407 S. Sixth St.
Buzz Hatcher recalls fun times with his grandfather, who died in 1972 at the age of 83, and his grandmother, who lived to be 103. Then, he mentions his aunt Clarice, another interesting Hickox. Maybe that will be another article.
Cinda Ackerman Klickna loves digging into Springfield history, finding information about past times and past families, often discovering connections between families. She and Buzz were in the same class at Springfield High School.