Bicycling? Yes.
Of all avocations, riding a bike is, almost beyond dispute, the finest. With endorphins and all, it is as much exercise for the brain as the heart, lungs or legs, a way to solve all the world's problems while seeing the world.
There are as many reasons why as there are riders. For Karl Kohlrus, it's either ride a bicycle or walk, take a bus or pay for a ride. He cannot see well enough to drive a motor vehicle. He has no peripheral vision.
"You're going slower than in a car, plus you have your hearing to help you – you can hear a car coming up behind you," he explains. "A helmet helps a lot – and a good guardian angel that's watched over me doing this for over 40 years. Actually, over 50 years." Which is long enough to become legend.
"He's not fast, he's usually at the back of the line, but he just keeps going – he goes all day long," says Harv Koplo, an officer in the Springfield Bicycle Club. "He seems to know every road in the county."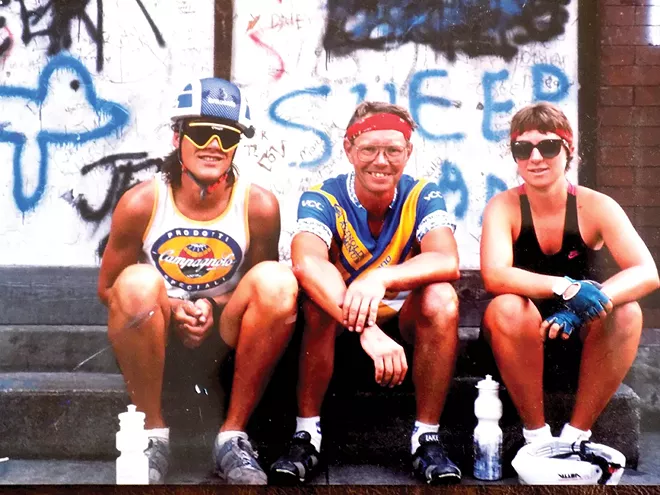 Kohlrus has ridden 178,000 miles since he started keeping track in 1987. He's down to 3,000 miles a year. "To me, that's not very much," he says. There have been double centuries, cycle-ese for a 200-mile day, and jaunts from Chicago to Decatur via Galena. He's slept in tents and hotels. There was the ride down Elkhart Hill on a tandem in the early 1990s. He was captain, the stoker was blind. Lousy eyesight be damned, they achieved a speed of 41 mph.
His first was a Frankenbike made from spare parts of mismatched color, handlebars fashioned from conduit – basic transportation that could be used to deliver newspapers. In college, he had a 10-speed.
"I started as a kid and never stopped," he confesses.
"There was something American about it"
To ponder Rainbow Falls on a map is not nearly the same as arriving in a downpour the day before Reagan was shot. That was the first overnight trip. Seventy miles in one day! Everything is soaked. You roast a hot dog over a Bic and fall asleep to raindrops splashing against the tent but not getting in. There is no place you'd rather be.
Three months later, still in high school, I rode with a friend from Tacoma to Monterey and back, on $10 a day, most nights spent in a cheap tent. Sprinting to the city limit of a California town whose name I can't recall, the front wheel pretzeled, sending me over handlebars. Forearms made first contact with concrete, then slid. Someone saw the whole thing, put our bikes in his pickup and drove to a clinic where his wife, a nurse, spent 45 minutes scrubbing and picking out gravel and bandaging, never asking about insurance. They took us home, cooked dinner and put us up for the night. The bath felt better than the bed. The next day, we hitchhiked 50 miles to a bicycle shop, built a wheel in the parking lot and kept going.
More than a decade later, descending in autumn mist from the Continental Divide in Yellowstone, I saw something in the road, indistinct, then, as I closed, threatening: A buffalo! I'd never seen one before. What if it moves? I veered into the opposite lane, and the beast stayed put. A couple days later, I crawled eight hours through middle-of-nowhere Montana, every stitch of clothing on, fighting rain and a headwind powerful enough that 10 mph on a modest downhill was doing good. I'd hoped to make Wisdom, but Jackson, the first sign of civilization since breakfast 60 miles ago, was far enough. It was offseason in a no-stoplight town with a steaming pool at Jackson Hot Springs Lodge and Rose's Cantina, across the street, serving the world's best hamburger. A guy who'd passed me on the road bought me a beer. I was told I had balls. The next night was spent in a campground reached nearly two hours after sunset. I would have stopped sooner but, owing to bears, other campgrounds hadn't allowed tent camping. Exhausted and not thinking straight – they call it bonking – I stashed granola bars in my sleeping bag, calculating that wild animals fear people, and I would be hungry in the morning.
Follies of youth? Maybe. But long-distance cyclists are a peculiar breed. Who else would consider Kansas a destination?
Ivan Wright recalls flying, years ago, to Southern California to visit family. "I'd look out the window and be amazed at the vastness of that part of the world," he remembers. Then he rode through it. "There's a lot more to the geography and geology of Kansas than you see when you drive down Interstate 70," he insists. "Oddly enough, it takes seven hours in a vehicle. It takes seven days on a bicycle."
Wright, who lives near Rochester, favors group rides, the kind where gear is trucked to each night's stop, typically a high school football field. He's done RAGBRAI, a ride across Iowa that began in 1973 and has become, Wikipedia says, the largest bicycle tour on the planet, with 8,500 participants chosen by lottery. Lesser known is Biking Across Kansas, started two years after RAGBAI, when Peugeots were cool and Lance Armstrong was four.
"The first year, I was in western Kansas," remembers Wright, a former Lincoln Land Community College teacher who took up cycling upon retirement. "It was morning. There was a breeze, not hot at all, just cool. I'd gotten separated from the other riders. I find myself riding across the Great Plains – here's a country of 314 million people and I'm totally alone, powering a bicycle, by myself, looking over this vast area of the United States. There was nothing exotic. It was overwhelming – there was something American about it. I told a relative about that and he said, 'Ivan, we always knew you were different.'"
For Kohlrus, the best came in 2011, early into a bucket-list ride across the United States from San Diego to St. Augustine. The first two days had been hell, a hard climb from sea level – 4,000 feet the first day, he recalls, more than 2,000 on the second. Then, finally, the crest. "The wind resistance, overcoming gravity – it was the best 10 miles of my life," he says of his plummet down Interstate 8. "It was early in the day, late morning. Everything was freshly paved. The shoulder was 10 feet wide. You'd worked for those first two days, getting up those mountains, and this was the payback."
"Hell, I can't ride 35 miles"
Lisa Kidd has climbed the road to L'Alpe D'Huez, where Tour de France contenders prove themselves or fall apart. At 16, she bought a Fuji Royale for $150 with money earned at Burger King. "The Blue Goose, she was called," Kidd remembers. Lycra, back then, was not her thing. Her first century was ridden in a tube-top-with-shorts jumpsuit made from terry cloth. Her parents didn't get it. "They never exercised, so they didn't understand at all," Kidd says.
Now, bikes get replaced every five years or so, emerging technology being what it is, and Kidd has more than one. "The correct number of bicycles to own is the current number, plus one," she asserts. "You have your mountain bike, your road bike, your gravel bike, your touring bike, your going-down-to-the-grocery-store bike. They add up."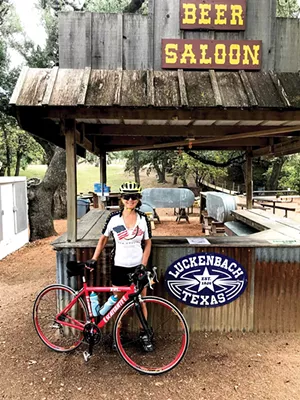 So, too, do memories. Kidd has ridden though Wyoming and Colorado, but on the Fourth of July, she rides to Franklin for burgoo, a tradition that began aboard The Blue Goose. "It's always hot," she says. "It's just been a staple since I was 16." A weeklong mountain bike trek on trails from Telluride to Moab stands out for all the right reasons; the annual Tour of the Scioto River Valley in Ohio, thanks to headwinds, for all the wrong ones. "How I got through it was, some guy in a pickup came by and said 'Anyone want a ride?'" Kidd confesses. "I said 'Absolutely – I do.'"
It is more than just exercise: Cycling eases minds. "When 9/11 happened, the first thing I did was go for a bike ride," Kidd says. "That's how I got my head straight." The road has changed since then, and not for the better, Kidd figures: "Cellphones are the demise of enjoyable bike rides." But strangers, she's learned, are more good than bad, sometimes pulling over to offer help when a tire goes flat. "I think the bike brings out the best in people," she says. "A lot of people stop to talk."
Mark Rabin, a retired Springfield lawyer, says that staying in shape wasn't uppermost when he switched from backpacking to bicycle touring about 15 years ago, when hips and knees could no longer take the strain of hiking. "For me, I think it was the mental, wanting to get out into nature," he says. "It evolved into a way of staying in shape physically."
Rabin knows the pain of hot days spent pedaling from one landmark to the next – just get to that barn in the distance, then find another landmark – until, finally, the destination is reached. He also knows the solitude of Jackass Flats, a place in Utah where he was stranded for two days during a mountain bike tour. "It's called Jackass Flats because there's wild donkeys around – you can hear them moving around at night," Rabin says. Owing to a flood, then a washed-out road, he and fellow riders couldn't proceed until a county commissioner arrived with a road grader. "We were camped out on the side of a mountain, waiting for the water to go down so we could continue our trip," he remembers. "The wind came up and blew our cook tent away."
It did not diminish his enthusiasm.
"It's a great sport," Rabin says. "It's one that you can do alone, going out on a solitary ride, or with friends as a social outing. There's just all kinds of aspects to it that are worth exploring."
Bill Klein, a retired state bureaucrat turned retired chimney sweep, stumbled into cycling after a tendon injury put his tennis game on hold. Let's go for a ride, a friend suggested. "He says, 'Thirty-five miles,'" Klein says. "I says, 'Hell, I can't ride 35 miles.'" But he did it anyway, on a folding bike typically used for short hops by tourists who bring it along as checked baggage. His legs felt rubbery at the end. "But I noticed that the beer tasted better," Klein recalls. "Anything that makes beer taste good is a positive. Then I started getting more and more into it."
Kidd can vouch for post-ride benefits beyond suds.
"You can eat a full Vic's pizza after you've done a 100-mile ride, and have a full plate of pasta, too," she says. "Then I went and had ice cream."
"I really enjoy the camaraderie"
The chicken guts ride began as an afternoon jaunt with a couple pals possessing Tour de France fantasies. Pete – Pork, to his friends – and I had dropped Jon on a hill. We were out of our saddles and going for it until we reached a stretch of road inexplicably covered ditch-to-ditch with poultry innards, ripening in the sun and smelling foul. The harder we pedaled, the more our back wheels spun, spitting rooster tails of rotting guts into the air and leaving brown stripes up our backs, until we realized that coasting would be best – we were strapped tight to pedals and would've flopped over on our sides if we'd stopped. Barely, inertia carried us up the incline to clean pavement, and there the race ceased as Pork and I pivoted in saddles to watch Jon spin out and curse. We laughed till it hurt. We drank beer when we got home and related the tale to disbelieving loved ones. Life was good.
Riding alone is fine, yes, but friends help.
"I've done some solo rides," says Bob Hall, a retired electrician who lives in Pana. "You get awful lonely, and you have to push through. I really enjoy the camaraderie of riding with other people."
Hall, 75, has had his share of miles. He rattles off a list so long it is impossible to keep up. St. Louis to Kansas City four times, Seattle to Atlantic City, Seattle to Boston, Saskatchewan to Prince Rupert, Pana to Saskatchewan, across Illinois six times. Two hundred miles in a day? Yep, and several times. Twice, he has completed Paris-Brest-Paris, a 750-mile trek through France that must be finished within 80 hours. He once had a greyhound that would run alongside him.
There has been tragedy.
In 1988, Hall and three other riders were riding in a single-file paceline just east of Nokomis when a truck driver, asleep, plowed into them from behind.
"There were four dents on the windshield where our helmets hit," Hall recalls. "I woke up in a ditch. We all wound up with broken backs." One, Steve Downs, died. Years later, in 2012, Grover Everett, a friend and riding partner, was hit and killed while riding solo on Illinois 104 near Auburn. A motorist's moment of inattention was all it took.
"There is some danger in it," Hall says. "It's probably not the safest thing – you're probably safer on a motorcycle than a bicycle."
Why, then? Hall's eyes light a bit at the memories. "There's times when you've got a good wind behind you, you can get well over 100 miles in five hours," he says. "There's been several days like that."
He doesn't ride as much as he once did, but he's got plenty of pictures. Hundreds of tents pitched in fields by cyclists on organized tours. The Eiffel Tower. An Indianapolis velodrome, where Hall rode a few laps. Here's one taken in West Virginia, when the bulk of a coast-to-coast organized group ride in 1989 was mostly finished. Hall is flanked by two riding partners much younger than himself. They'd hit their stride in Montana, the three of them, riding back-to-back centuries together, each of the 100-mile rides taking less than five hours. No mercy was shown. "She really struggled to hang on, but she did," Hall says of the young woman seated beside him.
Wright recalls his wife buying a bicycle after he started getting serious about riding. "She said 'If you're going to go, I'm going to go,'" Wright says. "We spent these long, hot difficult riding days, going across the Great Plains. I think we really got closer doing that."
Many miles were ridden in Kansas, and Vicki Wright proved a rider of substance. "I'd think I was outriding her and I'd look in my rearview mirror and there she was," her husband remembers. "We took pictures of the biggest ball of string and those kinds of things." Wright says. One day, they rode 19 miles into a Kansas dust storm. Normally, it would have been a 90-minute ride. "It took over three hours," Wright says. "We couldn't see 20 feet in front of us. Physically and mentally, that was the toughest thing that she or I had ever done."
There is a certain closeness and tranquility that comes from being human powered. "You can look and see things and fantasize and enjoy nature," Wright says. "When you're done at the end of the day, you sit around in picnic tables and lawn chairs and cherish the day, the good and the bad. I think you just absorb your environment – you become very intimate with the wind, with hills. I see more people walking by my house, lately, holding hands than I've ever seen in my life. I think bicycling does a similar thing."
Wright's wife passed away in 2018. Lately, he's been keen on a woman who lives in Wisconsin.
And yes: She rides.
Contact Bruce Rushton at brushton@illinoistimes.com.