As the temperatures come down, the energy level goes up, making a trek to Shawnee Bluffs Canopy Tour just right. My friend Rose and I headed south in late July and want to come back in the cool of fall.

Marc and Candy Miles worked on the Shawnee Bluffs Canopy Tour (SBCT) zip line for three years before their opening in April of 2013. They have had visitors from all walks of life and all ages.

"We wanted to do something fun," said Marc, an equine veterinarian. "I built this because, where else can grandparents come with their kids and grandkids and do this?"

"He had built a tree house with a zip line in the woods for the grandkids," Candy said, explaining how this all got started.


With zip lines popping up in the past four to five years, Marc and Candy said there were none in their neck of the woods. After seeing how much fun the kids had on the one at home, they thought this would complement the outdoor activities available in this land of trees, ridges and water.
Marc wanted ensure the zip line was safe. "I am into efficiency, safety and quality. That is the way I approached this."
He also took an ecological approach. "No man-made towers or cement will be found on this course." The Shawnee Bluffs Canopy Tour consists of eight zip lines, three aerial bridges and two short ground hikes. It is south of Carbondale in the heart of the Shawnee National Forest.
My back was out, so we just watched. But we hope to give this a try this fall. Because this attraction is located in the middle of nowhere, I advise to call for directions at 1-855-386-9477 or log onto their website,
https://www.shawneezip.com
.
Just a few miles from the Shawnee Bluffs Canopy Tour is wonderful Blue Sky Vineyard which, besides offering wine, is also the perfect stop for a relaxing lunch. I chose a chicken croissant sandwich and a glass of Moscato. A young man named Josh who was working the day we were there told us that Blue Sky opened in 2005 and planted vines in 2001. "We won Best of Show for our Chambourcin Reserve at the Illinois State Fair competition and had the best red in the Mid-America Competition," Josh said.
Besides the fine wine, part of the joy of being at Blue Sky is the ambience. After viewing heavy wooden doors, Tuscan architecture, lovely tiles and amazing view, it is easy to see how Blue Sky can advertise that they offer, "The romance of Italy in the hills of southern Illinois."

It is located at 3150 S Rocky Comfort Rd., Makanda, Ill., on the eastern end of the Shawnee Hills Wine Trail. Call 618-995-9463 or log onto http://www.blueskyvineyard.com/suites for more information.

Another nearby site that we stopped at and enjoyed was the Little Grassy Fish Hatchery where they raise black crappie, largemouth bass, bluegill, redear sunfish and "produce all the channel catfish for the State of Illinois," according to Brenda Garver, the tour guide. "That is our claim to fame."

Brenda took the time to explain the breeding of the channel catfish and allowed us to feed the adult catfish that would soon be shipped out to lakes all over the state.

The tour is fun and family friendly. Open seven days a week, they offer tours between 8 a.m. and 3:30 p.m. Located at 1258 Hatchery Lane, Makanda, 62958, call 618-529-4100 or log onto http://dnr.state.il.us/education/interprt/litgras.htm for details.

Wanting to take in the lovely Rim Rock Recreational Area, we trekked about an hour to stay at Bob and Dixie Dart's Rim Rock's Dogwood Cabins. Located outside of Karbers Ridge, the cabins are right across the street from the Recreational Area and Pounds Hollow Swimming and Fishing Lake. The Rim Rock cabins just received a certificate of excellence award from TripAdvisor, which honors hospitality excellence.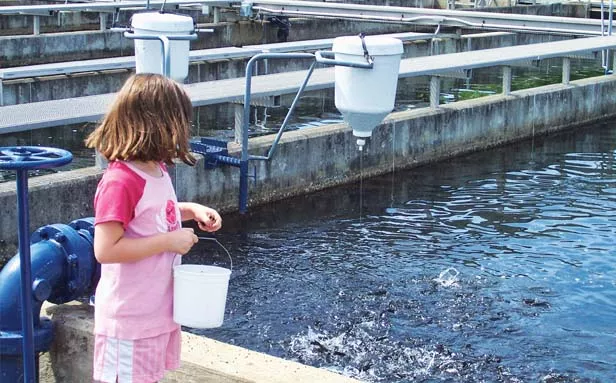 We stayed in Deer Run Cabin with all the amenities of home and the forest right outside our door. The screened-in porch and picnic table offered a great place to enjoy the pizza we ordered from the nearby gas station/diner. The cabins all have air conditioning, heat, kitchen including stove, frig, microwave, coffee maker, toaster; bathroom with shower, screened-in porch, electric fireplace, satellite TV and DVD, all linens, cookware, plates, utensils, outside grill and picnic table. For more information on Rim Rock's Dogwood Cabins, log onto http://www.rimrocksdogwoodcabins.com/.

Cave in Rock is another great nearby stop. There is much to see and do in this part of the state, visit the website http://southernmostillinois.com/ for more ideas.

Cindy Ladage lives on a farm near Virden. A regular Illinois Times contributor, she authors children's books and loves to travel.