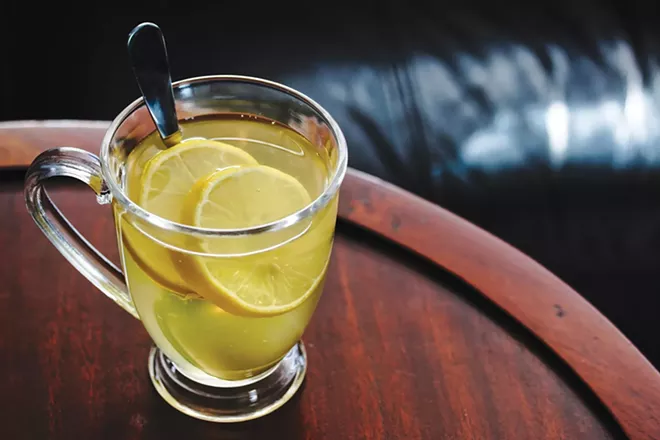 Warm and cozy cocktails are an ideal way to spread holiday cheer even as temperatures drop. Most cocktails were in fact hot drinks until refrigeration became a reality, given how difficult it was to procure ice outside of winter months. What we think of today as a hot toddy likely originated in 16th century Scotland, though at that time it was simply referred to as a toddy. These warming concoctions soon became a winter staple throughout 17th and 18th-century England. The "hot" distinction would come later with the advent of refrigeration and iced cocktails.
James Beard Award-winning cocktail historian David Wondrich explains in his book Punch that a classic toddy is simply hot water, Scotch whisky and sugar. Today many toddy recipes call for the addition of lemon, in which case the drink is then technically known as a whisky skin. For those looking to eschew tradition, there are ample opportunities to reinterpret this timeless cocktail. Any kind of whisky can be used, though fuller-bodied single malt is generally preferred. Opportunities for creativity can be found in using different types of teas instead of hot water or even the addition of bitters instead of lemon. As for sweeteners, regular or Demerara sugar can be used as well as honey, maple syrup or agave. Various spices, like clove, cinnamon or cardamom, can be added. A dusting of freshly ground nutmeg just before serving is an aromatic finishing touch.
Hot toddy is an ideal preparation to serve at a holiday gathering using a slow cooker. To make a party-sized batch, add the tea and all other non-alcoholic ingredients to the slow cooker and heat for 10 minutes or so on low (the warming time will depend on your particular slow cooker). Once the mixture is warm, add the whisky and let it sit for another 10 minutes before serving. Use caution not to heat the toddy above 170 degrees (you can check this with a kitchen thermometer), as this will cause the alcohol to evaporate.
As with the bracing hot toddy, mulled wine is another warming yuletide tipple with a long history. Dating back to second-century Rome, early accounts refer to wine warmed with a fortifying variety of ingredients, including pepper, dates and saffron. Indeed, adding spices to wine was a common practice in ancient times, as the alcohol helped to extract the medicinal properties of the spices and the spices helped to cover the taste of low-quality wine. Mulled wine's origins as a holiday staple began in the mid-19th century when Swedish and German vendors began selling it at Christmas markets in festive bottles. Recipes were fiercely guarded, and eventually various interpretations evolve across Europe, including the beloved Swedish glögg, German gluhwine and French vin chaud.
Today premixed spiced wine is available in stores, but making your own couldn't be easier, and the result is decidedly more delicious. Choose a fruity wine – it should be drinkable but inexpensive. Zinfandel, malbec and cabernet sauvignon all work well. As with the toddy, your options for sweetener and spice additions are completely customizable. Most recipes call for sliced orange or lemon and some include apple cider or additional boozy ingredients like brandy or Grand Marnier.
Uncle Robert's Classic Hot Toddy
For a 2-quart slow cooker
1/3- 2/3 cup Demerara Sugar (to taste)
1 quart prepared Earl Grey tea (Bold Earl Grey from Whimsey Tea)
2 ½ cups single-malt Scotch
1 lemon thinly sliced
Freshly grated nutmeg

For a single serving:
1-3 tsp Demerara sugar
10 ounces prepared Earl Grey tea
2 oz single-malt Scotch
Twist of lemon peel
Freshly grated nutmeg
Traditional Mulled Wine
3 cups apple cider
¼- ½ cup honey, maple syrup or brown sugar to taste
1 orange, peeled and juiced
3 cardamom pods, star anise or cloves
1 cinnamon stick
1 750 ml bottle fruity red wine
1-2 cups brandy, to taste
Combine the cider, honey, whole spices and orange peel and juice in a nonreactive sauce pan or crock pot. Bring to a simmer, then reduce heat and add the wine and brandy. Keep warm and serve.
Mulled White Wine
While most mulled wine recipes are made with red wine, this mulled white wine is a bright alternative that is delightfully rich in flavor. Use a medium-bodied white wine such as chardonnay. More acidic wines like sauvignon blanc or Pinot Grigio can become bitter when heated.
1 cup sugar
1 cup water
1-inch piece of ginger, sliced into coins
1 orange, peeled and juiced
3 cardamom pods
5 cloves
1 cinnamon stick
1 750 ml bottle medium-bodied white wine
Combine the sugar, water, ginger, orange peel and juice, cloves and cinnamon in a medium saucepan and bring to a boil. Turn off the heat and let sit 10 minutes to mull. Add the wine and heat gently until just warm. Turn off heat and let sit 10 minutes before serving.