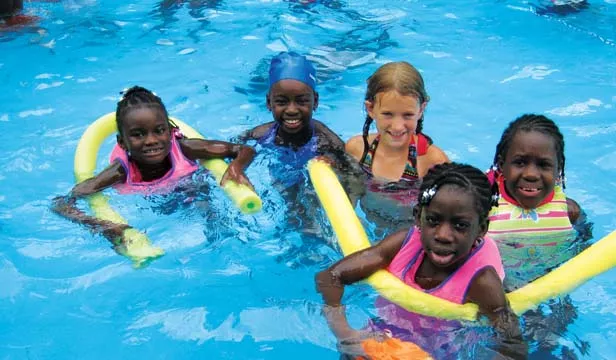 Raegan Koebler, a soon-to-be fourth-grade student at Vachel Lindsay Elementary School, is one of 12 Illinois $1,000 Regional Scholarship winners in Kohl's Department Stores' 2010 Kids Who Care program. The award recognizes her 50-lap swim at Eisenhower Pool last January and efforts since which have raised about $70,000 for a Haitian orphanage, once home of her best friend. It also acknowledges her creation of a new organization, the Rae of Sunshine Club, which urges young people to transform compassion into action to benefit others. The tide of support generated by the gifted athlete, a swimmer for most of her young life, continues to grow and will touch the lives of thousands in the months ahead.

"We were watching the news, and mom asked me what could we do to help? 'What are you good at?'" she remembers. "I answered that I'm good at swimming." Soon she began contacting friends, sharing her goal and asking for help. They decided on the long-distance swim, reserved a lane at Eisenhower pool during an open swim, and adults were invited to swim in the adjacent lanes to keep her company. Her class came, helped and cheered her on. "She swam non-stop an hour and 17 minutes. Her goal was to raise $3,500 because she wanted to feed 100 children for a week," mom Dina explains. "Before she even swam, she had raised $8,500." Subsequent activities included a "casual day" for teachers at Lindsay School and a generous donation from a physician in Florida who promised to match total funds pledged. The Caddy Shack Golf Outing pledged $10,000. Total raised: almost $70,000.

During July, Raegan attended a Midwest "Haiti Camp" in southern Indiana arranged for families who had adopted kids from Haiti after the quake. "I met some kids who were in the earthquake," Raegan remembers. "Eighty-some kids were in the orphanage, and 87 percent of it was destroyed."

Russka Village, in a Port au Prince compound, now with tarps between broken buildings, is being rebuilt. Dina Koebler says they have a teacher but no schoolhouse.

Raegan's new organization, the Rae of Sunshine Club, is urging young people to contribute to the lives of the less fortunate at school, in the community and globally. Globally, it's raising $250 to pay for a cleft palate operation for a child in India. Students at her school are asked to contribute their "tooth fairy" money to that effort.

A supporter recently purchased a domain name for a website to spread the word about the Rae of Sunshine Club, but they have not yet found a donor to produce the site.

"She's always loved the water," her proud mother explains. She started swimming competitively when she was six. She swims regularly at Eisenhower Pool and Knights of Columbus pool. At the end of the recently concluded SUSA swimming summer conference program, she finished first in the 25-meter breast stroke, one length of the pool. Though that was a short, fast event, Raegan says her favorite is the 500-meter freestyle. "I'm a long-distance swimmer, not a sprinter," she said. Her next competition is slated for October, following the start of the winter season. Her coach is Angie Owens.

Though many fourth-grade students' horizons are no more distant than what the family plans are for next weekend, Raegan Koebler already knows where she will spend her Kohl's Kids Who Care Scholarship. "The University of Michigan," she says with a confident smile.

Contact Job Conger at writer@eosinc.com.

Support of the Rae of Sunshine Club may be sent to Bank of Springfield, 3400 W. Wabash, Springfield, IL 62711. E-mail: raeofsunshineclub@yahoo.com.