Jessica Knight and Brandon Carnes of Looming
Perhaps contrary to accepted wisdom, a lot actually happens in Springfield during any given week. In "You had to be there," a new recurring feature on the Faingold at Large blog, I will take on the role of reader's surrogate as I report on musical, theatrical, artistic, or even just spontaneous events that happened in town the previous week. If it sometimes seems like I'm rubbing it in – well, get off the couch next time.
This past Friday at Donnie's Homespun, Bedrock 66 presented "Springfield Under The Covers" a special night of music which featured seven established local bands of various stripes, each briefly stepping out of the comfort zone of their usual material to pay tribute – sometimes sincere, sometimes ironic, sometimes hard to tell – to well-known artists. Each participating local act was instructed to choose a big-name musical act to interpret and then keep this information a strict secret until hitting the stage to unveil three or four songs from their chosen target's oeuvre.
The flavor of the night was quickly established when Tom Irwin opened with a folkie version of Prince's "Delirious" in a clever arrangement replete with the original's infectious synth hook expertly replicated on Tin Whistle by Theresa O'Hare. This was followed by Irwin-ized renditions of "Little Red Corvette" and "Purple Rain" (no "Darling Nikki," alas).
The Blue G's were up next with a bluegrass-flavored set of Rod Stewart tunes ("Hot Legs" was a standout), followed by self-described "righteous hillbilly music" purveyors Blue Ribbon Revival doing a set of Kiss songs, including balls-to-the-wall renditions of "Strutter" and "Deuce" ("I played that one out of tune – just like Kiss would've," someone joked at one point).
Up until this point, the evening had consisted of variations on a simple theme: three local acts known for country and/or folk-flavored music had ventured into funk, retro-pop and arena rock territories, respectively. Things took a turn for the contemporary when a stripped-down version of Black Sheep Café favorites Looming took the stage for a set of songs by New Zealand pop sensation Lorde ("Royals"). According to Brandon Carnes (also of The Timmys and Big Storm), the band had been planning to do a set of crunchy Smashing Pumpkins songs but switched to Lorde when Looming's guitar player and bassist both ditched the gig. In order not to cancel their Under the Covers appearance, singer Jessica Knight and Carnes (who is usually the band's drummer but played guitar here) quickly worked up a set utilizing samples. The results were strikingly modern and refreshingly free of any whiff of snark or irony. "No one who knows us or works with us would be surprised at all that we would do this," said Carnes after the set. "We actually listen to Lorde all the time."
"Los Halen"
After Looming, Los Injectors took the stage for a punishing set of early Van Halen songs, featuring the multi-talented Damon Soper ably channeling both David Lee Roth's feral howl and Eddie Van Halen's legendary face-melting guitar solos simultaneously, no mean feat! Next up, the bandana around Josh Catalano's noggin should have been a tipoff – I had my fingers crossed for Loverboy but Josh and his compadres in the Dirty Thoughts instead presented a pinpoint recreation of Bruce Springsteen and the E-Street Band ("Dancing in the Dark," "Glory Days"). The evening ended with the ever-snotty Timmys bringing things back into a more interpretive mode, playing Neil Diamond classics such as "Cherry Cherry" as if they had been intended as punk anthems all along.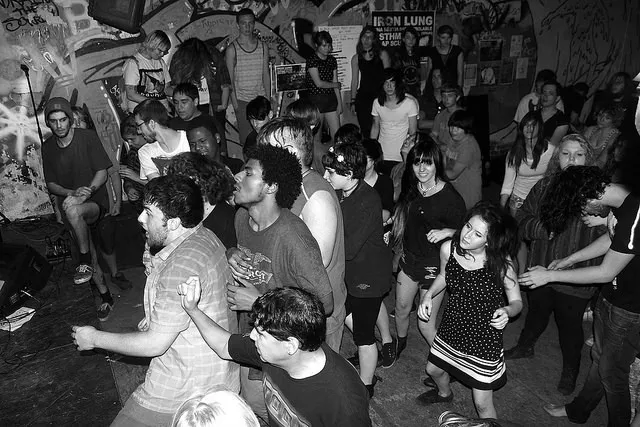 The Black Sheep Fest VII audience in calmer times
The next evening (Saturday 7/26) marked Black Sheep Fest VII, which featured 23 local bands. The level of energy at Black Sheep events is always high, but things reached a previously unheard-of crescendo towards the end of Saturday evening with an insane battle of the bands which preceded the headlining performance by Our Lady.
Soap Scum (which features Black Sheep proprietor Kevin Bradford on drums) set up their equipment on the floor near the back of the room, with the second band, Table Drama, assembled on the venue's stage. The proceedings got underway with WWF-worthy ranting by Table Drama vocalist The Pukester proclaiming that Soap Scum was "going down" and with them the entire Black Sheep Café, clearly placing Table Drama as the bad guys in a giddily over-the-top pro-wrestling-style scenario.


The largely adolescent audience latched onto The Pukester's theatrical aggression and when the music started – with each band taking turns playing one song each, all of which registered more as blurs of incoherent rage than conventional tunesmithery – responded with out-of-control pit action, which eventually escalated to the point where Soap Scum vocalist Brian Galecki was hoisted above the heads of the crowd (not to mention the concrete floor) in a blue plastic recycling bin, bringing to mind a particularly aggro Jewish wedding celebration.


Eventually each side pulled out a "secret weapon" (Soap Scum had crowd-pleasing guest guitarist "The Night Hawk" soloing from atop the Black Sheep's refrigerator behind the sound board, while

FUCK///MOUNTAIN

(a/k/a Brandon Carnes from Looming and The Timmys) took up Table Drama's cause in the solo guitar department. By the end, Galecki was covered in what appeared to be corn starch and Soap Scum was declared the winner in a decision that seemed only slightly less pre-determined than the average pro-wrestling match result (seriously, who would bet against the venue's founder?)
Anyway that's what y'all missed last weekend. I guess you had to be there.