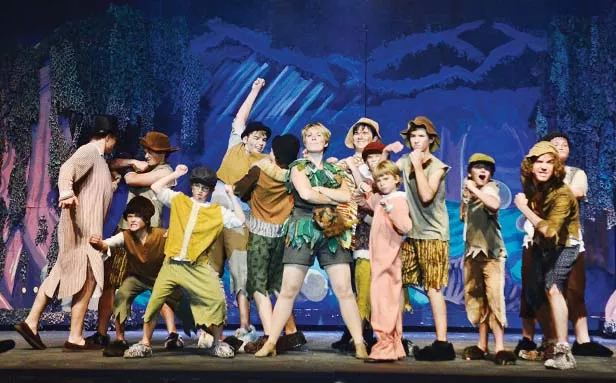 If there's one thing the cast and crew of the Muni's latest production want you to know, it's this: their Peter Pan is more than just a kids' show. And while the husband-and-wife directing team of Gil and Ann Opferman have previously directed children's classics in the White Rabbit series at the Springfield Theatre Centre, they insist that Pan (their first musical and first Muni show) is something more.

Gil and Ann are drawn to fables and often work directly from the source material instead of relying solely on the script itself. While the Muni's production comes from the 1954 musical adaptation made famous by Mary Martin as the title character, the work originates from J.M. Barrie's 1904 play and later novel, from which the Opfermans drew inspiration. "I like to do shows based on books," says Gil. "It lets us as directors and the cast draw from more to begin with."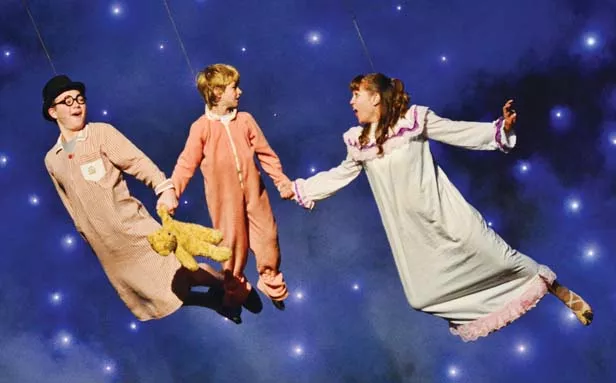 To start, the directors looked to accelerate the show's often criticized slow tempo. Dating back almost 60 years, the musical opens in the Darlings' English nursery where Mother and Father fuss about dog hair, tying ties and fetching slippers. Usually, characters sit cross-legged upon the stage and sing in a stoic tableau. But not at the Muni. Gil and Ann have worked to speed things up, get characters moving, and allow actors "room to move, play and express themselves." Kids' shows – or shows with kids in them – are most fun, Gil says, when he can cast young children, teenagers and adults side by side. In doing so, he builds an atmosphere where actors teach and support one another.

A good mix of Muni rookies and veterans comprise the large cast of more than 50 performers. Among them is Steve Williams as Mr. Darling and Captain Hook. Williams, in his other role as a local educator, has taught the show several times. He finds playing villains more fun that portraying the beloved protagonist. Captain Hook, he says, should communicate more than his two-dimensional cartoon persona. "I approach him from who he is in the story instead of as a flat character," Williams explains. He and his merry band of pirates – each with distinct personalities and larger than life costumes designed by Marge Roth – often steal the show. The "Pirate March" and "Hook's Tango" as well as their antics with dancing Indians and a rolling crocodile are particularly enjoyable and showcase the large, talented cast.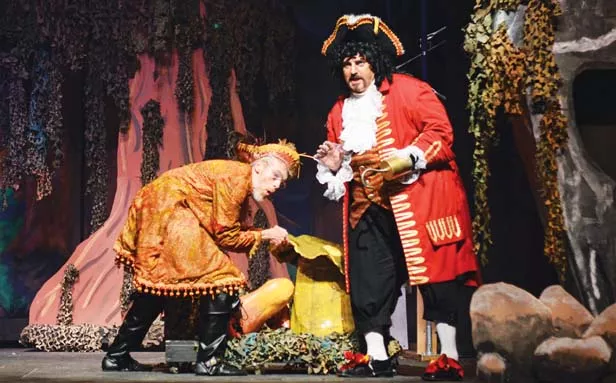 The capacity audience rewarded Hook and his hooligans with a loud and forceful chorus of boos during the curtain call – something of a compliment for a mess of pirates, I'm sure. In fact, audience participation is part of the fun at Peter Pan. Kids came dressed as fairies and pirates, ready to clap and sing along. With another solid offering, the Springfield Muni Opera is proving that it truly has something for everyone with one of its most challenging lineups in recent memory. Pan is third in a four-show season that also includes a newly available and legendary production (Les Mis), a risky and nearly all-black Motown/disco show (Dreamgirls) a family standard (Peter Pan) and a countercultural and controversial award winner in the upcoming RENT.

The Muni's Peter Pan is indeed magical, and much of that magic comes from the flying. Anna Bussing brings the perfect blend of spunk and agility to her likeable portrayal of the mischievous Peter. She took tumbling classes in preparation and spent more than 10 hours getting used to the flying harness provided by ZFX Flying Effects. Bussing and her crew requested a special harness that enables her to perform a few special twists, turns and acrobatics in the sky. One scene features Peter and all three Darling children in the air at the same time. It's a feat that seems made for outdoor theater, and one that looks especially nice from the general admission lawn seats.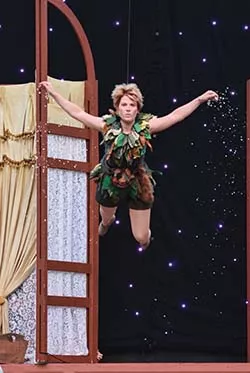 The Opfermans admit that they tried to turn down the offer to direct their first Muni show, but were convinced when others in the local community volunteered their talents. The staff and crew have come together well, and all their efforts – from vocal direction by Bill Bauser Jr. to choreography by Megan Dowding Cady to orchestra direction by Beth Anderson – unite in numbers like "Ugh-A-Wug." There, Peter, the Indians, the children (200 kids auditioned for 17 roles) and others, take full advantage of the entire stage with an impressive Stomp-like percussion-driven number. It's obvious the cast – including fourth-grader Brayden Brinkman as Michael – is enjoying the show as much as the audience.
The performance – note the early 8 p.m. curtain time – runs about 2 hours and 20 minutes with a 15-minute intermission that comes surprisingly early at 8:45. It continues Aug. 7-11 at 815 East Lake Shore Drive. Tickets available by calling 793-6864; more info at
themuni.org
.
Zach Baliva is a filmmaker and media producer from the Springfield area. He is currently in pre-production on a documentary on the student loan crisis.