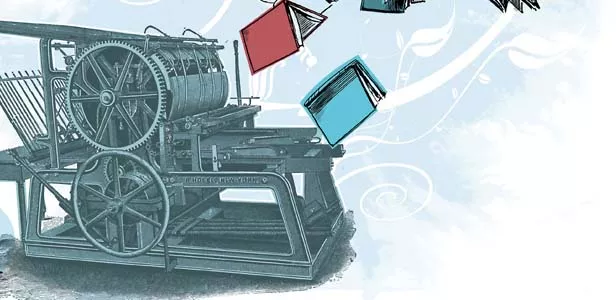 Close your eyes and think of Illinois. Take your time. Free associate. I'm not a mind reader but I guess you see fields of corn and red barns against blue skies. Now think architecture. Of course, Frank Lloyd Wright. History — who else but honest Abe? Politics — no not our ex-governor. I'll give you a hint. Think bow tie and it can only be Senator Simon.

Several writers and photographers have published on these subjects within the past year. Other writers have brought out entertaining and serious fiction, poetry, biographies and memoirs. Reviewers with interest in and expertise for their subjects offer a glimpse of the state of writing in and about Illinois. While many of the books are reviewed at length, we have also included a "briefly noted" section to give you an idea of the breadth and depth of literature in our state.

As writers, we have enjoyed putting this issue together for you, our readers. Here's to Illinois and to the written word.
— Corrine Frisch, editor, Illinois books issue

Corrine Frisch served for nearly 30 years as the public relations director of Lincoln Library, Springfield's public library. In her retirement she enjoys walking her big dog, rooting for the New York Yankees and sleeping late.
Click Here to see all of the articles from this issues or click on the book titles below to read the article about that book.
Contents
Lincoln's Political Generals
by David Work.
Reviewed by Julie Cellini

A Man of Salt and Trees
by James Ballowe.
Reviewed by Edward Russo

Paul Simon: The Political Journey of an Illinois Original
by Robert E. Hartley.
Reviewed by Taylor Pensoneau

The Sufficiency of the Actual
by Kevin Stein.
Reviewed by Thea Chesley

Barns of Illinois
by Larry Kanfer,
text by Alaina Kanfer.
Reviewed by Ginny Lee

The President's Henchman
by Joseph Flynn.
Reviewed by Jacqueline Jackson

Life Along the Illinois River
by David Zalaznik.
Reviewed by Jacqueline Jackson

A Measure of Joy – Opening to the Energy of Reiki
by Gay Stinnett.
Reviewed by Corrine Frisch

Beautiful Piece
by Joseph G. Peterson.
Reviewed by Stuart Shiffman

Communities of Frank Lloyd Wright: Taliesin and Beyond
by Myron Marty.
Reviewed by Roberta Volkmann

Books briefly noted
Reviewed by Corrine Frisch

Illinois Center for the Book
by Corrine Frisch