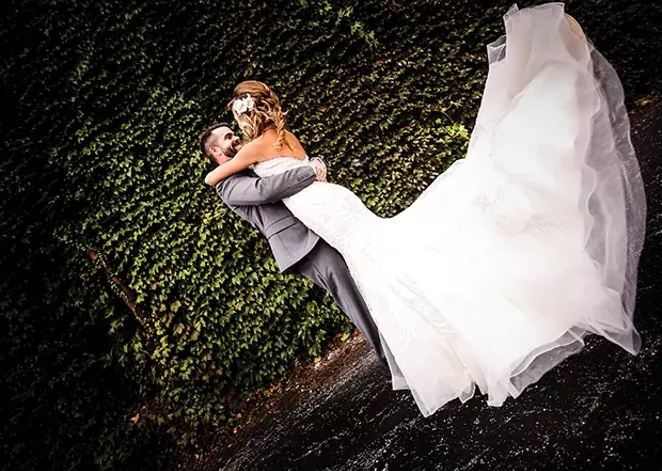 Your wedding day will pass in a flash, but your wedding photographs will last a lifetime and be passed on to future generations. How can you make sure photos of your special day will be everything you imagined? Select your photographer carefully, and seek your photographer's advice.

A wedding photographer is in a unique position, since he or she will likely be with you the entire day – capturing everything from getting your hair and makeup done to the ceremony, reception and everything in between. Springfield photographer Kari Bedford is an award-winning photographer who is known for her artistry. She has a remarkable ability to put her subject at ease and bring out personalities and emotions through her photos. She offers the following great advice for couples to consider, based on her extensive experience photographing weddings.
Selecting a photographer
For starters, a couple should spend some time determining their personal style. Wedding photographers range not only in experience and pricing, but also in their approach. If a couple is more traditional, they may want to work with a photographer who has a portfolio full of formal, posed wedding portraits. If they prefer an "editorial" or "magazine" look, they should hire a photographer who has a blend of photojournalistic as well as stylish detail shots in her portfolio. Some photographers have a very modern look with images that appear almost abstract, with very little emphasis on traditional portraits. Hiring a photographer based on word-of-mouth or rapport is great, but smart couples spend time getting to know the photographer's style so there are no surprises after the wedding.
Secondly, couples should determine what they want their final product to be. Some photographers provide print-ready files. Other photographers design albums and wall portraits. A quality, full-time photographer usually offers both, which can save families from the overwhelming process of creating heirlooms after the wedding.
Working with your photographer
Ask your photographer for advice. Couples who meet with their photographer early in the planning stage will save everyone a lot of headaches. An experienced photographer can provide a great deal of input on venues, itineraries, other vendors and more. Aside from a wedding planner, wedding photographers are the only vendors who spend the entire day at a wedding. They acquire a genuine feel for the rhythm of the day as well as where things can go wrong.
If the photos are the most important keepsake from the wedding, ask the photographer what time is best if you plan to have outdoor portraits. Don't assume your photographer can create award-winning photos in any conditions. If the wedding will be outdoors, plan the ceremony and reception for late afternoon, as close to sunset as possible. Avoid the middle of the day. Photographers can photograph you at noon in an open field on a sunny day, but the results will be mediocre at best.
Communicate. Communication before the wedding is essential. The more prepared the photographer is for the inevitable stress and excitement of the day, the better the photos will be.
Determine your must-have photos along with the itinerary for the day. Couples make the photographer's job much easier if they provide their photographer with a complete itinerary, a list of "must-have" shots and names of key players. Make sure the photographer is aware of special considerations, such as divorced parents, guests with disabilities who may need extra time or assistance, stepchildren, pets or family traditions.
Identify an organized and confident friend or family member to assist with group portraits. This will make the process go much more smoothly and eliminates the "photographer as drill sergeant" situation. Your guests should like your photographer. Let someone else be the bad guy! Make a list of the group photos to be taken. Select someone who knows the people to be photographed and assign that person the responsibility of getting the groups organized and ready.
Avoid surprises. Don't surprise your photographer with a unique entertainment at the reception. If you are planning to have a zombie invasion or a wacky dance routine, make sure your photographer knows when and where to be!
Feed your photographer and assistant throughout the day to help them keep up their energy. If you are hungry, chances are your photographers are twice as hungry. Photographers work extremely long days; they are constantly on the go while wearing heavy gear. Eating lunch in a hot car in June and/or surviving on granola bars is not ideal. A well-fed photographer benefits everyone. Also, some of the most memorable moments happen at the reception. The last thing you want is your photographer leaving it to find a fast-food joint.
Avoiding pitfalls
Develop a well-planned schedule with room for flexibility. Problems arise when a couple tries to fit too much into the day. Rather than dozens of different poses with individuals and small groups, focus on larger groups with key players. Secondly, narrow down the locations for portraits to one or two, i.e. the ceremony site and an off-site location. Being photographed in every local hot spot might seem like a fun idea, but the amount of time it takes to travel and set up in each location only reduces the amount of time spent with friends and family.
Bedford's final words of advice: "On the day of the wedding, relax, and let the photographer do his job to capture the magic of the day. One of the most important things to remember is that there will be hiccups in every wedding. The emphasis of the day is not the cake, a grass stain on the dress, a late groomsman, a few extra pounds or a screaming ring bearer. The emphasis of the day is that two people who love each other are getting married in front of their closest friends and family. If that happens, everything else is secondary!"