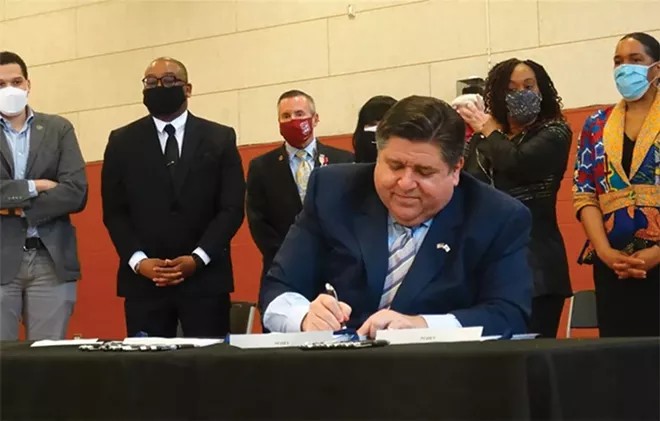 "For far too long families of color have endured the hardships of an economic system designed to hold them back," said state Sen. Doris Turner on March 23. Turner, a Democrat from Springfield, was with Gov. JB Pritzker and other lawmakers at the Union Baptist Church in the capital city for the signing of four bills that make up the so-called economic access, equity and opportunity portion of the Illinois Black Caucus' agenda.
The package, signed into law, includes measures aimed at boosting minority-owned businesses, eliminating workplace discrimination based on certain criminal history and regulating "payday" loans. One measure promises to increase state contracting with minority-owned businesses and establishes the Commission on Equity and Inclusion.
Hillary Rains is the social innovation program director at Innovate Springfield. The University of Illinois Springfield-led organization is a business incubator and helps connect families to community services. Researchers with Innovate Springfield have recommended ways legislators could work toward closing opportunity and achievement gaps. Initial recommendations, found in the 2016 Sangamon County Success report, will be updated soon to reflect recent legislative changes and impacts of the pandemic. Rains said the Illinois Black Caucus' education and economic measures "get us all closer to our goal of closing opportunity gaps." Roughly 40% of the businesses Innovate Springfield helped kickstart are minority-owned, with nearly half run by women. Innovate Springfield works with several other area organizations to help entrepreneurs get personalized support and resources.
Rains' role at Innovate Springfield is to source early childhood support for families in the area. She helped reestablish the Nurse Family Partnership in Sangamon County. The program is run by the Community Foundation for the Land of Lincoln and SIU School of Medicine and teaches women about maternal health and stages of development before and after birth. At the child's second birthday, Innovate Springfield helps families identify what social-emotional programs are available for their child.
Early childhood focus
Early childhood education and workforce development are intrinsically linked, according to people like Sean Noble. Noble is the director of ReadyNation Illinois, a nonprofit with a network of business leaders with a focus on childhood education.
On March 8, the governor also signed the education and workforce development component of the Illinois Black Caucus agenda. The new law will require the Illinois State Board of Education to screen all new public kindergartners to assess their readiness for school.
"We care a lot about the first three to five years of kids' lives," said Noble. The organization has based its research in "brain science," which he said recognizes a child's earliest years are open "windows" for skill development and opportunity later in life. Noble told Illinois Times that skills learned from ages three to five act as a springboard to later learning – first when children enter school and later as they transition into the workforce.
Noble said too often in the past, policymakers have failed to focus resources on early childhood education. A ReadyNation report published in February found 49% of Illinois youth are Black and brown. "The stability and success of these children and their families are key to the ongoing success of our entire state. Helping youth of color to reach their full potential in learning and life is a just and smart investment in helping our entire workforce and economy to, in turn, reach their full potential," the report reads. The report echoes that kindergarten readiness is directly linked to workforce readiness, graduation rates and social-emotional development.
Three of the four so-called pillars of the Illinois Black Caucus legislation, addressed at ending systemic racism, have been signed into law by the governor. Pritzker signed a criminal justice reform package in February, as well as the education and workforce development and economic access measures in March. The fourth pillar – health care reform – passed out of the General Assembly on March 25. It awaits a signature.
Contact Madison Angell at mangell@illinoistimes.com.