Three Decatur teens watch as a cloud of sawdust erupts from power tools operated by their wood shop instructor, Jim Taylor, in a warehouse used by Macon County Probation. For two hours on Tuesdays and Thursdays, these boys are like kids on summer break.

In reality, Jimmy Lee, Tylor and Greg, are all minors on probation, and are one step away from serving time in one of Illinois' eight juvenile prisons. But thanks to the Redeploy Illinois program, instead of being locked up, the boys are close to family in their hometown. They get another chance to make restitution for the harm they have done.

Sangamon County doesn't offer the program yet, but planning is underway. The quest for the Redeploy program in the capital city is part of a new statewide effort, complemented by legislation passed this year, to find alternatives to incarceration for troubled youth.

Program participants must be at least 13 years old, but most are 15 to 17 when judges refer them to the program. To qualify, a youth must not have committed a violent crime. The program's goal is to give courts an option other than a juvenile prison sentence for youth who have committed nonviolent crimes like burglary and theft. Programs like the class Taylor teaches are part of an effort to help teens stay out of trouble. The Decatur program involves a network of social service agencies working together to keep offending youth out of juvenile prison.

"These kids are so much wanting to be respected," says Taylor. "When you work with kids, there's no cookie cutter that you can use."

Jimmy Lee was a part of the wood shop class last year, but the class instructor ended his participation because he skipped too many school days. Even though he skipped school, he rarely missed Taylor's wood shop class because he enjoyed it so much.

"We didn't want to reward him for bad behavior because this was the only thing he liked doing," says Taylor. Some of the kids may complain that they don't feel like building a birdhouse, but Taylor adds: "You ought to see their eyes light up when they've completed something."

Agencies form a task force to provide constant supervision, substance abuse counseling and mental health services, home intervention and life skills training as well as an anger management class. Someone is also available to drive teens to and from school, to court appointments or basketball at the YMCA. Success is measured in little things like attendance.

Before Taylor even picks up a power tool or has his students put on safety goggles, he and the boys gather around a table so they can talk. After a few minutes, Tylor is already showing off his cell phone ring tones to Taylor. The hip-hop tune isn't familiar, but Taylor listens anyway.

"They kind of start seeing you as non-threatening. That's why I don't wear my probation badge or any of that. I try to just be a regular person. It gives them a chance to see a probation officer who's not being a probation officer, necessarily," he says. Although Taylor is not their probation officer, he works for the county and volunteers his time with the program, a better environment for them, he says, than they are getting at home or on the street.

Tylor is a freshman at MacArthur High School in Decatur where he attends Trisha Isaac's special education class, which has two students who are part of the Redeploy program, a program she describes as "for those kids who might have a chance."


Isaac's class is geared toward teens who have been suspended more times than their limit or have broken the law. Isaac is in constant contact with Tim Shelley of Love Christian Fellowship, a partner of the Redeploy program. Shelley stops by the class at least once a week to check in with Tylor and to keep in contact with the students' teacher to stay updated on their behavior.

Isaac says her students don't want to let people down by getting in trouble, thanks to the program.

The teens keep busy during the summer helping elderly, disabled and low-income residents by working on their yards for free. Teens mow lawns and pull weeds for residents, sometimes as many as five to six lawns per day. They're paid minimum wage by the program. Decatur resident Paula Rex cannot afford a lawn mower and appreciates the free service.

Lawn mowing supervisor Mike McCoy, dressed in a bright orange vest, sets a potted tomato plant down on the steps of Rex's home as three youth finish up working on her yard. "I'm just thrilled they can help me out like they do," she says, repeatedly thanking them for their work.

The potted plant is a way to show appreciation to those who take part in Redeploy's lawn mowing service. Director and coordinator of Decatur's Redeploy Illinois program Thea Toussaint says the work done by these youth change the perspective of those they help, like Rex.

"Somebody might look them in the eye and acknowledge that they're human, which sounds simple but doesn't often happen to these kids," says Toussaint.

Working with these kids is not easy. "It can be trying at times," says McCoy, who worries about safety of teens who participate in the job program.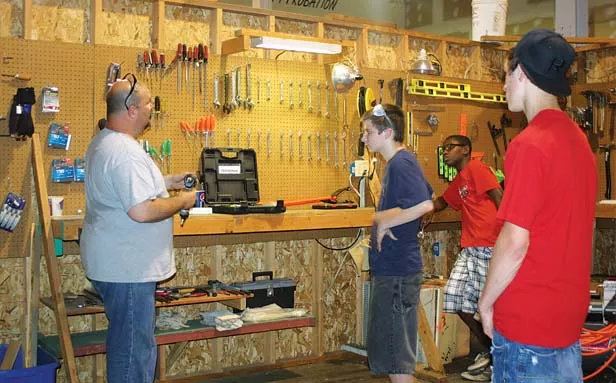 Redeploy started under the dome

In 2003 the state legislature approved legislation to fund pilot programs for four Redeploy Illinois sites: Macon, St. Clair and Peoria counties and the Second Judicial District. The programs were expected to save the state $235.8 million over the first 10 years. Counties must pledge to reduce the number of youth who are sentenced to serve time in juvenile prison by 25 percent in the first two years. The 2011 Redeploy Illinois annual report shows a 53 percent drop in youth sentences from the Department of Corrections since 2004 because of the program. Last year the Macon County program received $321,650.

Redeploy Illinois funding has been cut for the past four years and staff at Macon County Redeploy say there could a 5 to 10 percent cut in funding if the proposed 2012 budget is signed into law by Gov. Pat Quinn. The budget approved by the General Assembly would cut Redeploy Illinois funding from $2.53 million to $2.48 million. Spokesperson for the Department of Human Services Januari Smith said in an email, "Continued expansion of Redeploy sites could be difficult, but we are looking for ways to manage the upcoming budget year(s)." She adds that funding from the American Recovery and Reinvestment Act (ARRA) would help fill gaps created by the cuts.

While major juvenile justice reform remains a low priority for state government, the General Assembly passed legislation this year to set a standard for judges regarding how they sentence youth who have committed nonviolent crimes.

House Bill 83 would allow judges to exhaust all resources before sentencing youth to "hard time." The legislation was pushed by the Illinois State Bar Association and the Juvenile Justice Initiative during this year's spring legislative session. The bill passed both houses and awaits the governor's approval to become law.

"We simply must reverse this trend," writes Mark Hassakis, president of the ISBA, who has taken a keen interest in juvenile justice issues. "Expensive institutions are being used where there is little need for such investment and where it is arguably counterproductive."



Will Sangamon follow?

The capital city does not have a Redeploy Illinois site, which would have the potential to divert youth from prison. That could soon change now that Sangamon County has received a planning grant to help the county decide if it needs a better juvenile justice
program.

Frank Kopecky is a retired legal studies professor at University of Illinois Springfield and was president of the Juvenile Justice Initiative between 2004 and 2007. He is a policy consultant for a possible Redeploy Illinois site for Sangamon County. Kopecky sees a strong possibility for Sangamon County to become part of the state-funded program because there were 52 youth sentenced to juvenile corrections between 2008 and 2010.

"Decatur is involved, Christian County is involved, Peoria is involved, so we're sort of surrounded. Sangamon would fit right in there," he says.

Sangamon, Tazewell and LaSalle counties have applied for Redeploy Illinois planning grants. Sangamon was awarded $8,785 to analyze data from youth sent into juvenile corrections within the past three years. The Institute of Legal, Legislative and Policy Studies at University of Illinois Springfield is currently analyzing data on youths' prior offenses, family life, age and ethnicity to understand the needs of future offending youth. Sangamon County will have until mid-August to apply for startup money if officials decide to do so.

Sangamon County Court Services Department director Mike Torchia says Sangamon County's caseload of nearly 150 juveniles with five probation officers is "pretty much manageable," depending on the risk-level of youth. But programs to supplement probation by keeping youth busy and out of trouble are lacking.

One reason the county has applied for the planning grant is to find out if there is a gap in court services or other programs. Terry Moore, assistant director of Sangamon County Court Services, says that services to youth have been "scaled back to where we're doing what we're mandated by the law to do."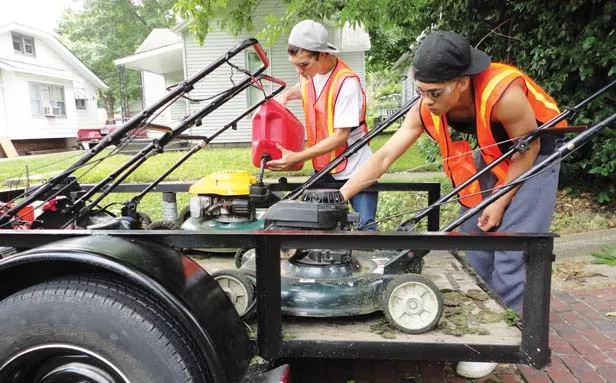 "As the state's money has dried up, the city has not been able to sustain positions," says Moore.

For example, the day and evening reporting program is an after-school program that once gave teens a meal and homework help, as well as a ride service. That program has since been cut.

It shouldn't be hard to see that Sangamon County needs the programming, according to Kopecky.

"You can serve a kid better in the community and certainly cheaper than you can in a correctional institution," he says.

A 2010 cost-benefit analysis by the Illinois Department of Human Services released May 19 shows that teens sent to juvenile prison from Macon County dropped from 51 to 36 during 2010, a 29 percent reduction. The state saved $736,869 in 2010 by keeping Decatur youth in their home community. The entire program saved the state more than $9 million in 2010.

But not everyone is concerned about the financial costs as much as they are the impact of committed crimes, even if they are seen as nonviolent by the court.

"That's not going to change our position on these individuals who commit violent crimes or who will not follow the conditions of the court," says Sangamon County State's Attorney John Milhiser. "We will continue to ask for the Department of Corrections time for them when appropriate because the number one goal for this office is to make sure our community is safe, and if that means asking if these juveniles be sent to the Department of Juvenile Corrections, we will do so."

There are now 27 counties participating in Redeploy programs, including Macon, Lee, Peoria, St. Clair, Christian and Marion.

The social services programs work as a team but many programs are a product of trial and error. Decatur's Redeploy Illinois program connects youth to mental health counseling, anger management classes, and promotes life skills through hands-on programs, an effort to keep youth on a track to being productive members of society. Not every program is successful, according to staff and volunteers.

"But being one of the four original pilot sites, I think a lot of the error is behind us and we have moved forward quite a bit finding what's worked, and what hasn't worked," says Taylor.

One of the goals of the group is to give youth a positive environment so they don't have to worry about being influenced in a negative way. Chriss Walters, a home interventionist with the Youth Advocate Program, has nine teens on her caseload and has contact with most of them daily or at least three times each week.

"The kids look to us to help keep them on track. They know that they have somebody in their corner," says Walters.

Walters is always on the move, often picking up youth in the program between activities and reporting back to Toussaint continually throughout the day. Youth seem comfortable opening up to her and she tries to be someone they can count on.

"I always tell them, I look at it like the boxing scenario, that they're the ones in the ring, you know, fighting the fight," Walters says.

"Their community service is really not a punishment," says Shelley. "It's kind of like they're restoring the harm that they have done …."

Contact Holly Dillemuth at hdillemuth@illinoistimes.com.