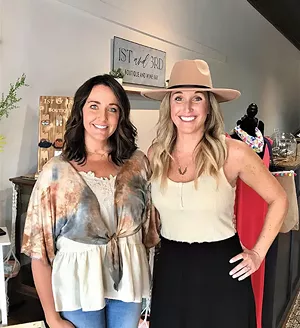 Feeling the need to explore the world around you after working from home since last year? Quench that thirst for adventure with a glass of wine or a cold craft beer at local establishments that have a wide variety of options.
Barely 13 miles southwest of Springfield, in the middle of what seems to be nowhere is something unexpected – Sheedy Shores Wine Garden in Loami, 10300 Johns Creek Rd. Owned by Gloria and Mike Sheedy, you can sit on the beach and look at the water while savoring a glass of wine, or sip on a high-end bourbon or drink a cold beer – craft or domestic, it's your choice.
Open on weekends only, Sheedy Shores Wine Garden is a family-friendly environment where you're welcome to bring a picnic basket and order tea or lemonade for those under the legal drinking age. Gloria Sheedy said everybody in the family is welcome to come out and enjoy the peaceful atmosphere that makes you feel like you're far away from home.
Initially the plan was to establish a winery, but after a couple of years featuring wine from distributors and getting a feel for their niche, the Sheedys decided to continue to operate as a wine garden. She said, "We bring in unique wines from around the world each season, along with some familiar labels that people might recognize. We also carry some local beers."
When guests ask about locally made wine, Sheedy said they are happy to give directions to local wineries. Nearest to Sheedy Shores Wine Garden is Danenberger Family Vineyards in New Berlin.
Just off Route 4 in Chatham you'll find 3Sixteen Wine Bar, named after its location at 316 N. Main Plaza. Owned by five guys who grew up together on the north end of Springfield and now call themselves The Whine Guys, and managed by Justin Kieffer, 3Sixteen Wine Bar is a chill hangout spot where people can enjoy fine wines, spirits, domestic and local craft beers, along with prepared-to-order gourmet finger foods.
In addition to wine and beer, Kieffer said 3Sixteen Wine Bar has a full bar that features specialty cocktails throughout the week. Mark the calendar for a complimentary wine tasting every third Thursday of the month where customers may try four wines exclusive to this market.
The perfect complement to good food and drink is live, local music every Sunday afternoon, and an open mic on the second Wednesday of each month. Kieffer said, "We're always open to new musicians." In addition, 3Sixteen Wine Bar offers comfortable outdoor seating for up to 30 people.
For an out-of-the ordinary twist on the wine experience, set your navigation to 105 S. Seventh St., Petersburg, where you will arrive at 1st and 3rd Boutique and Wine Bar. Owned by sisters Elizabeth Carter and Maggie Adkins, the wine bar is named for their birth order. Coming from a family of four sisters, they grew accustomed to the question, "Which sister?" All sisters became used to responding with their respective birth order. In this case, Carter is the first born, and Adkins is the third.
Both Adkins and Carter were teachers prior to opening 1st and 3rd Boutique and Wine Bar. How do you make the leap from teaching to selling clothing, gifts, wine and food? To that question Adkins laughed and said, "When you teach for 15 years, you learn a lot about wine."
Adkins explained that when people walk through the front door of 1st and 3rd Boutique and Wine Bar, they are welcomed into a community of inspiration where they can sip a glass of wine while shopping for home decor, gifts and clothing.
"People like to be in this space. They feel like they belong," said Adkins. They can shop, find a cozy spot to enjoy a light lunch and read a book on the first floor or carry their glass of wine upstairs and listen to music on the third floor.
Owning their own business had been a pipe dream for Adkins and Carter, but after teaching from home during the COVID-19 pandemic, Adkins said, "Times were tough, and we were really evaluating what defined us. This reality check nudges you a little more to do what you truly want to do."
And when the building they adored was put on the market, they were faced with the decision to make it happen or realize the dream some other time. With the support and encouragement of their families, they purchased the building, and by last spring were teaching during the day and painting the building at night. The doors officially opened on June 5, 2020.
With so many treasures to discover, Adkins said, "Central Illinois can be a destination."
Holly Whisler is a freelance writer from Springfield who enjoys a good glass of wine.