Bill Feurer was called "that tall guy" when he worked in the office of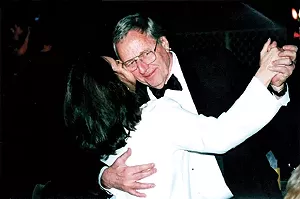 the Illinois Senate president, Cecil Partee, and later when he served as liaison to the press and speechwriter for Gov. Otto Kerner in 1962. His height (6 feet 2 inches) was useful when playing basketball, something he started at the age of 9 and played until he was 79. Kids at the YMCA called him the "oldest" basketball player. People have been donating to the new YMCA to name the court after Bill.
Being tall wasn't what he was known for. Dick Wagner, who worked with Feurer at the Illinois Board of Higher Education, says, "Bill nourished and nurtured the better angels in all of us. He had a strong work ethic and treated everyone with deep respect. He taught us to all be better."
Feurer was born in Englewood, near Chicago, moved with his family to Mexico, Missouri, when he was young, and then lived in Park Forest, Illinois, where he graduated from Bloom Township High School. He earned a Bachelor of Journalism degree from the University of Missouri in 1959. In college he joined the Naval ROTC, served three years active duty on the USS Maloy, and spent 17 years in the Naval Reserve. Judith Feurer, his wife, says, "Bill helped recruit for the Naval Academy until his 60s."
After working in state government, Feurer returned to college, attending the University of Illinois and earning a Juris Doctor degree in 1968. Through his private law practice in Springfield, he advised on issues of historic preservation, nonprofit and service organizations, and many others. He served as chief counsel to the Illinois Board of Higher Education and counsel to the Illinois State Dental Society. Wagner says, "Bill practiced law by walking around. He would finish up a noontime basketball game and then come to the office of the Board of Higher Education, just walk around talking to people, sharing thoughts. His common-sense judgement was outstanding."
Community activism defines Feurer. Ross Hodel, longtime friend who spoke at Feurer's funeral, says, "Bill is the poster child for civic engagement. He wasn't just a joiner; he served in leadership roles with many organizations. He was known for his work. In fact, a quick search of the SJ-R archives revealed 241 times where Bill was in the news for his work."
He was active in Downtown Rotary, and while serving as president was instrumental in opening the organization to women members. A strong supporter of public education, he served as the chair of the Citizens Committee for Stronger Schools in 1981, advocating for a District 186 tax referendum. It failed. The following year, he helped found the Springfield Public Schools Foundation, using his legal background as guidance for the group.
He promoted historic preservation as the chair of the Springfield Historic Sites Commission and as co-chair with his wife, Judith. Judith says, "Some couples go in different directions in their interests, but Bill and I wanted to work together on projects. We did so through our work in historic preservation. We worked on the Mayor's Award for Historic Preservation and were the ones who came up with the name for the area of Springfield now known as Aristocracy Hill."
In his generosity to others, Feurer lived as though he were, in Abraham Lincoln's words, "touched. . . by the better angels of our nature." That was apparent through 18 years as a leader in the First United Methodist Church's couples and families Sunday school class which Feurer established and helped grow to over 100 participants. Feurer was also generous in his service on the Board of SPARC, for which he was given their first Lifetime Achievement Award.
He took on many duties: president of the Urban League, chair of the Copley First Citizen Award committee, chair of the Governor's Prayer Breakfast, an event he developed during his tenure in Gov. Kerner's office. He built the capacity of the organizations for which he served by involving others.
Hodel was part of an unusual group called the Probability Seminar. He explains: "In 1973, Bill started a group to play low-stakes poker. The guys still meet and have never raised the nickel-dime stakes."
Hodel mentioned in his eulogy that he had asked the staff person in charge of doing Bill's legal services contract with the Board of Higher Education for an assessment of Bill's work. Hodel added the comments in the eulogy, "Bill's common-sense legal counsel is excellent and exceptional. His charges for his service are modest. His jokes are poor." Hodel adds, "Bill's jokes were always clean, but they were corny."
Feurer loved his children and grandchildren, supported the Illini, was known as a very smart, down-to-earth guy and had a keen sense of humor. Judith says, "If Bill was in something, he gave 100% in a quiet way. He even dictated part of his obituary while in the hospital."
Everyone who talks about Feurer says he taught everyone to be a better person. He was tall but, more importantly, he had a huge heart. His leaves a legacy as a community activist and a genuine, caring man.
Cinda Ackerman Klickna of Rochester is a frequent contributor to Illinois Times.
During the 1980s, Lawrence, as NAACP president, joined a voting rights lawsuit filed against the city by McNeil and two others so that it could become a class-action matter that included the NAACP, as opposed to a case with only individuals as plaintiffs. Under the commissioner form of government then in place, no black person had been elected to run the city in more than 75 years. "He was so happy to be engaged in it," McNeil said.
After the plaintiffs prevailed, Lawrence left his post as head of the NAACP and won a seat on the Sangamon County Board. In 2009, Lawrence, again, became president of the NAACP. He opposed consolidation of railroad tracks on 11th Street, arguing that the project would harm black neighborhoods. He objected to a proposed ordinance that would have allowed the city to impound cars for playing loud music on the grounds that cops might unfairly target black motorists. He called for the city to fire City Water, Light and Power employees for hanging nooses in their workplace.
When the city in 2010 received complaints about a Halloween yard display that featured a cowboy effigy hanging from a gallows, Lawrence and others concerned about racial overtones met with Josh Witkowski, the homeowner, who insisted it was innocent fun. Afterward, Lawrence agreed: "It was never his intent to have a racist prop in his yard – I am absolutely certain of that," Lawrence told the State Journal-Register. Witkowski altered the effigy's face to make clear it was not intended to depict a black person. Witkowski easily recalls the meeting, which included a discussion of classic jazz and Billie Holiday.
"He was very even, very calm, very cool, very thoughtful," Witkowski says. "We had a very open and honest conversation about who we were and where we came from. When you have somebody who comes from a position of engagement rather than conflict, it changes the outcome of a situation very quickly."
Lawrence's battle with cancer was prolonged. After he fell ill, he submitted his resignation as a trustee of Union Baptist Church, but the Rev. T. Ray McJunkins refused to accept it: If necessary, he told Lawrence, a phone would be set up at his bed so he could participate in meetings. He'd come to know Lawrence as a man who would sometimes question him privately about what was said from the pulpit, but not in a confrontational way. He recalls once getting so upset about something that he resigned as pastor, but Lawrence talked him out of it. He didn't know that McJunkins had received an offer from another church. "He said 'We have all this confidence in you and you're leaving us, but giving us no reason – that's not the way you do things, pastor,'" McJunkins recalls.
The church overflowed at Lawrence's funeral. Folks weren't surprised.
"First class guy, man – first class," McNeil says.