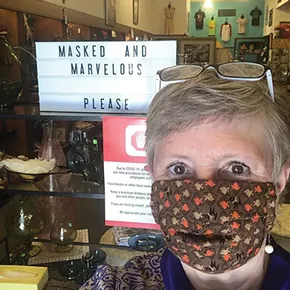 At Linda Renehan's Springfield Vintage shop downtown, the values come easy. As does the conversation. Renehan loves to play "dress-up," styling anyone willing who comes inside. The business is a passion project. She said for some "micro" businesses downtown such as hers, "We're just having fun and trying to survive and provide a service to Springfield."
She's never turned much profit, so closing because of the pandemic was especially hard. But on Friday, May 29, she opened her doors. She wasn't sure what to expect over the weekend. Turnout was lower than pre-pandemic times, but customers came through, "mostly my friends." She insists on masks to be worn. Hand sanitizer is ever-present. "People are happy to be able to get out there." Renehan herself has started branching back out. She's been thrifting "because I've missed it so bad."
More than 1,400 Sangamon County residents participated in a survey gauging how they felt about patronizing businesses, heading into Phase Three of the governor's reopening plan. In Springfield, that phase began May 29. The survey was informal, but various economic development entities wanted to glean a sense of what businesses could do to make customers feel safe as they began to venture out more. The top five takeaways of what business owners could do: have employees wear masks, create space between customers, disinfect on a regular and visible basis, have customers wear masks, and don't have clusters in waiting areas.
Of survey respondents, 70% live in Springfield, and most of the rest were from Chatham and other areas in rural Sangamon County. The survey took place between May 24 and May 27. The survey asked questions such as, "What type of dining experience are you most comfortable with right now?" Nearly half of respondents said they'd be comfortable with dining in-person. Some preferred limited spaced-out seating with reservations or dining outdoors. Out of all the choices, the majority said they'd prefer curbside or delivery. Indoor dining is not yet allowed, but patio seating is.
The vast majority of respondents, 86%, said they would continue to use curbside pickup for retail and food. The majority of respondents also said they had shopped more online since the start of the pandemic, and 70% said they were more likely to shop locally over national websites if given an option to do so.
Katie Davison heads Innovate Springfield, which was one of the organizations that handled the survey. The survey asked people to project their likelihood to shop, dine out and gather as the months go on. She said for questions asked about months further out, the answer "I'm not sure" was prominent. Davison said, "Most people are really looking for direction on this. They want to be told that it's safe to do these activities, and that they're free and clear to do them." Davison said more studies are planned to better gauge how shoppers are feeling as time goes on.
You may contact Rachel Otwell at rotwell@illinoistimes.com.
You can view answers to the survey at: tinyurl.com/yathgg35.