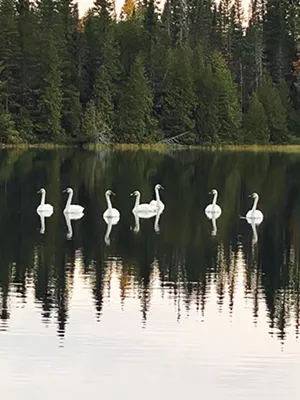 I spent part of the summer in Michigan's Upper Peninsula working for a chef who, whenever feasible, cooked with local and foraged ingredients. For example, our riff on Cajun gumbo substituted Lake Superior whitefish for Acadian redfish and foraged baby milkweed pods for okra. For any dish that normally called for rice, we would opt for local wild rice instead.
My prior experience with wild rice was minimal and the few times I had it, it was usually in a pilaf mixed with conventional rice, and I wasn't too impressed. Texturally, it felt like I was chewing on wood shavings. This summer's wild rice, however, melted on my tongue and tasted the way a morning campfire smells – of smoldering wood coals in the fog of early morning. I was smitten.
I was so smitten that I emailed Ray Johnson, who provided our rice, and ordered five pounds for my personal use. The exchange that followed turned into a journey that took me to unexpected places. First of all, I discovered that Ray Johnson isn't really a rice vendor, he's a conservationist who owns a 6,000-acre wildlife reserve in Michigan's UP and devotes his life to saving damaged ecosystems. He plants wild rice to help restore the wetlands. He emailed me a photo of trumpeter swans with the subject line, "Why I plant wild rice," explaining: "Seven trumpeter swans arrived on one of my Reserve lakes. They will dine on the wild rice now until ice-up. They are the largest North American bird, up to 25 pounds and seven-foot wing-spans. Nearly wiped out by 1930. They have facial recognition capabilities similar to crows. When I come down to the lake they always come over for a chat, like old friends."
I learned that wild rice isn't actually a true rice – it's an aquatic grass with an edible grain. It's one of the only two native grains commonly consumed in the United States, the other being corn. Known as manoomin in the language of the Lake Superior Ojibwe, the grain has played a profound role in the culture of these indigenous Americans. In addition to being a primary food source, manoomin is a part of all of their ceremonies. Climate change, pollution of waterways, and commercial planting of non-native commercial strains are all adversely affecting that historic relationship.
Native wild rice grows in shallow wetlands and is harvested by hand in canoes. In the 1960s, plant breeders from the University of Minnesota began domesticating a strain of wild rice so that it could be planted in rice paddies which could be drained and mechanically harvested by a combine. In the 70s, a white-owned paddy-rice industry arose in California and made wild rice a marketable commodity and the prices soared (nowadays premium wild rice can sell for $20 a pound and more). This led to over-harvesting and depletion of the native ecosystem. Conservationists like Ray Johnson are working to restore the grain's native habitat.
Ray provides wild rice to people as an act of kindness and generosity: "The eating rice is something that I send out to a handful of family and friends." Ray sent me five pounds of hand-harvested, hand-processed wild rice and refused payment. "No charge. Have a great adventure and when possible share a photo or two. ..." It warms my heart, especially in these divisive times, that kindness still thrives in some circles.
Roasted squash with wild rice and mushroom stuffing
This recipe is vegan and gluten-free. Both delicata and acorn squash have edible skins.
Serves 4
Ingredients:
1/2 cup wild rice
1 1/2 cups water or vegetable stock
1/2 tsp salt, divided
2 delicata or acorn squash, halved and seeded
1 T. olive oil plus more for brushing squash halves
1 medium red onion, diced (approx.1 cup)
1/2 cup celery, diced
2 cloves garlic, minced
1 cup shiitake mushrooms, stemmed and sliced
½ tart apple, peeled and cut into ¼-inch cubes
¼ cup dried cranberries, soaked in warm water
¼ tsp dried thyme
1/2 cup toasted walnuts, chopped
1 T. apple cider vinegar
Preparation
Preheat oven to 400 degrees F.
Rinse wild rice in 3 changes of water.
In a medium saucepan, combine wild rice, water and ¼ teaspoon of salt and bring to a boil. Reduce to a simmer and cover. Stir occasionally to make sure rice is not sticking to the bottom of the pan. Add more water at any point as needed to keep the rice covered. Cook until rice is tender and many of the grains have burst, revealing a cream-colored center – about 30-50 minutes. Remove from heat, drain off any excess liquid, then fluff with a fork and keep warm.
Line a sheet tray with parchment. If squash halves do not sit evenly upright, flatten the bottoms with a box grater. Brush inside of squash with olive oil. Place the squash halves cut-side down on the baking sheet. Roast until fork tender, about 35 minutes.
Heat 1 tablespoon olive oil in a skillet over medium heat. Add the diced onion and celery. Sauté 3-5 minutes or until soft. Add the mushrooms, garlic, thyme and ¼ teaspoon salt. Stir until well mixed. Cook for about 5 minutes until mushrooms are tender. Add the apples, cranberries and chopped walnuts and cook for 2-3 minutes longer.
Put the cooked wild rice into a large mixing bowl, add mushroom mixture and stir until well combined.
Reduce oven temperature to 300 degrees F.
Fill each cooked acorn squash half with the mushroom-rice mixture. Return to the oven for 10 minutes to heat through.
Peter and his family have survived their first six months in a school bus and are currently headed south to cook in Asheville, North Carolina. Minnesota Wild Rice is available at nativeharvest.com