Thirty-two-year-old Robert Baird was excited to begin the new year with a notification from the Illinois Department of Corrections (IDOC) granting him permission to transfer from the Pittsfield Work Camp to the Decatur Adult Transition Center, commonly referred to as work-release.

For Baird, the transfer was an opportunity to get his life on the right track. It meant that he would be able to find a job in the Decatur community and receive a regular paycheck instead of spending his days as a volunteer with the Pittsfield Prison work crew.

"Once I heard about the program I knew that it would give me a good, fresh start. I really want to turn my life around," explains Baird, a Clinton resident serving a six-year prison sentence for possessing cannabis plants.

In 2005, Baird was sentenced to four years in prison for residential burglary. A year later, he was released early on parole. In May 2007, after a second arrest, Baird began serving a two-year sentence for possession of cannabis and a four-year sentence for burglary. He was once again released on parole in October 2008. He began serving his current sentence in July 2010. His projected parole release date is Feb. 13, 2013.

When Baird arrived at the work-release facility four months ago, he had a clear plan: Find a job and work as much as possible to save enough money to get his own apartment upon his release from state custody.

Despite his criminal background, Baird quickly found a job at Debbie's Diner in Decatur. His plan, says Baird, who is also taking advantage of the center's drug counseling program, was coming together perfectly until Gov. Pat Quinn announced his proposed budget for fiscal year 2013. The proposal includes a $112 million decrease from IDOC's current budget, with plans to close six of the state's seven Adult Transition Centers (ATCs), including the Decatur and Peoria facilities, by Aug. 31. Since then the General Assembly restored funding for Decatur and Peoria, but left it up to Quinn to decide whether they will remain open.

"Being at the center is really helping me. I was hoping to continue working at the Diner even after my release. But with the governor wanting to close the center, I don't know what my future holds," says a disappointed Baird. "Work-release is a valuable program. It really needs to stay open. There are lots of other guys like me who want to change but need the help that the program offers."

According to Quinn, eliminating the ATCs, which operate in buildings leased by the state, will annually save $17.7 million. But opponents argue that Quinn's figures are not exactly correct and that the program's benefits outweigh the cost of keeping them open.

Work-release is designed to give inmates a second chance at becoming productive, tax-paying citizens by affording them the opportunity to work at a regularly paying job, which enables them to save the funds needed to re-establish themselves once they complete their entire prison sentences or are released early on parole.


Illinois opened its first ATC in Carbondale in 1970 at a time when the corrections industry was shifting its focus from punishment to rehabilitation. In the following decade, IDOC opened the Peoria and Decatur facilities, as well as the Fox Valley ATC in Aurora, the only work-release program for women.

Between 1993 and 2000, the department opened three ATCs in Chicago, including North Lawndale, Westside and Crossroads. While the state operates six of the ATCs, Crossroads ATC is managed by Safer Foundation, a Chicago-based agency dedicated to promoting successful re-entry and reducing recidivism through employment, education and support services.

Today, the state's work-release program can accommodate 1,245 residents, with each facility offering 64 to 330 beds. There are 248 beds in Peoria and 110 in Decatur. If the governor follows through with his plan to close the six facilities, only 128 beds at Chicago's Lawndale ATC will remain. (Lawndale will not close due to contractual obligations with the building's owner.) There would be no available slots for women.

Illinois' inmates know the value of the program. Each year, IDOC receives approximately 4,000 applications from interested inmates. In the past 15 years, 31,539 inmates have participated in the work-release program, which provides pre-employment training, job placement and referrals for vocational and educational programs in the community. The facilities also offer on-site rehabilitative services, such as counseling, substance abuse, anger management and money management, and parenting classes, as well as transportation to services in the community. They also assist inmates in setting goals and increasing their self-esteem.

While at an ATC, residents are closely monitored. During their stay, they gradually earn privileges allowing them to go out into the community to shop, go to the movies, etc. Residents eventually earn furlough time, which gives them the opportunity to go home and gradually reconnect with their families.

Each time residents leave the facilities they are required to complete a form indicating where they are going, how long it will take them to arrive at their destination, the time they anticipate leaving their destination, and the time they will return to the center. Residents also must call the center when they arrive at their destination and when they are headed back to the center. ATC staff also randomly call or drive to various sites to confirm where the residents are.

To qualify for work-release, inmates must be classified as nonviolent offenders, have 2 to 24 months left to serve on their sentences, be free of any prison violations, and have no acute medical or dental needs.

Artist in residence
Work-release gives residents a tremendous opportunity to re-engage in the community without simply being thrust back in society without support, says Jonathan Romain, a Chicago native who was transferred to the Peoria ATC in 1995 after serving five years in prison for a drug charge. He was a resident at the Peoria ATC for about 18 months before being released from prison.

For Romain, the program served as an incentive to stay out of trouble while detained in a prison. "Every single day I told myself that I couldn't get a ticket because it would ruin my opportunity to get into the program."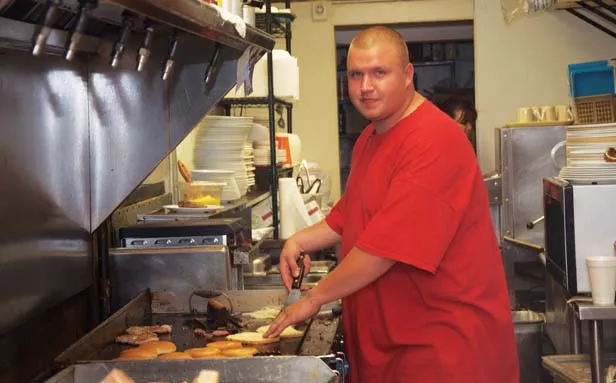 Unlike most ATC residents, Romain, an artist and photographer, obtained a bachelor's degree in psychology from Bradley University prior to going to prison. While at the Peoria facility, he was able to sell his artwork and open his first gallery. Though Romain says that he would have eventually achieved his dream of opening his own gallery without work-release, he maintains that the program accelerated the process. "Being at the center allowed me to fully focus on getting the gallery off the ground. It helped me find my bearings before I was released from prison, which helped ease my transition," he explains.

After his release from the Peoria ATC, Romain opened an additional art gallery in Chicago. His website – www.jromain.com – shows photos of the gallery and pictures of Romain posing with gallery visitors, including President Barack Obama, former "Today Show" host Bryant Gumbel, and actors Billy D. Williams, Sidney Poiter and Angela Bassett.

Today Romain, who has showcased his work in museums and galleries across the country, including Chicago's Museum of Science and Industry and the Studio Museum of Harlem, reports that annual sales of his artwork ranges between $100,000 and $180,000.

Romain: "I would definitely encourage the governor and the legislators to look beyond the actual dollar amount because the program is deeper than that. It really puts inmates on the right path. And this is something that is very much needed."

Indeed, work-release programs across the nation are viewed as successful means of rehabilitating inmates.

The National Institute of Justice reports that inmates who work for private companies as part of a work-release program obtain employment faster upon release, keep jobs for longer periods of time and have lower recidivism rates than those in the general prison population. And, given the fact that many inmates lack education, job skills and previous employment experience in legitimate jobs, securing a job upon release from prison is a difficult feat, which makes the work-release program even more valuable.

When you consider IDOC's mission to "maintain programs to enhance the success of offenders' re-entry into society" one has to wonder if the state will truly benefit from closing the ATCs.

By all accounts, Illinois' work-release program has been successful in reducing the number of inmates who return to prison upon their release. DOC reports that 31 percent of the ATC residents return to prison, compared to 51 percent of those in the general prison population. Given the fact that Illinois spends approximately $20,000 each year to house an inmate in general population, the additional cost the state incurs from repeat offenders is staggering.

"Work-release really gives residents a leg up," says Michael Ross, a longtime corrections officer at the Decatur ATC. "The guys work hard because they know that they have something to prove. Some of the employers have been so pleased with the residents and the work that they do that some of our guys have even been promoted into supervisor positions."


Debbie Hill, owner of Debbie's Diner, has hired residents of the Decatur ATC for 10 years. "I believe in second chances. And the guys who I've hired have been excellent workers," says Hill. "They show up on time. And they do everything that is asked of them without hesitation," Hill says.

Guy Nicholson, owner of Sadona Staffing, a Peoria employment placement agency, was surprised to hear that the state is planning to close the ATCs. "I am shocked that it was even raised for discussion," says Nicholson, who maintains that over the past eight years he has found jobs for hundreds of Peoria's ATC residents. "Anyone who understands the program would not even consider having a dialogue about closing the centers.

"The men who we've dealt with have a great work ethic, and they are really excited about the opportunity to work," continues Nicholson. "The program actually brings great value to their lives while they are at the center. Taking this opportunity away from them just doesn't make sense," states Nicholson, adding that Sadona Staffing greatly depends on Peoria's ATC to meet the demands of area businesses.

Nicholson: "We place ads and hire people in the community first. When we don't fill the positions, we have to turn to the center to find employees to do the work. If the center indeed closes, some of our businesses are really going to suffer."

Neither Nicholson nor IDOC would release the names of the employers who hire ATC workers. But they did say that work-release residents work at restaurants, hotels, construction and welding companies, auto repair shops and cleaning companies. Kaplan, who oversees Crossroads ATC in Chicago, says that his company has worked with about 500 Chicago businesses.

While the governor reports the state would save $17.7 million annually by closing the work-release centers, the state's anticipated savings is a bit deceiving because it does not include the maintenance fee that ATC inmates are required to pay the state. The fee, which is 20 percent of each paycheck, helps offset the cost of housing them.

According to IDOC, in the last five years, the state has collected nearly $3 million from Peoria ATC residents and $1.5 million from residents at the Decatur facility. In fiscal year 2011, Illinois' ATC residents paid the state a combined total of approximately $2.5 million in maintenance fees.

"With the financial position the state is currently facing, it just doesn't make sense to close the only program in which the state actually gets some of its money back," Hill states.

In some cases, the work-release program saves money for the state's welfare system as well. When parents of dependent children are incarcerated in state prisons they are unable to financially support their children. However, ATC residents are required to meet child support obligations. As a result, parents pay to care for their own children instead of having taxpayers support them.


In addition to maintenance fees and child support, ATC residents must also pay court fines and court-ordered restitution. These fees also go unpaid when individuals are unemployed.

Having the ability to work and save money prior to their release from prison enables ATC residents to overcome another big hurdle – housing. Paroled inmates, including ATC residents, are required to have a place to live before they leave prison. Those released after serving their full sentences are let out into the streets with nothing more than a bus ticket and $50. Some are forced to stay at homeless shelters as they attempt to find employment and save enough money to pay a deposit and first month's rent, which landlords typically require.

Given a choice, many inmates do not want to go home upon their release because the communities that many come from are filled with the same vices which got them into trouble in the first place, explains Ross. Most find it easier to change their lives if they are in a different environment. And it's easier to do that if that if they have a job and money saved up to obtain housing.

As ATC facilities prepare to close, Baird and other work-release residents are worried about their future. To accommodate the closings, IDOC plans to send about 1,000 inmates housed at either ATC centers or at minimum-security facilities home on electronic detention (ED). Those selected will receive an electronic bracelet and will be monitored by parole agents. They will only be allowed to leave their homes for work, school and other approved appointments.

The department has already begun evaluating inmates to determine which will be good candidates for electronic detention. In an email to Illinois Times, IDOC reports that ATC residents are the optimal population for electronic detention because they are already out in the communities during the day. However, the department admits that some work-release residents are likely to return to one of the state's already overpopulated prisons.

When you consider the fact that it costs the state $44 a day to house a resident at the Peoria ATC compared to $5 a day for ED, then the state's plan seems feasible. But Ross and other supporters say that IDOC is missing two key points.

Without ATCs, Illinois inmates will be released from prison without the benefit of the on-site job training, counseling and other self-help programs offered at the facilities. And, they won't have the benefit of saving money needed to support themselves upon their release.

Another issue is that the state is currently working to revamp its parole system. And according to AFSCME, the union representing prison employees, parole agents are already struggling to manage their current caseloads. In a statement on its website, AFSCME maintains that under the governor's proposal inmates sent home on ED will not be adequately monitored, which will jeopardize the safety of the public.

While Ross is a huge advocate of the work-release program, he believes that there is a way for the state to effectively utilize ED and keep the ATC facilities open.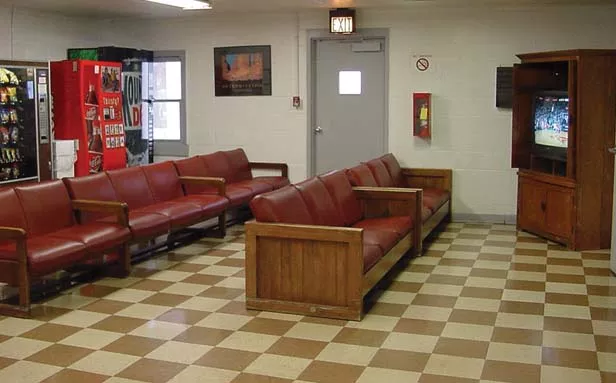 This task is one that requires preparation for the transition necessary to make this program work, says Ross, adding that the 24-hour monitoring that ATCs already provide is critical to successfully integrate inmates into communities after prison confinement.

Electronic monitoring should be expanded expeditiously with the Adult Transition Centers as a necessary component of a filter between the prisons and the community, explains Ross, who has developed a five-level plan which he says will save the state millions of dollars a year.

Under Ross' plan, IDOC would continue its procedure for admitting inmates into the ATCs. Once arriving at the centers, residents would spend the first month participating in orientation, education and employment evaluation, and counseling assessment. They would then move to level two, with the expectation of obtaining and maintaining employment for two months. Levels three and four would begin the process of acclimating residents back into their families and communities. At level five they would be in a program of electronic detention.

Ross maintains that under his plan, ATCs could release between 2,434 and 3,651 residents to electronic monitoring each year, with a preliminary savings of $14.5 million in the first year, and as much as $22 million in subsequent years. Much of the savings, says Ross, would come from accelerating the preparation, evaluation, placement and community employment to four to six months. Currently ATC inmates are at the facilities for an average of 18 to 24 months.

Though Ross has had the opportunity to present his proposal to legislators over the past several months, it remains to be seen if his plan will be adopted.

Several weeks ago, the Commission on Government Forecasting and Accountability recommended that the governor keep the Peoria ATC and Chicago's Westside ATC open. In the past, governors have accepted the commission's recommendation; however, Quinn has yet to respond.

The budget legislators passed and sent to the governor May 31 included funds to keep the Peoria and Decatur ATC open, though the governor still has the option to close them. If the facilities remain open, the state will have 486 work-release beds – 759 less than its current total.

Closing the work-release facilities will make a bad situation worse, says John Maki, director of the John Howard Association, a Chicago-based agency focusing on prison reform. "If anything, the governor should open more work-release centers," Maki continues. "Illinois needs to come up with ongoing efforts to effectively reduce its prison population. The governor needs to think long term. The state may save a bit of money now, but we'll pay in the long run."

Jolonda Young, a former IT staff writer, serves as director of Intercultural Programs and Services at Blackburn College.