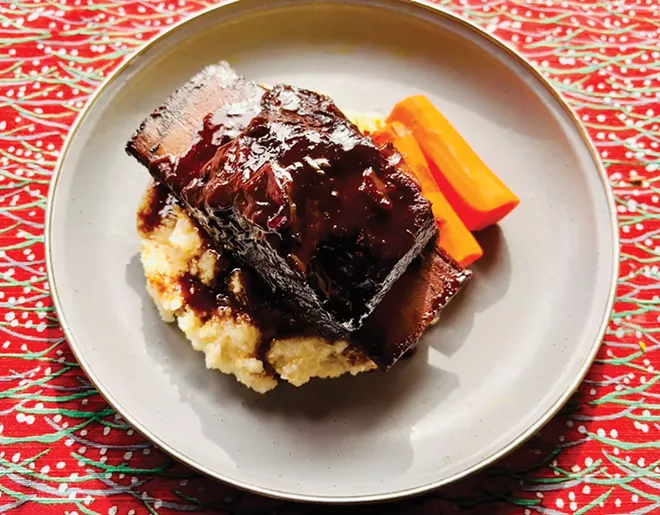 My fourth year of working in restaurants and living in a school bus is coming to a close. For the last few Decembers, I've relocated my bus to Florida because I swore I'd never suffer through another Midwest winter. This year, however, my position in the R & D and Fermentation Lab at Audrey Restaurant in Nashville is keeping me considerably further north. Though Nashville is considered a "Southern" state, the temperatures there average only about 10 degrees warmer than here in Illinois. My wife and I have a cozy little house in a quiet little neighborhood in Springfield, where I could be snuggled up under a blanket with our dog eating popcorn and watching a movie, but instead, I've chosen to freeze my arse off this winter in my uninsulated converted school bus. The opportunity to work for Chef Sean Brock was just too good to pass up.
During the warm months, I usually cook outside on the grill to keep the heat out of the bus, but in cold weather, I cook indoors to put heat into the bus. To this end, I often rely on slow braises. Braising is a cooking technique that begins with browning meat and aromatic vegetables on the stovetop, then adding a braising liquid (usually stock and often wine), and cooking gently in the oven until the meat is tender. An advantage of the braising process is that it can transform flavorful, but tough, cuts of meat into something tender and delicious. Braising is my favorite way to cook beef short ribs.
<!——[if gte mso 9]—>Short ribs are a cut of
beef
that consist of a short portion of the rib bone and the surrounding meat. They are full of flavor since they have alternating layers of meat and fat. Because they come from a muscle that is well-worked, short ribs can be a very tough cut. But cooked correctly, they can be very tender, and easy to chew. Short ribs can be butchered in two ways. "English-style" short ribs are cut parallel to the bone, such that one rib bone runs along the length of each portion. They are usually sold in 4-inch to 6-inch lengths, and are about 2 inches thick. This is my preferred cut for braises. "Flanken-style" short ribs are cut across the rib bones so that each piece has cross-sections of several rib bones in it. They are thinner, usually ¼-inch to ½-inch thick. This is the cut used in Korean barbecue for kalbi or LA-style galbi. Flanken-style short ribs are my preferred cut for grilling.

When buying English-style short ribs, look for "bone-in." The bone provides structure and insulation to the meat, slowing the transfer of heat, making it easier to get even cooking, and allowing it to retain its moisture and juiciness. "Boneless" short ribs are cut from the chuck or plate, consisting of rib meat separated from the bone.

Red Wine-Braised Short Ribs
This dish tastes even better if prepared a day ahead and reheated before serving.
Serves 4-6
Ingredients
4 bone-in 2-inch-thick short ribs
Kosher salt and fresh ground black pepper
Flour for dusting
2 tablespoons grapeseed oil
4 medium carrots
1 rib celery
1 medium onion
2 leeks
4 cloves of garlic
1 1/2 tablespoons tomato paste
1 bottle dry red wine, such as cabernet sauvignon
2 cups of beef or chicken stock, preferably homemade
1 packet of unflavored gelatin (optional – only if using store-bought stock. See Note #2 below.)
4 thyme sprigs
1 cup ruby port wine (optional)

Preparation
Preheat the oven to 300 degrees F.

Prepare the vegetables: Peel the carrots and onion and cut them into 1-inch chunks. Cut the celery into 1-inch pieces. Trim off the root end and green tops of the leeks. (See Note #1 below.) Slice the leeks in half lengthwise, then cut widthwise into 1-inch segments. Submerge the leeks in a bowl of cold water and stir to remove the dirt. Rinse and drain. Peel the garlic cloves and smash them with the flat side of the knife.

Dry the short ribs with paper toweling, season generously on all sides with salt and pepper, then lightly dust with flour. Heat the grapeseed oil in a Dutch oven with a tight-fitting lid over medium-high heat until shimmering. Working in batches, sear the short ribs on all four sides until golden brown, about 4-6 minutes per side. Refrain from overcrowding the pan, or they will end up steaming and developing a greyish color. Transfer the ribs from the Dutch oven onto a plate. Pour off all but 2 tablespoons of the fat.

Turn down the heat to medium, and add the carrots, celery, onion, leeks and garlic. Sauté the vegetables, stirring occasionally, until browned, about 6-10 minutes. Stir in the tomato paste and continue to cook for another 2 to 3 minutes. You may need to lower the heat if the vegetables start to burn.

Add the red wine to the Dutch oven and turn the heat to medium-high, scraping up any browned bits, until reduced by half.

Add the stock (if using store-bought stock, see Note #2 below) and return the short ribs back to the Dutch oven. Add the thyme sprigs and bring up to a simmer. Turn the burner off, cover the pot, and put it into the oven. After 1 hour, remove the lid and cook for another 2 hours or until the short ribs are fork-tender. If not yet tender, continue to braise, checking them every 20 minutes.

Remove the pot from the oven and transfer the ribs and vegetables to a bowl. Return the Dutch oven to the stovetop, add the port (if using), bring the liquid to a boil, and reduce to a consistency thick enough to coat the back of a spoon, about 10 minutes. Taste for seasoning, adding more salt if needed.

Pour the sauce over the short ribs and vegetables and serve with mashed potatoes, polenta, rice, egg noodles, or some good crusty bread.
If preparing a day ahead, refrigerate overnight. The next day, remove any fat that has risen to the surface of the sauce. When ready to serve, place the covered dish in a preheated 325-degree F oven until heated through, about 30 minutes.

Notes:
1. Don't discard the green tops. They are delicious thinly sliced and sauteed in olive oils or butter. Or save for making stock.
2. If using store-bought stock, place it in a bowl first and sprinkle with the gelatin and allow it to "bloom" for about a half hour to avoid incorporating any lumps.
<!——EndFragment——>