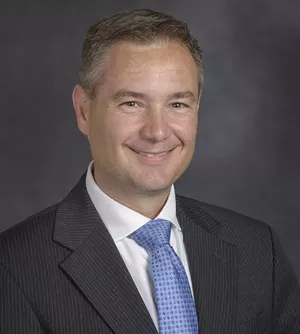 Under state law, the public is supposed to know who pays for political ads.
But a political action committee run by Frank Vala, a Leland Grove resident long active in local politics, is paying for attack ads against William McCarty in the city treasurer's race with virtually no way of the public knowing who's paying the bills.
The ads urge voters to support Colleen Redpath Feger instead of McCarty. Illinois State Board of Elections records show that Vala's PAC apparently has received money from a campaign fund tied to Ward 1 Ald. Chuck Redpath, Feger's father.
Neither Redpath nor Vala, who owns a business in Springfield, returned phone calls. But here is what records show.
In 2021, Vala established Sangamon County Victory PAC. On March 13, Vala filed paperwork with the state changing the name of his PAC to Citizens For New Leadership. Three days later, Citizens for Redpath contributed $6,000 to Citizens For New Leadership.
But the tagline on radio attack ads running as recently as March 20 states that Sangamon Victory PAC is paying for the spots. Try looking up Sangamon Victory PAC on the Illinois State Board of Elections website and you'll find no such entity, owing to the recent name change. Furthermore, Citizens For Redpath doesn't exist. That committee folded in 2007, when Redpath, barred by term limits, couldn't run for a fourth consecutive term on the city council.


Friends For Redpath, the alderman's active campaign committee that has contributed nearly $55,000 to Feger's campaign, isn't required to file quarterly disclosure reports until after April 4 municipal elections, and so it isn't clear whether the $6,000 donation to Vala's PAC attributed to Citizens For Redpath came from the alderman's existing campaign account.
Feger, who is treasurer for Friends of Redpath, said that she isn't familiar with Citizens For New Leadership.
"I don't know anything about this PAC," Feger said. "I've had a person tell me something about the ad. I've not heard it myself. … I'm running a positive campaign and focusing on myself."
The ads cast McCarty as a tax and spender. McCarty points out that the treasurer's office is an administrative office that can't raise taxes or set policy, as is the city budget office that he now heads.
"It's acting like I increased taxes," McCarty says. "I don't have a vote. I have never raised taxes in my 12 years with the city."