Organized labor will have a friend in the State Capitol no matter who wins the 96th District state representative race on Nov. 6.

Democratic incumbent Sue Scherer of Decatur was a longtime union member and contract negotiator, and Republican challenger Herman Senor of Springfield has been a Teamsters Union member for more than 20 years.
"I embrace it. I've been a union member and the union has been very good to me and my family," said the 57-year-old Senor, the Springfield Ward 2 alderman and a 30-year employee of the Illinois Department of Transportation. "That's just something that is a part of me and it is one thing that kind of separates me from the crowd, that I am a union member and I am a Republican, and a black Republican at that."
Senor also doesn't see eye-to-eye with his Republican colleagues on the U.S. Supreme Court's Janus decision regarding fair share union membership.
"If you get to take advantage of something that's out there and don't have to pay for it, I don't think that's the premise that our country is made on," Senor said. "If you are a part of something and you get the benefit, there should be some buy-in from you. No matter what we do, there are no free rides."
The 62-year-old Scherer, seeking her fourth term as 96th District state representative, is also not a fan of the Janus decision.
"It concerns me, I see a lot of unions not getting the support that they need from the government," Scherer said. "I don't see what's wrong with a group of people standing up to be treated humanely."
Scherer was a teacher for 34 years in Maroa-Forsyth and Decatur public schools, was a member of the Illinois Education Association and served as the local union's chief contract negotiator for many years. She has a family history of union activism going back two generations.
"My dad was the financial secretary for the machinists' union at the Norfolk and Western Railroad," Scherer said. "My grandfather was part of the organizing group when they started unionizing, and he told us they would hold hands and make a line, and one time he had someone stick a rifle in his belly. And he wouldn't move, he said, 'No, I'm staying here, because this is the right thing to do.'"
Scherer and Senor also have similar, pro-life views on abortion.
"I am pro-life with the exceptions of incest and the life and health of the mother," Scherer said.
Senor criticized Gov. Bruce Rauner for signing House Bill 40 that allows state funds to pay for abortions in certain cases. "I can't tell a woman what to do with her body because I don't know how she feels, I've never carried a baby," Senor said. "But I don't believe it is right for the public to pay for a private decision that a woman makes."
Backgrounds
Senor and Scherer live at opposite ends of the 96th District that includes most of Decatur, parts of east and central Springfield, Rochester and northern Christian County.
Senor grew up in Springfield and was the second youngest of eight children. His late father, Clarence L. Senor, was a Springfield fireman and his mother, Peggy Senor, held several jobs and raised the children. Senor's mother continues to reside in the family's 16th Street home in Springfield. Senor attended Iles Elementary School, Jefferson Middle School, Springfield High School and Coastal Carolina University. He served four years in the U.S. Navy and has worked for the Illinois Department of Transportation since 1988.
Senor has been married for 34 years to his college sweetheart, Valeria Hickman Senor, and they have three grown children.
Scherer grew up in Decatur and has extended family members from Springfield. She received her undergraduate degree from Illinois State University and a master's from Eastern Illinois University. In addition to a lifetime of teaching, Scherer did consulting work and instructed people who were returning to the education field.
Scherer has four children ranging in age from 28 to 38 and two grandchildren.
Scherer's initial run for state representative in 2012 began with a discussion she had with a fellow educator during a last day of school teacher breakfast about the district's open seat.
"We talked about the fact that they needed a regular person in there, and the other teacher said, 'I think I'm going to run,' and I thought that was an outlandish idea for someone to run who wasn't already in the political arena," Scherer said. "I pledged to help and support her, but by the end of breakfast she said she wasn't going to run. So then my wheels started turning and I thought maybe I should be the one to run."
Scherer did her research and spoke to the Democratic Party chairs of Macon and Sangamon County. She also had an eye-opening discussion with Christian County Democratic Chair Jack Mazzotti.
"He held nothing back. He said, 'Do you know what you are getting into? Do you know how much work you're going to have to do? Do you know how many hours you are going to have to knock on doors?'" Scherer said. "I don't know whether I didn't believe him or just didn't think it would be that bad."
Senor's sister is former Sangamon County Circuit Clerk Candice Trees, the first black executive officer in Sangamon County.
"We are very proud of that, and she has been very influential and helpful in my campaign," Senor said. "Irv Smith (former Sangamon County Republican chair) used to be our principal at Iles School and I swam for Irv back in the 1960s at the YMCA. We used to have a Jerome Irwin Republican Club. There were a lot of people who were good people who have helped me formulate who I am today."
"My father told me, 'If you see something, don't complain about it, get out and try to make it better,'" Senor said.
Senor has been Springfield's Ward 2 Alderman for three years and had previously served as an appointed Capital Township Trustee.
Reaching across the aisle
Both candidates feel they have demonstrated an ability to work with people in either political party and eschew the partisanship that seems to thwart progress at the Capitol.
"It's not them versus us," Scherer said. "(Republican Representative) Bill Mitchell and I went to the same high school and he told me in the beginning, 'Sue, you are going to find that you and I vote very similarly. We'll be on the same side more than we will be on opposite sides.'"
"When it came to the budget, taxes and all that, we were getting nowhere letting the leaders try to handle this," Scherer said. "So we started a small group of Democrats and Republicans and we started meeting for dinner, or we'd go for a walk at Washington Park, just different ways of getting together and that's when we really talked about how we were going to get things done."
Scherer said there's no love lost between Governor Rauner and House Speaker Michael Madigan, but behind the scenes, lawmakers from both parties have forged lasting friendships. She and Republican Representative Dan Brady have helped each other on constituent matters, including some that still make her smile.
"Dan had a lady doing a church scavenger hunt and she would get 100 bonus points if she could get picture of a Democrat and a Republican sitting down playing a board game," Scherer said. "I had to go to Chicago anyway the next day, so we met by the Route 66 sign in Towanda and we played Connect 4, and the lady got her picture."
Senor said he's worked with his fellow aldermen on the city council to get things accomplished and will bring that spirit of cooperation to the Capitol if elected.
"Our country is a melting pot and you have to make a pledge to work with everybody when you are a representative, you have to be able to reach across the aisle and come to a conclusion that is amicable to both sides," Senor said. "No matter what we do we never get 100 percent of anything. I have learned to work with people and come to conclusions, because it's not for you, it's for the good of the people that you represent."
Senor said some of Illinois' partisan difficulties may stem from having a governor who doesn't do things the way they've always been done.
"I think Bruce Rauner has been a good governor because he has shined a light on some things that have been going on," Senor said. "Change is hard but some change is inevitable, and when you start doing things differently it causes people to step back and say, 'I never knew that's how it was, maybe it needs to be changed.'"
Springfield Ward 10 Alderman Ralph Hanauer has seen his Second Ward counterpart in action.
"Working with Herman Senor for the past term . . . he has shown his dedication to his constituents' needs and concerns," Hanauer said. "He is not afraid to ask questions regarding ordinances that come before the council, especially if it may cause a financial impact to his constituents."
Focuses
Senor hopes to focus on youth and senior citizen issues if elected.
"I think there is a vast need for programs for younger people with an emphasis on retaining our younger population," Senor said. "We can get people more involved in our community because when you buy in you have a sense of accomplishment. We always need to make sure that young people have a sense of belonging and acceptance. So instead of people looking for reasons to leave, they will find reasons to stay.
"Last summer within a 10-day time frame we had three young people get killed in Springfield. From that I thought there might be some state funding or programs that pay attention to our youth, and I don't think that has happened," Senor said. "Decatur is kind of the same way. It is a mirror image of Springfield in certain areas. I just think there needs to be more emphasis put on programs and jobs for our younger people."
Senor also thinks the state needs to figure ways to keep more older people in the state and discover the reasons why, besides the weather, many senior citizens leave their home state of Illinois once they retire.
Former teacher Scherer points to the education reform sponsored by her Democratic colleague, Sen. Andy Manar, as a major focus of her legislative career. She also thinks it's critical that the state reduce its backlog of unpaid bills.
"When I came in we were paying our backlog of bills down and we were going at a good clip. At the end of Governor Quinn's administration it was down to $5 or $6 billion," Scherer said. "Now it's at $16 billion. It took a lot of work to get that backlog down, to make those cuts so we're not paying all of that interest.
"To me this is a no-brainer. You borrow the money to pay back at three percent so you can pay your bills that you are paying 12 to 15 percent on," Scherer said. "We couldn't even get the governor to agree with that."
Scherer is chair of the new Business Incentives for Local Communities Committee in the House, which is looking at ways to improve the state's business climate. She said one thing she has learned from the input the committee has received is that the state's Economic Development for a Growing Economy (EDGE) tax credit isn't an effective economic development tool.
"The EDGE tax credit isn't suitable for the year 2018," Scherer said. "EDGE is a credit if you are increasing the number of workers. It sounds like a great deal, but the problem now especially in high-tech businesses is that they will not always hire more workers, but they will upgrade their existing workforce by hiring more technology-savvy workers and pay them a better salary. These moves improve the lives of people but maybe don't add new numbers of jobs."
Scherer also wants to focus on overriding the governor's amendatory veto of legislation she sponsored, House Bill 4710 ,which addresses the issue of college credit card debt, which she said compounds the problem of college student loan debt.
Firearms
Both Scherer and Senor consider themselves pro-Second Amendment. The National Rifle Association's (NRA) candidate ratings for the November election give former educator Scherer a "B" on an A-through-F grading scale. The NRA has Senor listed as a question mark because he had not returned the organization's candidate questionnaire before the rankings were published.
Scherer had received a higher "grade" from the NRA in the past, but she said recent school shootings and her reaction to them have caused her rating to dip slightly.
"When the school shootings happened I started hearing from a lot of other constituents that are not NRA members pushing for the other side," Scherer said. "The district is very divided on this, but what I mainly heard from people, not organizations, is that we need to be able to keep our guns. So my votes are still very much pro-Second Amendment with common sense added.
"It appears the NRA has gone too far to one edge, so I ask my constituents what they think is the right thing for our district," Scherer said. "That's how I decided to vote on mental illness issues related to guns, some of the waiting periods, and mom-and-pop firearms dealers versus big chain stores."
Senor said more gun control measures aren't the answer.
"Our Constitution allows people to buy and carry guns in a lawful manner," Senor said. "We have all of these laws in place yet they aren't stopping someone from going out and obtaining a gun illegally.
"We need more social services, we need people to pay more attention in our schools and communities," Senor said. "We also need more outlets for younger people, because a lot of things our young people do they do because they are bored, and one thing leads to another and they are doing something they shouldn't be doing."
The campaign
Neither Senor nor Scherer are receiving an abundance of state political party contributions to help fund their races, and both are believers in going door-to-door to meet voters.
Macon County Democratic Party Chair Jim Underwood has known Scherer for many years and his wife and children had Scherer as a teacher.
"She's passionate about the issues, and one-on-one she's excellent at connecting with voters," Underwood said. "One of the strengths is her door-to-door effort that she makes every time she is up for election, and in fact she even walks doors on years when she's not up for election.
"She has to continue what she's been doing, get her message out, keep knocking on doors, and I think people really respect her for that," Underwood said.
Senor's campaign philosophy is also simple.
"Get out as much as I can, meet people, and let them get to know Herman Senor and where I stand," Senor said.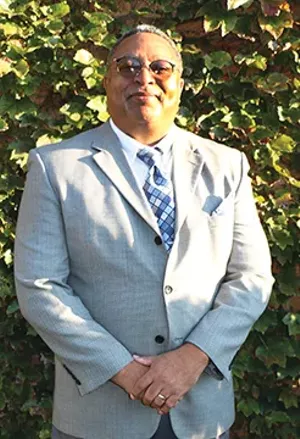 Climbing up hill, optimistically
Gary Pierce, write-in candidate
Gary Pierce of Springfield is a write-in candidate for the 96th District State Representative seat and is optimistic about his chances.
"A lot of people in Springfield and Decatur know me from my church and youth work," Pierce said. "I think I will be the one to get more votes than both other candidates because I'm representing all of the people."
Pierce, who is African-American, is an alcohol and substance abuse counselor and ordained minister who has tried unsuccessfully as a Republican and a write-in candidate for the representative's seat in the past.
"I ran as a write-in candidate when they first opened the district, then I ran in the 2016 primary and was beaten by Cindy D. Wolfer, who later dropped out of the general election," Pierce said. "They interviewed me to replace her, but the chairmen for Macon and Christian counties rebuffed me. After that, in 2016 I resigned as Republican precinct committeeman, and decided to run as a write-in candidate in the 2018 general election."
Pierce is distributing fliers and yard signs that graphically show voters how to properly enter his name on the ballot so their votes will count.
Pierce cited gun violence, youth activities, the opioid epidemic, job creation, infrastructure improvements, and curbing illegal immigration as his top priorities. He was been married for 31 years and has four children.
"They keep doing the same things at the Capitol and nothing is happening, so they need some different approaches," Pierce said. "We need to stop beating around the bush, we need to make some changes. I feel like I would be the better advocate overall." –David Blanchette
David Blanchette is a freelance writer from Jacksonville and is also the co-owner of Studio 131 Photography in Springfield.