The line of cars queuing up Dec. 10 for the food distribution at the Boys & Girls Clubs of Central Illinois stretched for several blocks along Capitol Avenue on a gray, foggy day. Marcia Cass was among those in line. A former home health worker who has been retired since her knee replacement surgery last year, Cass continues to serve families she worked with while she was employed, acting as the go-between for people who need food but can't wait in line for reasons of health or transportation issues.
She's been doing it for a year. One of the people she assists is a 92-year-old widow who lives alone and can't drive.
"I have a friend who calls me and lets me know when he finds out about giveaways, and he picks up for some families, and I do the same," Cass said.
It was the last planned food giveaway by the Boys & Girls Clubs, ending as a federal grant runs dry. The organization, which has partnered with the Central Illinois Food Bank, was able to provide such giveaways three times a week last year before eventually reducing to once a week and finally having to discontinue regular giveaways. Friday's giveaway was a holiday package, furnishing people with fresh hams, milk, sacks of potatoes and apples and some ground beef, plus nonperishable items. Boys & Girls Clubs CEO Tiffany Mathis said between May 2020 and July 2021 the organization distributed 513,923 pounds of food, just under 257 tons, to more than 16,000 families.
"We really tried to serve people with compassion and with a smile because we saw a lot of people who may never have needed to come to a food distribution suddenly have to do that," Mathis said. "We wanted to make sure people ate. We will continue to do whatever we can to partner with the food bank as funding becomes available."
As the COVID-19 pandemic starts to enter its third year and Sangamon County continues to log as many infections and deaths as it did during the surge this past summer, the need for assistance with food appears to have gotten no better, even as some sources of assistance dry up and prices of consumer goods only get higher.
Families struggling to remain in their homes are now once again without eviction protections as state and federal moratoriums end. The federal child tax credit, which has been paid monthly to parents, is not set to continue in January unless Congress acts. Pandemic EBT, the debit cards parents could apply for earlier this year for use on groceries, was a one-time disbursement.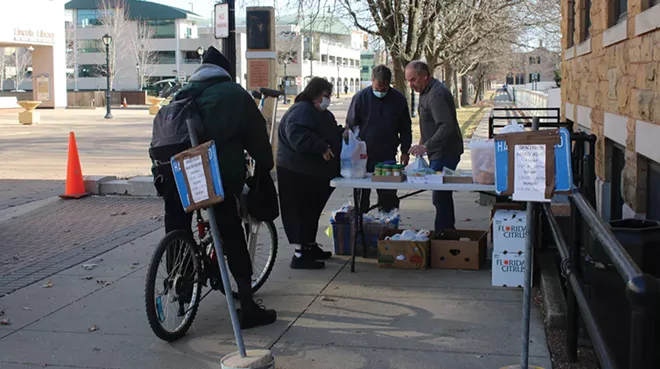 New programs emerge
In the absence of a federal response that comprehensively deals with food insecurity, those who are going hungry are faced with a web of programs, some for which they may not qualify: Meals on Wheels caters to seniors, SNAP has income limits and programs like the Illinois Public Health Association's Pandemic Health Navigator program is targeted directly at those who must isolate due to COVID-19 infections.
The Pandemic Health Navigator program leverages community health workers and federally qualified health centers to get food delivered to people who have caught COVID-19 and need to isolate. It's an opportunity for the health workers to try to determine what other needs the people have and what services might be directed their way, said Dr. Tracey Smith, director of community health and programs for the IPHA. Providing food and medicinal items may lead to community health workers connecting people with housing resources and other forms of assistance.
"Generally food insecurities are high anyway, even without being in a pandemic. We've seen that increase more just because of the lack of resources coming in," Smith said. "Food banks, food pantries, churches or other places have either shut down or had insufficient supplies. Community health workers are individuals who come from the communities they serve, and they understand the needs of people in the area."
For those who slip through the cracks or whose needs don't neatly meet the mission statement of a program, there is charity and the efforts of their friends and neighbors.
Megan Norman, community relations coordinator with Familia Dental, a chain of dental practices that specialize in working with low-income patients, helps organize a monthly food giveaway with Springfield nonprofit One In A Million, 700 S. Livingston St. The event, which is also sponsored by Molina Healthcare, is always well attended and provides meat packs to people,
"We have a lot of rural communities who use Springfield as a hub, and we see so many people from so many areas," Norman said. "I've spoken to people who have cried when we told them we'd provide them with a produce box and a frozen turkey because otherwise they wouldn't have that."
The sheer volume of need is being exacerbated by rising prices as well, she said. A government report earlier this month revealed prices on consumer goods have risen 6.8% over the past year, the highest annual inflation in nearly 40 years.
"I have a family of seven. My grocery bill is higher than any other bill we have," Norman said. "Add that into people having to quarantine and not having family around here, and people are getting to the point where they can maybe buy ramen noodles, and that's it."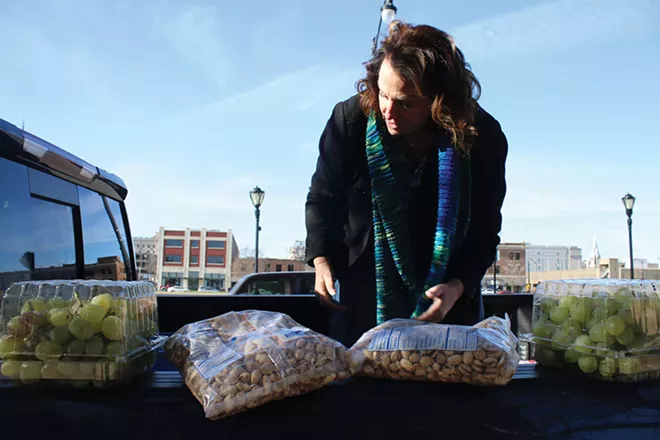 Food pantries adapt
The endless nature of the pandemic and the need it has created has also made some organizations more aware of food insecurity than they were in the past, forcing both procedural changes and other adaptations.
Grace Lutheran Church in downtown Springfield, 714 E. Capitol Ave., gives away food on Mondays, Tuesdays and Thursdays, setting up tables along the sidewalk on Capitol Avenue where cars can pull up. Annie Ellis, a church member, volunteers during the giveaways. The church receives monetary and food donations and raises funds to run the pantry, which has been in place for years.
The pandemic has forced the food pantry to rethink procedures, Ellis said, both around safety for their volunteers and food recipients and around access. Volunteers once asked those receiving food for identification and limited recipients to collecting food just once a month, but no longer. Ellis said the circumstances of families who come to collect food have also noticeably changed as the hardships of the pandemic continue.
"What I see more and more of since the time I began here is more large families because people have had to come together. The grandparents may now have the kids, or be living with the mother and father, because they're all living together now. That we've seen a lot of during COVID."
Athens Christian Church is another church partnering with the Central Illinois Food Bank to provide food on a regular basis, and the need is no less in the areas outside of Springfield. The once-monthly giveaways often require drivers waiting in line to take care that they don't block nearby Route 29, said Ken Gennicks, lead minister at the church.
"Almost everybody picks up for a neighbor," he said. "With the price of inflation and the price of gas, I think it compounds people's needs at the moment."
He's counted as many as 150 cars at some giveaways, sometimes lining up hours before the event begins. The church, he says, asks no questions about anybody's circumstances.
"They don't have to tell me their name and income. Some of that stuff is invasive and humiliating. It's compounded if I have to get your name and mailing address and whether or not you're on SNAP," Gennicks said. "If people take advantage of us, all they're getting is food. I don't think hardly anybody misuses this at all."
Gennicks said that local suppliers are providing things like fresh produce for the giveaways, and many people are showing up to collect groceries they're then transporting to those in need.
Volunteers step up
Norman also agreed that circumstances seem to be pushing more and more area volunteers to act in whatever way they can.
"Even if it's not giving money, people are wanting to find a way to help others by serving meals or volunteering," she said. "I feel that as a community, they're doing more now than ever. As a government, there are so many more things we could be doing."
What people should understand about food insecurity, the Boys & Girls Clubs CEO Mathis said, is that it can happen to anyone, as revealed by families who struggled to provide their children lunches during remote learning in 2020.
"Food insecurity is not a new thing. We get so caught up in this mindset that only poor people are hungry," Mathis said. "We are all one paycheck away, one tragedy away, one home burning down away from needing to benefit from the same resources that we're sometimes not giving generously to others."
Many people, Gennicks said, may not understand the level of need because they themselves aren't experiencing it.
"Unfortunately, a lot of people who serve on boards have always had enough of everything in their pantry, and they're serving on the board because their life is organized and good and they want to give back," he said. "Sometimes they don't know what it's like to go without the things they need."
The pandemic is wearing down the people who are trying to help, IDPH's Smith said, but she also sees a concerted effort at the state level in Illinois to try to keep programs going and tackle people's material needs, citing recent efforts by the Illinois Legislative Black Caucus in particular to continue social programs.
"We've been in this pandemic for a while now. People are fatigued, they're isolated. In the communities, people are struggling," Smith said. "I believe that we're seeing people who are trying to bring a top-down approach, to program support that can sustainably bring that change in the long term."
Kenneth Lowe is a staff writer for Illinois Times. He can be reached at klowe@illinoistimes.com.