From the outside, BLH Computers, Inc. looks like a small nondescript storefront business, located in a strip mall on Stevenson Drive in Springfield. If you've ever needed to dispose of an outdated computer or old TV, you may have walked in the door and dropped off your unwanted item, happy to get it out of your house. It's amazing to learn, however, what takes place behind the scenes at this 20,000-square-foot facility and what happens after you leave.

BLH is the largest computer recycling facility in the area. Individuals bring nearly two million pounds of electronics through the front door annually to be processed for recycling. Another 10 million pounds come through the back door/loading dock, as BLH handles electronics recycling for a wide range of business clients, both in Springfield and nationwide. Electronics aren't the only things BLH recycles, and recycling is not the only thing the company does.
BLH services and repairs computers and cellphones, sells refurbished computers and recycles electronics. It is this combination of service, sales and recycling that makes BLH unique. Each of these components makes up about a third of the business, but the recycling operation takes the most space. It's typical for the warehouse to hold thousands of used laptops, monitors, computers and printers for recycling at any given time.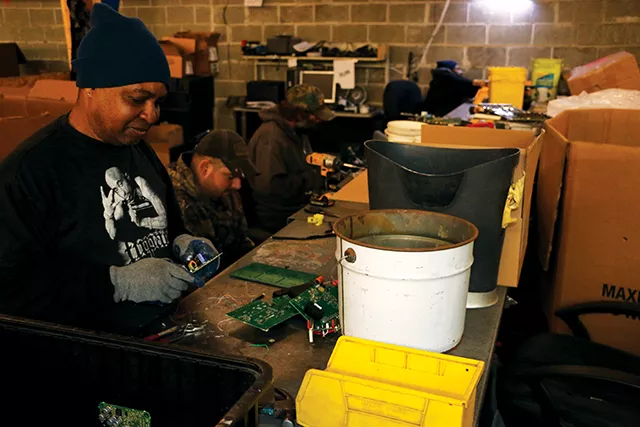 Electronics recycling is a sophisticated business. A myriad of materials are involved, from gold to plastic. Components must be separated and sent to a wide range of processors and refineries. Data must be protected. Hazardous materials require proper handling and disposal. Numerous state and federal laws must be followed. BLH holds numerous certifications, which is key to its success. Businesses can depend on BLH to recycle materials responsibly. Early this month, BLH achieved e-Stewards certification, which is the highest standard in the world for responsible recycling and reuse of electronic equipment. From modest beginnings 20 years ago, BLH has grown into a highly sophisticated electronics recycling operation servicing large, nationwide clients, while also serving individuals and the local Springfield community.
Forming and growing the company
In February 1998, Brian Dickerson and his wife, Heather, founded the company, which began as Computer Resource Connection. It was formed to provide a source for parts and used computers at competitive prices. Its first home was on the corner of Spring and Edwards streets in what is now the WCIA/WCIX-TV office, across from the Illinois State Museum. BLH came into being in November 2000. Brian is the B in BLH, his longtime friend and business partner, Leo Hill, is the L and Heather is the H. BLH has been located at 1832 Stevenson Drive since it was founded.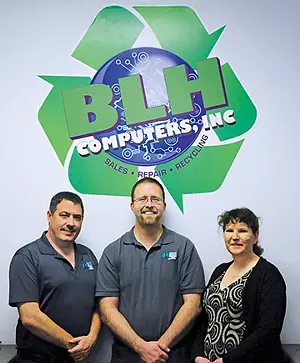 In 2011 USM approached BLH as a means of expanding its electronics recycling division. USM, Inc., established in 1972 as Universal Scrap Metals, is one of the largest wholesalers and processors of scrap metal in North America. It is also one of the largest processors of used beverage cans in the Midwest. USM is a family of companies involved in recycling, and USMe is the electronics division. BLH was acquired by USM, and for five years Dickerson spent his days working at the plant located at Western and Fulton in Chicago and his weekends back home in Springfield.
At the end of five years, Dickerson was able to move the entire electronics recycling operation back to Springfield, having grown the number of employees from seven in 2011 to 23 full-time staff and five temporary workers, with facilities in Springfield, Jacksonville and Taylorville. He is especially proud of bringing these jobs back to central Illinois from Chicago. Dickerson's official title is general manager of USMe, and president of BLH Computers. Leo Hill is the BLH division manager responsible for overseeing the store managers and warehouse manager.
The electronics recycling division, USMe, was developed specifically to handle proper disposal and recycling of used electronics. USMe promotes its core competency as "understanding the stringent compliance requirements of state, local and federal regulations for end-of-life electronic equipment as well as the severe penalties for failure to comply." USMe is one of only 14 companies in the U.S. that is certified for Computer Hard Drive Sanitization.
Service, sales and recycling
The main location in Springfield has a 26-bay onsite computer and electronics repair facility where employees fix many common computer problems, such as virus removal, computer screen repair, major component repair and general cleanup. They also provide data backup services to transfer pictures, files and other data. They have micro-soldering capabilities to repair cellphones and handle emergency data recovery from cellphones. With ready access to parts and extensive knowledge of the inner workings of electronics, they are able to troubleshoot and repair a wide range of problems with all types of computers and smartphones.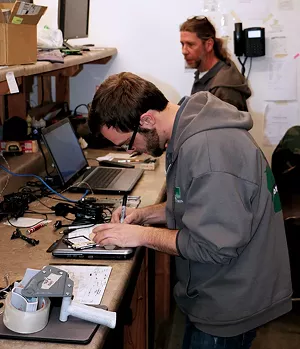 BLH also sells reconditioned desktop computers and laptops, as well as monitors and computer accessories such as keyboards, mice, cables and adapters. They offer an extensive array of reconditioned desktop and laptop computers at low prices. By repairing, servicing and selling used electronics, BLH also helps to extend the useful life of electronics which otherwise would enter the waste stream.
BLH accepts all types of electronics for recycling, including almost anything that runs on a battery or plugs into a socket and is not found in the kitchen or bathroom. (see box on next page.) BLH takes all of these materials and reduces them to their base components and then sends the materials to a wide range of processors and refineries for reintroduction of the materials into the supply stream for reuse.
Sophisticated electronics are comprised of diverse materials, such as plastics, gold, copper, lead, silver, steel, alloys and more. Recycling all of these materials is also a sophisticated process. BLH breaks the materials apart in order to ship the components to the companies that specialize in the next phase of the recycling process. Plastics are ground and baled. TVs are shipped to a company in Ohio, which also handles the hazardous waste components. Circuit boards are removed from the computers and sent for further processing.
Gold, silver, palladium and platinum are precious metals found in electronics. Gold is used due to its high conductivity and resistance to corrosion. Silver is also used for its high electrical conductivity. Silver and palladium are part of the solder and other components of circuit boards. BLH prepares the circuit boards, which are sent to a smelter to further process and separate the precious metals. There are no precious metals refineries in the U.S., and these materials are ultimately shipped to one of the primary refineries in Japan or Belgium.
Certifications under e-Stewards
Many sensitive issues come into play with recycling electronics, including hazardous materials in the components, personal data stored in hard drives and tracking where materials go. BLH is certified in many areas and undergoes extensive audits, which are key to being able to handle electronics recycling on a large scale. This extensive certification is what sets BLH apart. It enables them to service large, nationwide clients who require assurance all laws will be followed, personal data will be protected and environmental standards will be adhered to throughout the recycling process.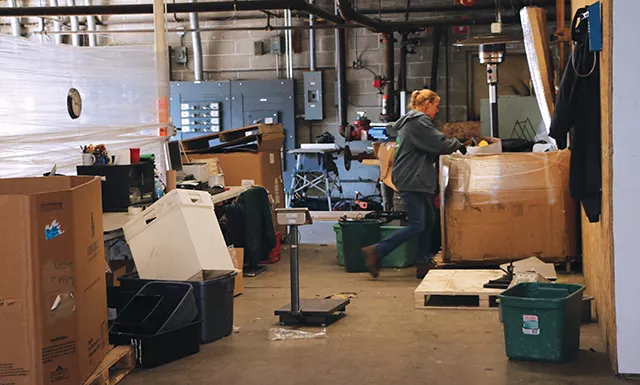 Achieving e-Stewards certification is a significant accomplishment, which was the result of a rigorous application process over a period of six months. E-Stewards is a global team of individuals, institutions, businesses, nonprofit organizations and governmental agencies upholding a safe, ethical and globally responsible standard for e-waste recycling and refurbishment. Major environmental groups – including the Sierra Club, Natural Resources Defense Council and Greenpeace – endorse e-Stewards. The e-Stewards certification ensures data protection through rigorous requirements for data destruction and chain-of-custody monitoring. It also ensures compliance with all laws, transparency, ability to demonstrate downstream disposition of hazardous waste and a commitment to social responsibility that forbids use of sweatshops and child labor anywhere in the supply chain. To ensure compliance, e-Stewards selects materials randomly to geo-track and determine where the materials go. It's like a Secret Shopper in the world of electronics recycling.
BLH, as a member of the USM companies, is also certified under the International Traffic in Arms Regulations (ITAR) in order to ensure compliance related to export of computers, which are banned under ITAR. BLH ensures that all data is efficiently destroyed, and no electronics are shipped overseas. BLH also complies with OSHA standards and regulations and is a member of the National Association of Information Destruction (NAID.)
All of this requires extensive tracking, paper trails and audits. Heather Dickerson is the company's internal auditor, which is a required, certified position. She also serves on the Environmental Health and Safety Team and handles billing and logistics for customers.
Local and national clients
BLH is engaged with clients locally and nationally and handles both small and large projects. Recently, BLH collaborated with the Rotary Club of Springfield Sunrise and Leland Grove to collect Christmas tree lights for recycling. Several hundred pounds of lights were collected. BLH will remove the copper wire and donate the value of the copper to the Sunrise Rotary Club for its local philanthropy projects.
Locally, BLH handles all of the electronics recycling for Bunn-O-Matic, located just down the street from BLH. This relationship began more than five years ago when Bunn-O-Matic was looking for a partner to expand its sustainability initiative. BLH was the ideal partner due to its proximity, access to a strong network to accommodate a variety of waste streams, and excellent customer service.
BLH also has a partnership with the City of Springfield for electronics recycling. The City of Springfield has a waste and recycling fund supported by a $3/month fee paid by Springfield residents. This funds a wide range of programs, such as hazardous waste collection, branch pick-up, electronics recycling and other activities. Mark Mahoney, director of Public Works, says, "All of the city waste and recycling programs are very popular and in demand from the public. Our goal is to be user-friendly in all of these programs, and that is where BLH has been very helpful in dealing with electronics. Their location and the dropoff process are very user-friendly. And, BLH has been very aggressive in promoting the program with the city." As a result of this arrangement, City of Springfield residents can drop off televisions, in addition to other used electronics, at BLH at no charge. (There are some limitations; for details, go to http://www.springfield.il.us/Departments/PublicWorks/recycling.aspx.) Individuals who live outside the City of Springfield pay a fee to recycle TVs, due to the special handling they require.
While used products from individuals come in through the front door, large volumes of electronics are shipped to the back of the facility from major corporations with whom BLH has contracts. For example, BLH handles many large-scale projects when retailers with multiple stores replace their point-of-sale system and the old system needs to be stripped of all personal data and recycled. This frequently involves a nationwide network of stores shipping massive amounts of electronics to BLH in Springfield to be processed.
BLH also handles downstream processing for a national computer company that services computers. When the computers can no longer be repaired, the company ships the outdated computers to BLH for recycling. This amounts to hundreds of thousands of computers annually.
Not everything BLH recycles comes from electronics. Given its extensive network of downstream processors of recyclable materials, BLH handles materials for a diverse clientele, through the USM Companies. Materials from crematoriums in the Chicago area are shipped in 55-gallon drums to be recycled. Artificial hips, knees, titanium plates and pacemakers are some examples of materials that remain after cremation. Stainless steel, titanium and cobalt are a few of the components processed for recycling. Approximately 40,000 pounds are sent to processors and refineries each month.
Dickerson clearly enjoys his job. He says there's always something interesting, and he gets to deal with a lot of "cool stuff." Dickerson says, "The Springfield community has been a great place to start, build and grow a business. Even when merging with another company, I have been fortunate to be able to keep everything in place in the Springfield area that Leo, Heather and I have built over the past 20 years."
BLH accepts for no charge these items:

Desktop, laptop and tablet computers, LCD monitors, printers, keyboards and mice, satellite and cable equipment, projectors, VCRs and DVD players, video game consoles, radios, speakers, cellular/mobile phones, telephones, point of sale equipment, pagers, cameras, camcorders, power tools, fax machines and answering machines, power strips and surge protectors, walkie-talkies, ink cartridges and toner, Christmas tree lights, cables and networking equipment
For more information about products accepted for recycling, contact any of BLH's locations.
123 West Main Cross, Taylorville 62568, 217-824-2500
832 South Main, Jacksonville, IL 62650, 217-245-2600
1832 Stevenson Drive, Springfield 62703, 217-585-1580
Karen Ackerman Witter is retired from the State of Illinois and a part-time freelance writer. She has a master's degree in ecology and a personal interest in recycling. She helped develop and pass the state's first Solid Waste Management Act when serving as natural resources policy adviser to Governor James Thompson. She also was Director of the Department of Energy and Natural Resources, which provided recycling grants to local communities. She and Brian Dickerson are both members of the Rotary Club of Springfield Sunrise.