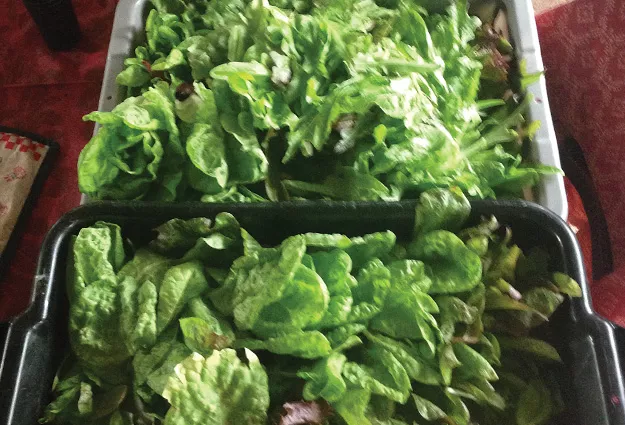 It's been a busy few weeks. For a while now my daily agenda has felt full to bursting on a regular basis, and I find myself yearning for a little TLC. The healthful surge of energy that accompanied the New Year began to fade about the same time that the flowers (and weeds!) started to pop up in my garden, and all the of the exciting projects I said "yes" to in January seemed to come to fruition in the same two-week period.

Finally I've a brief respite from the frenzy, and I am craving simplicity. In the rush to get it all done these past few weeks I predictably stopped taking time to stretch (let alone actually do yoga), and my eating habits haven't fared any better. My breakfast deteriorated from eggs and veggies, to coffee and toast, to just coffee most mornings, and lunch is usually more coffee followed by some hastily downed cold leftovers from the fridge. Pasta has been happening a lot for dinner, either to appease my 4-year-old, or as a late-night indulgence for me when I've been working late and skipped meals.

All this has left me craving comfort and care, but not the "curled up on the couch eating mac and cheese" type of comfort. My soul yearns to be outside and my fingers are itching to get in the dirt. I want fresh, easy meals that leave me feeling full and nourished, with minimal fuss or mess.
Luckily, nature has got this handled. Greens are usually the first fresh produce of the season that's available, and have been heralded for centuries for their restorative properties – truly one of the earth's best medicines. Fresh spring greens abound, and this is the time of year when they are at their best, before the relentless heat of summer turns them bitter.
Warm salads are one of my favorite ways to enjoy the wide variety of greens and lettuces that are available now. They are substantial enough to satisfy a hungry diner, and are an excellent way to pack in the greens. Because the greens wilt down, you get a much larger serving of greens than you would with a regular fresh salad of the same volume. It's also a wonderful way to incorporate more produce that's as nutritious as it is delicious, such as herbs, radishes, green onions, beets and carrots.
With the addition of protein, such as hard eggs, roasted chickpeas, grilled meat, fish or tofu, the wilted salad becomes a nutritionally balanced main course that can work for breakfast, lunch or dinner. Salad for breakfast may seem odd, but once you top fresh spinach with crumbled bacon, chives and an over-easy egg, you may wonder why this hasn't been standard morning fare all along. As you cut into the salad, the warm egg yolk acts as the dressing, mixing with the crunchy bits of bacon and savory chives for a satisfying breakfast that will set you back less than 300 calories. Medical professionals and nutritionists will tell you that incorporating dark, leafy greens into your diet is one of the best ways to improve health, and breakfast is an often missed, delicious opportunity to get in a serving of this culinary medicine.
Roasted Chicken over Warm Arugula and Cherry Tomato Salad
8 skinless, boneless chicken thighs
2 pints cherry or grape tomatoes, washed
¼ cup olive oil
juice and zest from one lemon
2 cloves garlic, minced
1 ½ teaspoons kosher salt
½ teaspoon black pepper
½ cup chopped fresh parsley
1 pound stemmed arugula or other greens
Shaved Parmesan, optional
Preheat the oven to 425 degrees. Combine the chicken, tomatoes, olive oil, lemon juice and zest, minced garlic, salt and pepper in a bowl and mix well to combine. Transfer marinated chicken and tomatoes to a parchment-lined baking sheet and arrange in a single layer. Bake for approximately 20 minutes, until the chicken has reached an internal temperature of 165 degrees F and the tomatoes are dark brown and have begun to burst, releasing their juices. Remove from the oven, then transfer the chicken thighs to a plate to rest for 10 minutes.

While the chicken is resting, place the greens and parsley in a large nonreactive mixing bowl. (Aluminum or copper will react with the acid in the dressing and result in an off taste.) Sprinkle the greens with salt and pepper, then pour the hot roasted tomatoes and any accumulated juices over the arugula and parsley and toss well. Once the chicken has rested, slice into strips. Transfer the salad to individual plates or to a large serving platter, then top with sliced chicken. Drizzle any juices that came from the resting chicken over the salad, then top with shaved Parmesan, if using.



click to enlarge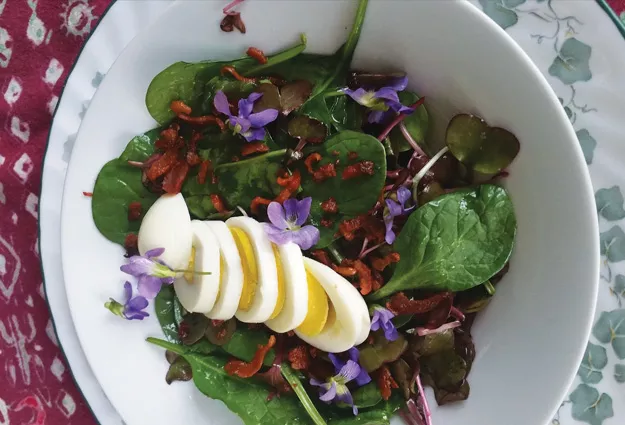 The Original Wilted Spinach Salad
This is a family recipe that we enjoy several times a week when spinach is in season, and usually converts even the most resistant salad eater.

4 ounces bacon, cut into ½-inch dice
3 tablespoons cider vinegar
3 tablespoons sugar
3 tablespoons water
¼ cup minced chives
8 ounces stemmed spinach
4 hard-boiled eggs
Fry the bacon until crisp, then transfer to paper towels to drain. In the pan with the reserved bacon fat, add the vinegar, sugar, water, and bring to a simmer. Place the stemmed spinach in a large nonreactive mixing bowl, season with salt and pepper, then pour the hot bacon dressing over the spinach and toss to coat. Divide among 4 salad plates and top with a sliced hard-boiled egg and minced chives.

Contact Ashley Meyer at Ashley@realcuisine.net.