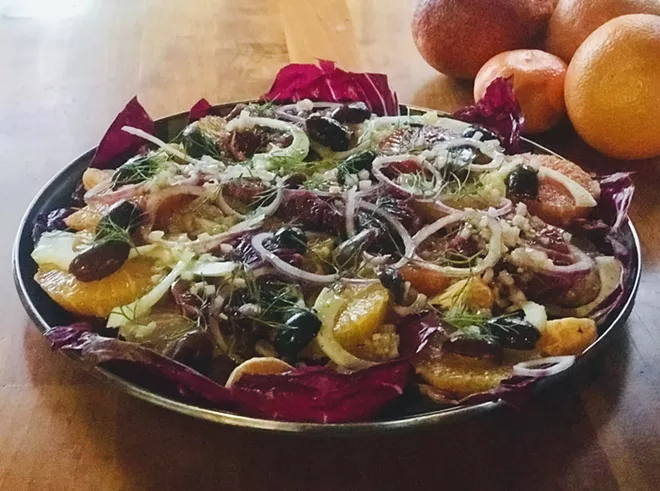 I love browsing through seed catalogs. They arrive just in time to nudge me out of my winter doldrums. By now I've grown bored with my off-season romaine salads and I'm longing for farmers market salads made with local spinach or leaf lettuce, spring onions, green garlic and tiny radishes. But springtime starts, and then it stops, and the salads that I'm craving are still many weeks away.
When "the sky is a hazy shade of winter,"(song by Paul Simon, 1966) I try to cheer myself up by adding some bright colors into my menu planning. Florida citrus is at its peak so I've been constructing salads around oranges, tangerines and grapefruits.
The origin of citrus goes back 7 million years to the southeast foothills of the Himalayas. From there it spread throughout Southeast Asia. Citrus is among the oldest crops to be domesticated – for at least 3,300 years. In addition to its home continent of Asia, citrus flourishes in the semitropical climates of the Mediterranean and the Americas.
Citrus was brought to Northern Africa and Southern Europe by early Muslim traders who controlled the commerce routes from India to the Mediterranean. Oranges were introduced to Florida by the Spanish colonists in the mid-1500s. Ponce de Leon is believed to have planted the first orange trees around St. Augustine.
For menu-planning inspiration, I look to the food traditions of regions where citrus thrives: Southeast Asia, Old World Mediterranean and New World Americas. These three citrus salads are sure to bring color to a grey day.
Vietnamese-style Pomelo and Shrimp Salad
A pomelo is a non-hybrid citrus fruit native to Southeast Asia, the grandfather to our grapefruit. It is about the size of a cantaloupe and weighs from 2 to 4 pounds. It tastes similar to grapefruit but is slightly less bitter and a little peppery. Look for pomelos at Asian or Latin markets. If you can't find a pomelo, you can substitute grapefruit.
Serves 2-4
Ingredients
For the dressing:
2 tablespoons fish sauce
2 tablespoons lime juice
¼ cup water
1 tablespoon sugar
1 Thai bird chile, thinly sliced (or other hot chile, minced- to taste)
1 clove garlic, minced
For the salad:
1/2 pound medium-sized shrimp, peeled and deveined
Pulp from 1 pomelo or grapefruit
1 cucumber, cut into matchsticks
1 carrot, cut into matchsticks
1/4 cup fresh mint leaves, roughly chopped or torn
2 tablespoons fresh cilantro leaves, roughly chopped or torn
2 tablespoons Thai basil leaves, roughly chopped or torn
Leaf lettuce
2 tablespoons roasted peanuts, chopped
Preparation
Make the dressing: in a small bowl, combine the fish sauce, lime juice and water. Whisk in the sugar until dissolved. Add the chile and garlic.
Cook the shrimp in salted water. Be careful not to overcook. Set aside to cool.
Prepare the pomelo: trim away the thick skin with a knife, and cut into each segment with kitchen scissors to remove the membrane. Then use your fingers to separate the pulp and break it into small segments. In a bowl, gently toss together the pomelo, cucumber, carrot, mint, cilantro and basil.
Place a lettuce leaf on each salad plate. Spoon the pomelo mixture onto the lettuce. Arrange shrimp on top. Drizzle with the dressing and garnish with the peanuts.
Sicilian-Style Citrus Salad
Blood oranges thrive in the fertile land around the Mount Etna volcano on the east coast of Sicily. Citrus salads can be served at the beginning or at the end of a meal.
Serves 2-4
Ingredients
For the dressing:
1/2 teaspoon Dijon mustard
2 tablespoons sherry or wine vinegar
3 tablespoons extra-virgin olive oil
1 tablespoon finely chopped shallot
1⁄2 teaspoon kosher salt
1⁄4 teaspoon freshly ground black pepper
For the salad:
4-6 assorted oranges, tangerines, clementines or mandarins
1 head radicchio, leaves separated
1 small red onion, very thinly sliced
1 small fennel bulb, very thinly sliced
Oil-cured olives, pitted
2 tablespoons coarsely chopped fennel fronds (or substitute Italian parsley)
Preparation
Make the dressing: In a small jar with a lid, combine the mustard and vinegar. Add the olive oil, shallot, salt and pepper. Shake vigorously until emulsified.
Using a sharp knife, cut off and discard thin slices from the top and bottom of the oranges. Standing the orange upright on your cutting board, trim away the peel and pith in strips, following the contour of the fruit, going from top to bottom. Turn the orange on its side and cut crosswise into ¼-inch slices. Peel and separate tangerines, clementines and mandarins, into segments. Remove any seeds from the fruit.
Layer a serving platter with radicchio leaves. Arrange the citrus in a single layer on top of the radicchio. Scatter the onion and fennel slices over the citrus. Top with the olives.
Spoon the vinaigrette evenly over the salad and garnish with fennel fronds or parsley leaves.
Orange, Jicama, and Avocado Salad
Crunchy jicama contrasts nicely with creamy avocado
Serves 4
Ingredients
For the dressing:
1 teaspoon Dijon mustard
Zest of 1 lime
2 tablespoons fresh lime juice
1 tablespoon white wine or sherry vinegar
4 tablespoons avocado or extra-virgin olive oil
1/4 teaspoon ground cumin
Sea salt, to taste
1 teaspoon honey
For the salad:
3 oranges
1 small jicama
2 medium avocados
2 dozen baby spinach leaves
1/2 cup crumbled queso fresco or crumbled feta
½ cup slivered toasted almonds
Preparation
Make the dressing:
In a small bowl, combine the mustard, lime juice and zest, vinegar and cumin. Whisk in the olive oil until emulsified. Season to taste with salt and honey.
Prepare the oranges as described in the previous recipe. Peel the jicama and cut into thin strips about ½-inch wide and 1-inch long. Cut the avocado in half lengthwise, remove the peel, discard the pit and cut into ½-inch cubes.
Arrange the spinach on a platter and top with the oranges, jicama and avocado. Spoon on the dressing and garnish with the crumbled cheese and slivered almonds.
Peter Glatz travels and lives in a converted school bus with his wife and dog, exploring regional foodways.