Roses are an enduring Valentine's gift. Aphrodite was the goddess of love in Greek mythology. According to some stories, the falling of her blood led to the first red rose.
The modern story of rose production also comes with a dark side. In Kenya, conditions for workers, the majority of them women, have long been a concern of human-rights activists. Sexual harassment, underpayment and overwork are reported as common problems.
Megan Styles, a Springfield native and professor at University of Illinois Springfield, explores the ethics, ecology and economy of rose production in her book recently released by University of Washington Press, Roses from Kenya.


In addition to an exploration of controversial labor practices, the book is also about a lake and the confluence of wildlife, commerce, power and politics surrounding it. As K. Sivaramakrishnan of Yale University writes in the book's preface, it explores the close connections "between farmers in the global South and markets in the global North."
The Lake Naivasha region of Kenya is responsible for a large portion of the output of the roses that are sold in the European flower market. Styles became interested in the issue while a graduate student at the University of Washington where she was working toward her doctorate and came upon the topic, which combined her interests in Eastern Africa, ecology and ethnography.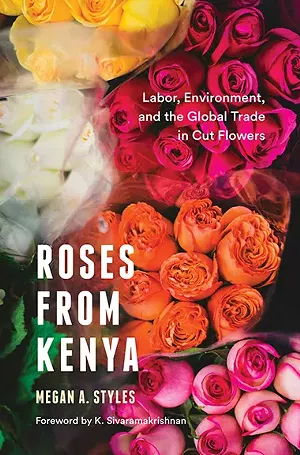 "I literally Googled Kenya, environment and agriculture. And I came up with all of these really sensational articles in the BBC News and mainly the U.K. newspapers about Kenyan flower farming and the horrible labor conditions." She realized there was potential for a lesser-explored area of research on the environmental impacts of the industry.


The situation was more complex than she had anticipated. Hence a dissertation that became a book, including more than a year spent in the field, off and on from 2004 to 2014.


"I think in the U.S., sometimes we get so focused on our own greatness and our own economic might that we miss that the global economy is really turning on its head in interesting ways," says Styles. Kenya is one of the world's top exporters of cut flowers.


Styles met many Kenyan workers and entrepreneurs who are enthusiastic about their role in the global marketplace. In one chapter, Styles begins by detailing the living conditions of a laborer, Eunice, and her family, whose home is one of many that surround Lake Naivasha. It's a single room, and the equivalent of Eunice's base monthly salary is less than $60 USD. She often borrows against her salary for medical and educational expenses for her family. But Eunice remains hopeful for the future – and managed her earnings to invest in a small piece of her own property.


Writes Styles of the workers she met: "They recognize and describe in great detail the inequities and despair rife in Naivasha's shantytowns, but they also describe their work as meaningful and necessary, a sacrifice made in the present to bring about a better future."


The book repeatedly describes Lake Naivasha, which is recognized as an internationally significant wetland site and provides irrigation for the flower industry, as a "nerve-center." Styles writes, "It is a politicized space with a contested history that touches nerves, sparking moral concern and debate about the ethical dimensions of global trade and export-led development." The future of the lake is precarious, given the strain of irrigation demands and pollution, says Styles.


In the U.S. market, many flowers sold come from South America. Styles suggests consumers ask questions about their origins if they harbor concerns about the ethical implications of the flowers they buy. As her book points out, consumer activism has been a key to bettering conditions and shining a spotlight on the practices in Kenya.


And there are local options. Pana, nicknamed the "City of Roses," once had more than 100 greenhouses, though the last shuttered in 1994, according to an Associated Press article. But some local growers have done their part to revive the local market. "I learned that more than 80% of flowers in the U.S. are imported," says Violeta Veenstra of Harvest and Bloom, based in Rochester. "I saw the need for locally grown flowers."


Bouquets offered at the Old Capitol Farmers Market in Springfield often sell out, and Harvest and Bloom now offers subscription options. Depending on the time of year, zinnias, cockscomb, tuberose and dahlias are among the offerings, all grown organically – although no roses, as they are too demanding.


Styles' book helps contextualize the labor that goes into a gift many will receive this holiday. As for what she's gifting? A dinner and a show.


"I've gone the route of experiences over material things." After all, she says, "I'm in the environmental studies department."


Contact Rachel Otwell at rotwell@illinoistimes.com.