Frank Buraski of Buraski Builders, who has been in the business of renovations and construction for 34 years, finds that kitchen trends are cyclical. He notes with interest that people are becoming more concerned with function than in past years. The trend toward commercial-looking kitchens exemplifies the utilitarian preference. People are cooking more. They want apron-front farmhouse sinks and commercial ovens.

He cautions those considering a redesign to keep in mind what they will be doing in the kitchen. Are kids frequently underfoot? Do you spend hours at the stove or wear out a path between the fridge and the microwave? There is no one best design for everyone. Likewise, Karen Williams of the high-end design firm St. Charles of New York implores people to design for how they live 90 percent of the time.
While Buraski Builders has worked on a few contemporary kitchens lately, in Springfield the modern aesthetic is the exception. Buraski's clients tend to be more tied to traditional design schemes. Very popular is the Mission/Shaker-style flat panel cabinetry, often painted white, accompanied by dark wood flooring.
Commercial is king
One move that area homeowners have ventured to make is joining the nationwide trend of commercial-looking kitchens with stainless steel appliances. Buraski also notes that large stainless steel range hoods are now uniformly appearing above stovetops, where wall-mounted microwaves once were. Though it may be primarily an aesthetic choice for some, a range hood is functional in that it traps grease and cooking odors and whisks them out of the kitchen. Range hoods also minimize heat and condensation.
Along with range hoods, apron-front sinks are gaining popularity in contemporary kitchens. Adventurous designers are choosing sinks in bright colors in order to add a cheerful accent. These sinks are usually cast-iron and deep enough for large pots and pans. Because of their heft, apron sinks are best for medium to large kitchens.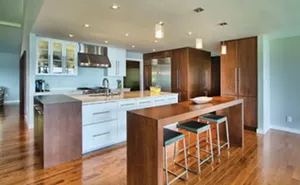 Storage
Open shelving can be a cook's dream. Keeping frequently used ingredients and equipment within reach is a practical solution and for those who excel at organization, it can be an attractive one as well. Shelving can be constructed with a range of materials, adding another dimension to the design scheme. Refurbished wood beams will add a rustic look, while high-gloss wood and concrete are sleeker options. No matter the style, open shelving provides an opportunity to reveal personality by showing off treasured kitchen pieces.
Islands
One trend that's not getting out of the kitchen is the island. Once just for food preparation, the island has grown in size and often serves as a gathering place for family and visiting friends. Frank Buraski notes that a great way to get an island to stand out is to choose a countertop that contrasts with the rest of the counter space. Choices for both include marble (the gold standard), granite (tough though porous), quartz (heat and scratch-resistant), concrete and wood (sustainable), stainless steel (anti-bacterial, special cleaners required) and zinc (easy to clean, inhibits germs best). A wide range of barstools will easily slide underneath for people to socialize comfortably. Even smaller kitchens can fit a portable island on wheels.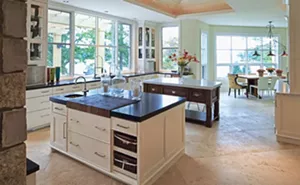 Flooring
Kitchen flooring deserves special considerations. Comfort when standing for extended periods of time is an important one. Wood tends to be more comfortable than tile and resilient floors (cork, linoleum) are even more comfortable, and are easy to clean. Hardwood gives kitchens warmth and a natural element. Bamboo is durable, comfortable and a sustainable material. Cork is comfortable as well, though mats should be added on top in heavy use areas to avoid uneven wear. Cork also muffles sound, is warm underfoot and is resistant to water, heat and mold.
Environmental concerns
In order to minimize your kitchen's environmental impact, choose energy-efficient appliances (look for the Energy Star logo) and sustainable building materials. Avoid particle board made with formaldehyde and tropical hardwood. Choosing reclaimed lumber for flooring and shelving will add character and conserve resources simultaneously. Incorporating generous sources of natural light (large windows and skylights) will eliminate the need to use electric lights during the day.
Contact Ann Farrar at afarrar@illinoistimes.com.