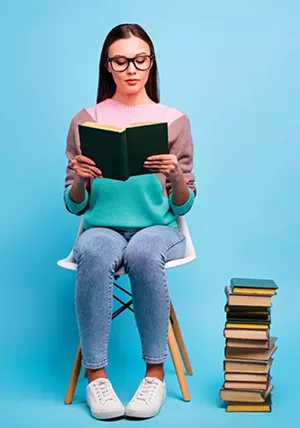 During the weeks of staying home, hunkering down and keeping safe, people have binged on shows like "Tiger King," created colorful paisley designs in adult coloring books, tried new recipes, exercised more and opened up a good book – or two or three. Reading is always the go-to activity no matter what is happening around us.
During this seclusion, I dug out my books-to-read list and am now enjoying some interesting selections. What She Ate – Six Remarkable Women and the Food that Tells Their Stories (Laura Shapiro) shares biographical details through foods of various time periods. Her characters include Dorothy Wordsworth, housekeeper and cook for her brother, poet William Wordsworth, and Rosa Lewis, who continued to speak in her low-class Cockney accent yet became the high-class chef for King Edward VII and others.
Book Towns – Forty-Five Paradises of the Printed Word (Alex Johnson) presents colorful pictures of small towns across the world, all part of the International Organization of Book Towns due to their bookstores and book festivals.
I've discovered a Pulitzer Prize-winning biography, Margaret Fuller (Megan Marshall), a true story, His Other Life – Searching for my Father, His First Wife, and Tennessee Williams (Melanie McCabe), and a memoir, Lady in Waiting – My Extraordinary Life in the Shadow of the Crown (Lady Anne Glenconner).
After sharing my finds with Illinois Times editor Fletcher Farrar, he queried, "What are other people around town reading?" I set out to discover, so first asked Farrar. His choice is Frederick Douglass, Prophet of Freedom (David Blight). "I'm fascinated by Douglass's interest in understanding his present moment in the context of history."
Many people are concentrating on their jobs as they work from home. Mayor Jim Langfelder says, "My reading is pretty much all COVID-related – what other states and cities are doing, results, economic recovery – either in newspapers such as SJ-R or Illinois Times or online."
Teachers are immersed in preparing lessons or learning more themselves. Betsy Hunsley-Hunt is rereading Beloved (Toni Morrison), which her Advanced Placement students at Lanphier will be studying. Crysta Weitekamp, Southeast teacher and former president of the Springfield Education Association, is leading a Teach Plus Illinois study group on Teacher Wars – A History of America's Most Embattled Profession (Dana Goldstein). Kelly Sholtis, District 186 Coordinator of Braided Behavior Support Systems is reading Managing the Cycle of Acting-out Behavior in the Classroom (Geoff Colvin and Terrance Scott).
Alderwoman Kristen DiCenso says, "I try to read, even in my nonexistent spare time. I'm reading All the Ugly and Wonderful Things (Bryn Greenwood) which I don't want to put down, but work reading and city council reading is all-consuming."
Erica Smith, executive director of Helping Hands, has turned to Shakespeare in a Divided America (James Shapiro). "Whenever I am under extra stress, I go back to Shakespeare. I started out as an English major so that feels like familiar territory."
Some people are reading several books at once. Carolyn Blackwell is alternating between three books "as my mood dictates." The Sixth Man – a Memoir (Andre Iguodala), Aretha from These Roots (Aretha Franklin) and I (heart) Barack – Inspiring Words from the 44th President.
Karen Witter, freelance writer, also has several books in the works: The Eight Master Lessons of Nature – What Nature Teaches Us About Living Well in the World (Gary Ferguson), Chicken Soup for the Grandparent's Soul, and How to be Mindful (Anna Barnes).
Betsy Dirksen Londrigan has been inspired by A Life in Secrets – Vera Atkins and the Missing Agents of WWII (Sara Helm). "It is a piece of history about what women accomplished behind the scenes and didn't get credit for at the time."
Just Mercy (Bryan Stevenson) has been the latest book for Mitch Roth, retired general counsel for the Illinois Education Association, because, he says, "I am interested in the disparate treatment of indigent blacks in the criminal system. The author, a law professor at New York University gave a powerful address at my son's graduation from NYU."
Cinda Ackerman Klickna says if she were still teaching, she would encourage students to read: Edgar Allan Poe's story, "The Masque of the Red Death" in which a prince hides in his castle to avoid the Red Death, the poem "Snowbound" by John Greenleaf Whittier that shows what isolation would have been like when there were no phones and no way to see anyone for weeks at a time, and The Plague by Albert Camus about the bubonic plague that ravages a town in Algeria.