What do we think?
Our race and income determine how we feel about certain things, a lot of us struggle with daily living expenses, and we are a fairly trusting lot, unless you happen to be a politician. We also like it here, but maybe our young folks should move away.
Every two years Sangamon County gets a checkup of sorts, where the temperature of the residents is taken on key community issues. The 2019 Sangamon County Citizen Survey sampled 8,000 county households on their social well-being, day-to-day life, population, legal changes, equality, success, the economy, civic engagement, leadership, personal health, social health, the environment and culture/recreation. The survey established benchmarks and assessed changes in what residents felt about their quality of life.
The survey was a collaborative effort between University of Illinois Springfield (UIS) Center for State Policy and Leadership, the Community Foundation for the Land of Lincoln and the United Way of Central Illinois. The mail and web-based survey was conducted from June 1 to July 3, and a total of 652 responses were completed, an eight percent response rate. The sampling error margin was 3.8 percent for a 95 percent confidence level, according to UIS.
Among the many takeaways from the survey, four seem to be particularly enlightening because they give an insight into how we view our community and the things with which we continue to struggle.
Color and money
How do you feel about everyday life in Sangamon County? A lot depends on your race and salary.
Six percent of those surveyed described race relations in the area as very good, 65 percent fairly good, 25 percent fairly bad and four percent very bad. Thirty-six percent of white respondents felt everyone is treated equally, compared to 32 percent of nonwhite respondents. Only 28 percent of those ages 18 to 34 said everyone is treated equally.
Forty-five percent of nonwhite respondents reported experiencing poor treatment due to their race or ethnicity compared to 11 percent of white respondents. Forty-six percent of nonwhite respondents reported being a person of color is a large barrier to career success in Sangamon County, more than twice the rate of white respondents at 19 percent.
"The stigma involving racial tension in Springfield has kind of boiled over and is now coming to light, and a lot of those who may have overlooked it in the past are now starting to pay attention to it," said Dominic Watson, president and CEO of the Springfield Black Chamber of Commerce. "There's no doubt that we have an issue with diversity here in Springfield."
"Springfield has infamously been known to overlook the racial divide that has existed for decades," Watson said. "People mockingly call it the 11th Street Divide, east and west, and a lot of that has come to light over the past few years with the railroad relocation project, the [proposed] homeless shelter and the lack of investment on the east side."
Watson said the survey result concerning color being a barrier to career success is no surprise to him.
"That's absolutely reality. I think you could ask any minority group, any community of color, and they will say there is an absolute barrier," Watson said. "Some choose to overcome that barrier differently than others, but the barrier exists nonetheless.
"The Citizen Survey is a great measuring stick, but if leaders and community stakeholders aren't looking for ways to solve the issues, then what is the point of the survey?" Watson said. "We have a ton of various studies, but nothing at all looks at diversity, race relations, those conversations aren't being had."
Katie Davison, executive director of Innovate Springfield, said her organization is among those who are looking for diversity-based solutions that would address some of the survey findings.
"Thanks to funding from a grant by the Community Foundation for the Land of Lincoln, Innovate Springfield has targeted programming to support the startup needs of historically underrepresented populations," Davison said. "As a result of these programs, 47 percent of Innovate Springfield members who are working on their startups are women, 31 percent are people of color and 23 percent are women of color."
Obesity was the issue of greatest concern for white survey respondents compared to the lack of access to mental health care for nonwhite respondents. Nonwhite respondents were also nearly twice as likely as white respondents to report a lack of access to health care as an extremely or very serious issue.
White males between the ages of 45 and 54 felt safest walking city streets alone at night in Sangamon County. If you made more money, you felt even safer – 83 percent of those earning $100,000 or more felt safe at night in their neighborhoods, compared to just 44 percent of those earning $30,000 a year or less.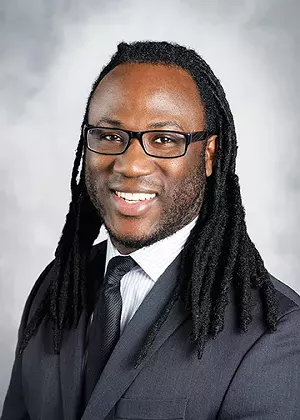 Sixty percent of respondents reported having a great deal of trust in the local police, with the most trust coming from older white residents or those with higher incomes.
Nearly two-thirds of those reporting an annual household income of greater than $100,000 reported things were heading in the right direction in Sangamon County. All other income levels had a 50 percent or lower confidence in the county's direction.
The opinions on serious issues facing the community also differed by income levels. For those making less than $30,000 per year, tobacco use and a lack of affordable housing were the two most serious issues. People who made between $30,000 and $59,999 cited obesity and opioid abuse, while those earning $60,000 and above named obesity and the lack of access to mental health care as the most pressing problems.
Trust us
Who do you trust? The local news media, mostly; your fellow citizens, sort of; your elected officials, not so much.
Fifty-six percent of respondents had a great deal or fair amount of trust in the local media to be fair. WICS News Channel 20, the State-Journal Register and NPR Illinois were the most trusted daily news organizations identified by respondents. (Illinois Times and other non-daily or alternative media were not included.)
"Local media is consistently found to be the most trusted in the community," said NPR Illinois general manager Randy Eccles. "If you think about it, NPR Illinois journalists covering state and local issues live in the community and often share the experience of the audience."
"In addition, reporters are motivated to ensure our residents receive timely news and the context needed to make informed decisions that improve our region," Eccles said.
Jason Piscia is the director of the UIS Public Affairs Reporting Program and a former editor of the State Journal-Register.
"It's encouraging to see the local media trust number hold fairly steady compared to four years ago, when attacks on media credibility weren't as rampant as they are these days," Piscia said. "Local reporters I know and work with are committed to fairness and accuracy, and they publicly admit to mistakes when they're made."
But Piscia is concerned with a media trend that may impact trust in the future.
"Trust is best built through personal connections," Piscia said. "I worry that non-local ownership and smaller local newsrooms are making it more difficult to maintain that bond between a news outlet and its audience."
Forty-six percent of Sangamon County residents reported being confident that local elected leaders could effectively address local problems. But that confidence dropped precipitously for other elected officials. Only 24 percent of respondents felt that state or federal elected leaders could effectively address problems. Women were nearly twice as likely as men to give these leaders the benefit of the doubt, and the 18 to 34 age group overall had the most confidence in those leaders.
Forty-seven percent of respondents thought most people could be trusted, the highest level of reported trust of Sangamon County residents since the survey began in 2013. Those ages 18 to 34 and 65 years and older had the highest level of trust at 54 percent. Fifty-one percent of white respondents were more likely to report that most people could be trusted, compared to 34 percent for non-white respondents.
Doing without
When there's not enough income to pay the bills, where do you cut – food, health care, housing or utilities? If you're a woman, the survey indicated that you made that choice more often than men.
Eighteen percent of all respondents reported that there was a time in the past 12 months where they could not afford food, the lowest reported rate since the community survey began in 2013. Twenty-three percent of female respondents reported this dilemma, compared to 12 percent of male respondents. One-fourth of nonwhite respondents could not afford food in the last year, compared to 17 percent of white respondents. Sixty percent of those with less than a high school diploma reported not being able to afford food, more than twice as much as the next closest group, those with some college education.
"Even in a resource-rich community such as Springfield, people are having to choose between feeding themselves and their children or paying their rent and/or utilities," said Amy Voils, executive director of MERCY Communities, which addresses the Springfield area homeless crisis with several assistance programs. "There is no real age, gender or racial discrimination with these struggles.
"It's often not as simple as finding a job," Voils said. "Livable wage jobs are not easy to come by for those with little education or work experience, particularly without a high school diploma or GED. Often we see the head of household working two or three part-time jobs just to make ends meet and put food on the table for their children."
Twenty-eight percent of all respondents reported that there was a time in the past 12 months when they could not afford health care, the highest rate since the survey began in 2013. This situation affected 34 percent of female respondents, 22 percent of males, 37 percent of nonwhites and 26 percent of white respondents.
Fourteen percent of female respondents and nine percent of males reported that there was a time in the past 12 months when they could not afford shelter. Twenty-eight percent of women, 30 percent of nonwhites and 75 percent of those without a high school diploma reported that they could not afford the cost of utilities in the past 12 months.
Ninety-four percent of white respondents reported having health care insurance, compared to 87 percent of nonwhite respondents.
Senior Services of Central Illinois encounters these "either/or" financial decisions all of the time, and Carol Harms, executive director, said that thankfully, organizations like hers and MERCY Communities are there to help.
"We work with seniors who are at times struggling to make decisions on what is most important to pay with their limited income," Harms said. "Our food and transportation services, hopefully, allow seniors to focus on health care, housing and utilities."
Harms said 64 percent of Senior Services' emergency food clients in 2019 were women. Seventy percent of their Senior Transport clients were women, as were 62 percent of Daily Bread clients.
It's a nice place to visit, but do you want to live here?
We like it here but we think our young people would be better off elsewhere.
Eighty-four percent of the survey respondents consider Sangamon County to be a welcoming place. Sixty-three percent think Sangamon County is an excellent or good place to live and 61 percent feel it is a good place to raise children.
However, those numbers are all lower than the ones contained in the last survey in 2017, and only half of those surveyed are likely to recommend the area to others, while 35 percent are unlikely to recommend it.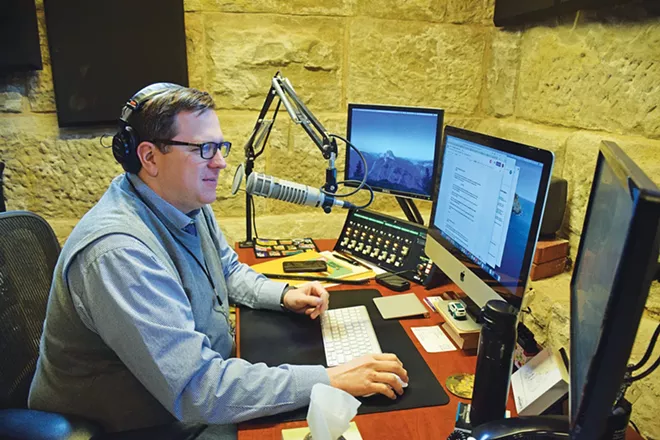 Springfield Mayor Jim Langfelder thinks the timing of the survey after the 2019 municipal election may have had an impact on the responses.
"The survey was conducted right after a four-month campaign by a candidate who used explicit messaging painting Springfield negatively and as a community that was 'dying,'" Langfelder said. "This is in addition to the state of Illinois going two years without a state budget or without a capital improvement plan."
Still, the results seem puzzling – if you think Sangamon County is a good place, why wouldn't you recommend it? Sangamon CEO executive director Nabih Elhajj, who served on the Citizen Survey steering committee, said the explanation may be in the type of question that was asked.
"The (recommendation) question is a measurement of 'loyalty' and is used in the private sector to help companies understand how their customers feel about them," Elhajj said. "It can be applied to help us understand how citizens feel about the county. If they love this place, they will promote it and if they hate it, they won't."
The Citizen Survey was conducted right before A.J. Simmons was named the director of the UIS Survey/Research Office. He would like to have seen another question added to the survey to clarify the matter: If you were to recommend Sangamon County, to whom would you recommend it?
"For me personally it would depend," Simmons said. "I have friends who I would recommend moving here, but there are other friends who live in Austin and San Francisco, and maybe Springfield is not what they are looking for."
The biggest promoters in the survey to encourage people to move into Sangamon County were those between the ages of 18 and 34, 62 percent of whom would make that recommendation. Yet in that same age group, 82 percent felt young people were better off moving out of Sangamon County, even more than the 79 percent of all survey respondents with that opinion.
Innovate Springfield's Davison said that if young people move away it may actually help their view of Sangamon County.
"I think everyone should experience other places," Davison said. "People gain a better understanding of the world and where they are from when they move away from home."
Fifty-seven percent of those surveyed considered moving out of Sangamon County in the past year, up considerably from the 36 percent two years ago. Respondents cited lower taxes and economic development as the two primary factors that would encourage them to stay.
The "buffet" survey
The Sangamon County Citizen Survey shouldn't be considered gospel, but it's the best tool out there right now for measuring the thoughts and attitudes of residents, according to survey organizers. The inaugural survey was completed in 2013 and one has been conducted every two years since, with the next one scheduled for 2021.
The survey and its findings are long – to see the full report, visit https://www.uis.edu/surveyresearchoffice/wp-content/uploads/sites/162/2019/08/Full-Report.pdf. UIS Survey/Research Office Director Simmons said a longer survey would be even more accurate, but it may be impractical.
"I use the term 'buffet' to describe these surveys. There are so many different topics, and I would love to ask maybe five to ten questions on one topic," Simmons said. "But the more questions we ask the less likely people are to respond. We want to get valid responses and have a decent response rate, so you can't ask everything. So maybe we should do a follow-up on certain topics."