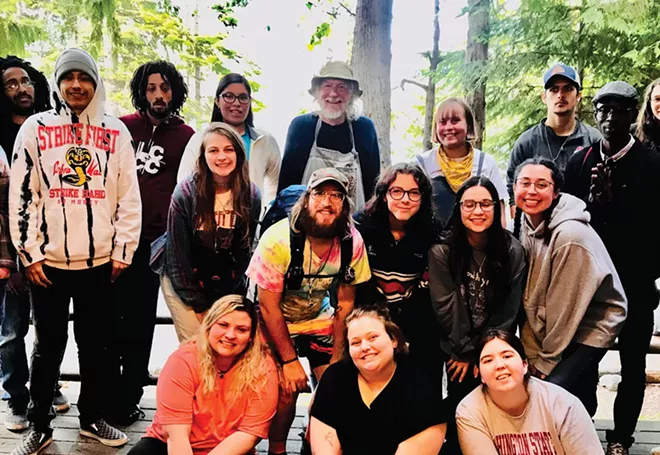 "Oh my goodness! What have I gotten myself into this time?" It's 5 a.m. and the sun is about to rise. I'm in the Pacific Northwest working as a head cook at a summer camp for kids. In about three hours, I have to have breakfast ready for 120 campers and 40 staff. After I clean up from breakfast, it will be time to start on lunch. After cleaning up from lunch, I'll have to move on to making dinner.
I've never cooked for more than 20 people at a time and now I'm working alone. The title "Head Cook" implies that I have a crew of cooks and dishwashers helping me, but due to the post-pandemic labor shortages, none of those positions have been filled yet. I'm overwhelmed and on the verge of a meltdown.
I retired from dentistry and began a second career as a chef 3 ½ years ago. My previous cooking jobs have been as a prep cook and line cook in fine-dining restaurants. I'm 69 years old now and wanted the experience of running my own kitchen by the time I turned 70. Camp Zanika gave me the opportunity.
Despite the enormity of the job, I'm in a heavenly place. My kitchen window looks out over Lake Wenatchee and beyond that, the Cascade Mountains. Babbling brooks course through the camp. I take my dog for walks in the woods and return with morels by the bagful. The nearest town is 25 miles away, leaving the night sky unblemished by the lights of civilization.
I came to the job with the naive intention of networking with local farmers and serving the kids and staff fresh vegetables and free-range poultry. The truth is, with so much food to prepare, I'm often having to rely on canned, frozen and dehydrated food products. And, believe it or not, the local health department frowns on using "free-range" chickens and prefers that I instead use chickens from the large-scale poultry processors.
As if cooking for 160 weren't hard enough, I have to accommodate a myriad of dietary restrictions. I have to make gluten-free options. I have to offer lactose-free dishes. I have to accommodate vegetarians and vegans. Some of the omnivores won't eat red meat. If I try to simplify things and do all plant-based menus, the meat-eaters complain. If I put butter in the mashed potatoes, the vegans complain. If I thicken a sauce with a little flour, the gluten-intolerant people get sick. Each week brings a new group of campers and the numbers of dietary restrictions change. It's driving me crazy.
As much as I'd like to put thought and effort into serving every person's dietary needs and preferences, the volume and time restraints I'm dealing with make it difficult. I often don't find out about a dietary restriction until the last minute and have to come up with something quickly (or, as we say in the restaurant biz, "on the fly"). We always keep packages of tofu and a few thawed chicken breasts in the refrigerator for these situations. But what is more boring than plain tofu and chicken?
The strategy I've employed, with great success, is having a few different vinaigrettes prepared ahead. Vinaigrettes are usually associated with salads, but have wider applications as a flavoring component for meats, fish and plain proteins. If I'm serving a meat-based main course and have to come up with a vegetarian option at the last minute, I can quickly pan-fry slices of tofu to a golden brown and dress them up with an herb vinaigrette. I'm frequently told that that it's the best tofu they've ever had. The same strategy can be used to take any otherwise boring dish from bland to exciting.
In her best-selling book (and Netflix series) Salt Fat Acid Heat, Samin Norstrat writes about when, as a novice cook at Berkeley's Chez Panisse, a chef would taste her food and tell her that it needed a little more acid or fat. We all can tell when something needs more salt, but acid and fat are often-overlooked flavor enhancers. Acid can really "brighten" up a dish. Many restaurants keep a squeeze bottle of fresh lemon juice on the line to add to a dish before it is served. Certain flavor components are soluble in fat rather than water, and a drizzle of good olive oil can make these flavors pop out.
A vinaigrette is made by vigorously mixing oil and a mild acid together and creating an emulsion. Normally vinegar and oil won't mix, but the addition of an emulsifier, such as a dab of mustard, will keep the vinaigrette from separating, at least temporarily. A classic French vinaigrette is three parts oil to one part acid. I use this ratio for dressing a salad. If I'm dressing meat or cooked vegetables and want more acidity, I'll use a 2:1 or 1:1 ratio of oil to acid. The choices of acid include citrus juices and vinegars. I like to include minced shallot, garlic or chives and often chopped herbs, such as parsley, dill or tarragon.
Roasted Shallot Vinaigrette
This vinaigrette is good on grilled vegetables and crispy fried tofu.
Ingredients
4 small shallots, minced
1/2 cup extra-virgin olive oil
2 1/2 tablespoons sherry or white wine vinegar
1 teaspoon Dijon mustard
1/4 cup flat-leaf parsley
Salt and freshly ground pepper
Preparation
In a small saucepan, cook the shallots in the olive oil over low heat until translucent, but not browned. Take the pan off the heat and allow to cool.
Put the mustard in a small jar and mix in the vinegar. Add the olive oil and shallots, chopped parsley, a pinch of salt and pepper. Put the lid on the jar and shake vigorously.
Lemongrass Ginger
Cilantro Vinaigrette
This vinaigrette is delicious on grilled tofu, chicken, or fish.
Ingredients
1 bunch of fresh cilantro
1 1/2 tablespoons grated or finely minced lemongrass
2 cloves grated or minced garlic
1-inch piece fresh ginger, peeled and grated or minced
2 tablespoons rice vinegar
1 tablespoon lime juice
1 tablespoon water
1 teaspoon Dijon mustard
1 teaspoon fine sea salt
1/2 cup rice bran or canola oil
2 tablespoons sesame oil
diced Thai bird chili, to taste (or substitute a dash of chili garlic sauce)
Preparation
Finely chop the cilantro, including the stems. Place in a bowl.
Remove the tough outer 2 layers of a stalk of lemongrass. Finely mince or grate the lemongrass into the bowl with a microplane grater. Add the garlic, ginger and chili.
Put the mustard in a jar and stir in the vinegar, water, lime juice, and salt. Add the oils and shake vigorously.
Pour into the bowl with the chopped cilantro, lemon grass, garlic and ginger. Stir to incorporate.