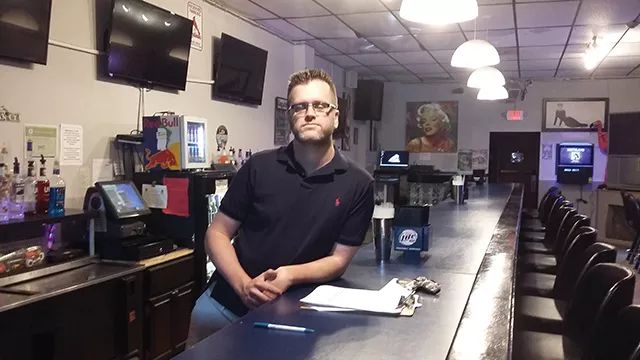 When last I spoke with Ryan Bandy, Donald Trump was on the verge of the presidency and local voters were about to select a circuit court judge.
April Troemper won the 2016 election and kept her seat on the bench. During the campaign, David Reid, the challenger, pointed to a bar association poll showing that lawyers thought he had more integrity and better legal ability than his opponent.

As Election Day neared, Reid found himself in the courtroom of U.S. Bankruptcy Court Judge Mary Gorman. And things have not gone well since for him and other attorneys involved in a case to determine ownership of Station House, a bar run by Bandy. "Bad decision after bad decision after bad decision is all I hear in this case," Gorman said during a hearing last week.
In 2013, Kent DeLay and his partner, Randy Stieren, with Reid as their lawyer, sued Bandy in state court seeking to enforce an agreement that gave them an option buy the bar. While the state case was pending, DeLay filed for bankruptcy in federal court.
In the summer of 2016, a state appellate court ruled for DeLay in the state lawsuit, putting Bandy on the cusp of losing Station House. Then a bar patron, who had happened to be in bankruptcy court the same day as DeLay had appeared, asked Bandy how someone who had declared bankruptcy could take over a bar.

Bandy mentioned the bankruptcy when his lawyer called to discuss the case. "I said, 'Is that a big deal?'"

Bandy testified during a December trial in Gorman's court. "He goes, 'Yeah, it could be.'"
And, indeed, it was. Nearly two years later, the bankruptcy case and the state lawsuit drag on.
When someone declares bankruptcy, state court proceedings involving assets are supposed to cease, and anyone with a claim on assets, including parties to lawsuits, is supposed to be notified of bankruptcy filings. That didn't happen in the Station House case, and so Bandy, ignorant of the bankruptcy, had no chance to acquire the bar as part of bankruptcy proceedings even as he paid to litigate a state lawsuit that should have been put on hold.
Reid himself realized that bankruptcy could complicate the state lawsuit. After discovering that DeLay, using a different lawyer, had declared bankruptcy, Reid in 2014 sent his client a letter, saying that the bankruptcy filing "greatly affects" the state lawsuit for control of the bar and that he intended to withdraw from the case.

But he changed his mind and continued as DeLay's lawyer. In December, Reid testified that he felt an allegiance to his client and also thought that Bandy had defrauded DeLay by reneging on the purchase option for the bar.
"And you also got paid $10,000?" his attorney Jeffrey Richardson asked, referring to a check Reid received for legal fees. "That's correct," Reid acknowledged.
Making matters worse, Reid was receiving notices from the bankruptcy court that were addressed to Bandy – DeLay had given Reid's address to his bankruptcy attorney instead of providing Bandy's address. Reid kept getting Bandy's mail from the bankruptcy court even as he represented DeLay in state court. Reid also received an email from DeLay suggesting that Bandy's lack of knowledge about the bankruptcy could be an advantage during attempts to settle the state lawsuit.
In a March ruling, Gorman criticized Reid, DeLay and Mariann Pogge, the bankruptcy trustee who wrongly told Reid that the state lawsuit could proceed despite the bankruptcy. "(T)he mistakes were serious, caused real damage to Mr. Bandy and cannot be ignored," Gorman wrote.
Despite Pogge's bad decision, the case would've remained on the rails if Reid had forwarded Bandy's mail and told the state court about the bankruptcy, Gorman wrote. Futhermore, the judge ruled, Reid's violation of rules that should have halted state court proceedings was willful, meaning it wasn't accidental or innocent.
Richardson argued that Reid, who had accused Bandy of smearing him when the legal mess came to light during the 2016 campaign, had already paid a sufficient price due to the public nature of case and so should not be required to pay damages. Gorman agreed, writing that Reid's legal career was long and exemplary.

"His lapse in judgment…was, without question, an isolated incident," Gorman wrote. The judge ordered DeLay to pay Bandy $15,000 in damages, finding that he had fibbed in bankruptcy filings while deceiving the bankruptcy trustee and the state court.
The judge also unloaded on Kevin Linder, Bandy's lawyer. During two hearings this month, Gorman said she had figured damages, based largely on Bandy's legal expenses, could be worth as much as $200,000 as testimony unfolded during the December trial. But Linder produced no invoices to prove the amount, and so the judge awarded just $15,000. Gorman excoriated Linder for submitting more than $91,500 in legal bills in an April request to reconsider the case, saying it was too late: The bills should have been submitted as evidence in the December trial. "You fundamentally don't understand some of these concepts, and you're charging your client," Gorman told Linder.
DeLay is appealing Gorman's ruling. The judge has suggested settlement would be a better option than litigation, considering ever-rising legal fees. She observed during a May 15 hearing that Bandy owns the building where Station House is located, so even if DeLay prevails in court, he could be evicted. Bandy tells me that he thinks Reid should have to compensate him for legal fees, but an out-of-court resolution might be best.
"We're trying to get everything settled," he said.