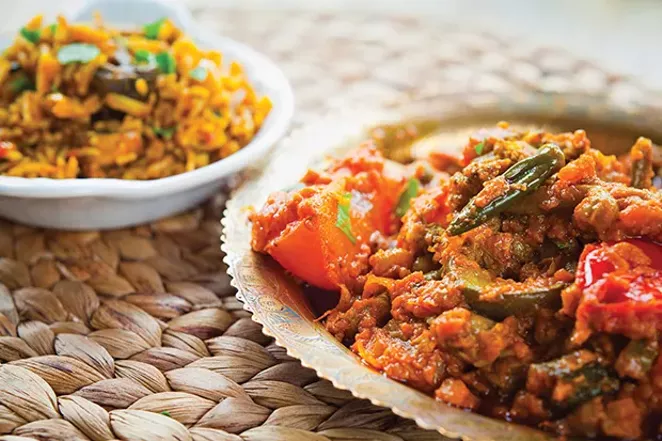 "What should I make for dinner?"

This seems to be a question that plagues working families everywhere. Not long ago, I was waiting to pick up my daughter when I overheard some other moms discussing this very topic.
"Ugh. I've got to go home and figure out what to make for dinner. I'm so tired of everything I make." I hear you, sister.
Even I often find myself in a weeknight dinner rut. Between managing everyone's schedules and preferences and my own levels of motivation, it's hard not to fall back on takeout or just cooking up some spaghetti with a jar of sauce thrown on top.
I've put together a week's worth of menus that can be prepared in about 30 minutes of active time (some require several hours of hands-off cooking time in a slow cooker), or can be prepared ahead and simply reheated. Some basic veggie prep is immensely helpful, so if you've got time over the weekend it helps to pack up some containers of sliced onion, garlic, celery, peppers and carrots to use when making dinner and packing lunches throughout the week.
Embrace meatless Monday with a pot of hearty black bean soup with mango salsa. Before bed on Sunday night, soak a pound of dry black beans in cold water overnight. The next morning, drain the beans and add them to a slow cooker, along with a diced onion, red and green bell peppers and minced garlic (use your food processor if you have one). Season with cumin, chili powder and oregano, then pour in two quarts water or low-sodium broth. Cook on high for 30 minutes to bring the temperature up, then cook on low for 6-8 hours. Season with salt before serving. To make the mango salsa, dice up a mango, then toss with some minced red onion, cilantro, lime juice and salt.
For Tuesday night's meal, try Indian-style chicken curry with rice. This comes together in less than an hour, making it a perfect candidate for weeknight cooking. It improves with time and will keep in the fridge for up to five days, so it can also be made ahead. Make a double batch of rice to use for another meal later in the week.
Roast is on the menu for Wednesday night and, once again, the slow cooker does the work while you're away. Season a five to-six-pound pork shoulder roast with salt, pepper and garlic powder and add it to a slow cooker along with a diced onion, a few sliced apples, carrots, celery and some fresh herbs if you have them. Add a couple of cups of water, broth, apple juice or beer. Cook on high for about an hour, then reduce heat to low and cook for about eight hours more. When you get home, transfer the meat and apples to a platter. To make gravy, increase the heat on the slow cooker to high and pour in a slurry of a tablespoon cornstarch mixed with ¼ cup cold water. Cook for a few minutes until thickened, then serve over the sliced pork alongside buttered noodles and a simple green salad. The leftover pork is delicious in sandwiches, or can be repurposed for another meal later in the week.
Ginger fried rice makes use of leftover rice from earlier in the week for Thursday night's meal and is a great way to use up any odd vegetables that are hanging out in the refrigerator. Heat some oil in a wok or heavy-bottomed skillet and sauté some onion, pepper and carrots (peas, cabbage, celery, broccoli, cauliflower and zucchini are also nice) over high heat until just tender. Remove to a bowl, then add another slosh of oil to the skillet along with a tablespoon or so each of minced ginger and garlic. Sauté until fragrant, then throw in two or three cups of cold rice and stir-fry, tossing it to coat with the oil and breaking up the clumps. When the rice is sizzling, push it to the sides of the pan to make space in the center. Pour a few beaten eggs into the well. Scramble these, then mix in with the rice. Add the vegetables back in, then season it all with a slosh of soy sauce and sesame oil.
Close out the week with pulled pork tacos on Friday night and make use of the last of the black beans and pork roast from earlier in the week, served in warm corn tortillas with sliced avocadoes and cilantro. Some sweet corn on the grill might be nice too, with a sprinkle of chili pepper and a squeeze of lime.
INDIAN-STYLE CHICKEN AND VEGETABLE CURRY
2 pounds boneless skinless chicken thighs, cut into 1 inch pieces
½ cup plain yogurt
1 tablespoon each ground cumin, paprika, and garam masala
Juice of one lime
2 teaspoons salt
1 tablespoon fresh grated ginger, divided
4 cloves minced garlic, divided
¼ cup butter
1/2 cup minced red onion
1 28-oz. can whole peeled tomatoes
1 can tomatoes with green chilis, such as Rotel
1 cup cream
1 can chickpeas, drained and rinsed
1-2 cups blanched or frozen vegetables such as cauliflower, green beans, carrots, and/or peas
¼ cup slivered almonds, toasted
Chopped cilantro, to garnish
Combine the chicken, yogurt, spices, lime juice, salt and half each of the garlic and ginger in a bowl. Mix well and set aside in the fridge to marinade for 20 minutes (or overnight).
Meanwhile, saute the onion and remaining garlic and ginger in the butter in a heavy bottomed saucepan over medium high heat until lightly browned. Add the whole tomatoes, Rotel tomatoes and cream, breaking up the tomatoes with the back of a spoon. Bring to a simmer, then add the chicken, making sure to scrape as much of the marinade into the pot as possible. Simmer for 10-15 minutes, then add the drained chickpeas and vegetables. Season to taste with salt and additional lime juice if needed. Sprinkle the toasted almonds and cilantro on top and serve with hot rice and yogurt sauce.
To make the yogurt sauce, combine 1 cup Greek yogurt with 1 peeled, seeded and diced cucumber, ¼ cup each chopped cilantro and red onion, and 1 clove minced garlic. Season with salt and pepper.