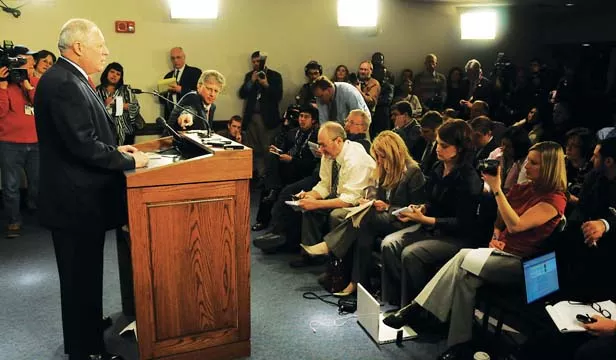 George Ryan, Rod Blagojevich, Pat Quinn and potentially Bill Brady. The Statehouse press corps has watched them all, but with each new governor fewer and fewer eyes make up the group of journalists in the Capitol who observe, investigate and report on Illinois government and the General Assembly.

That trend might have continued, as the Arlington Heights Daily Herald, Illinois' third largest newspaper, considered eliminating its only Statehouse position after its Springfield bureau chief, John Patterson, left last month for a job with the Illinois Senate Democrats. For weeks, the newspaper, citing the economy, was undecided on whether to fill the position, but editor and senior vice president John Lampinen said earlier this week that the position would be filled, at least, he hoped, before the fall veto session.

Still, the Illinois Statehouse press corps has grown smaller and smaller. In the last three years alone, four newspaper organizations have closed their Statehouse offices, leaving only eight daily print offices open. The trend is detrimental to the public, media observers say, especially considering the state's record budget deficit of $13 billion and a recent track record of questionable governorships.

"Statehouse bureaus, particularly the newspaper bureaus, have really provided an important element of accountability," says Mike Lawrence, a former Statehouse reporter and later director of the Paul Simon Public Policy Institute at Southern Illinois University. "I don't think there's been a time in the history of this state when there was a greater need for accountability. We've had a series of scandals and there's really a need to hold government officials accountable. And I think that will diminish if we continue to see a decline in Statehouse staffing."

While the latest Springfield office closings – the Champaign News-Gazette in January 2008, the Rockford Register Star in August 2008, Small Newspaper Group in August 2009, and the Peoria Journal Star in December 2009 – as well as the shuttering of wire service United Press International's bureau in 1999 – are cause for concern, so too is the shrinking staff of the remaining bureaus.

"The more coverage you have of state government, the more accountability there will be in state government," says Jon Broadbooks, executive editor at Springfield's State Journal-Register. "The more people you have, the better the coverage." The SJ-R's bureau chief, Ryan Keith, resigned earlier this year, but Broadbooks says the paper will fill the position.

As one of several papers owned by GateHouse Media, the number of Statehouse reporters the SJ-R can draw from has decreased as its sister papers' bureaus have closed and the company has eliminated positions. Previously owned, along with the Peoria Journal-Star, by Copley News Service, the SJ-R could draw from the work of five Statehouse reporters in 2000. That was just before Copley sold a number of smaller newspapers to the Chicago Sun-Times' parent company and reduced its Statehouse reporting staff to four. By the time GateHouse took over in 2007, only three Statehouse reporters remained under Copley's service, a number further reduced the following year when Peoria closed its bureau. The Rockford Register Star joined GateHouse after a buyout from its previous owner, Gannett, in 2007. It closed its own Statehouse bureau the next year and now all three papers rely on the two remaining GateHouse reporters.


But GateHouse's shrinking Statehouse press corps is just one example of a statewide trend, which mirrors a national trend. Since the exit of UPI, the remaining wire service the Associated Press and the Chicago Tribune have each cut one Statehouse position, and Lee Enterprises, which owns the Decatur Herald and Review and the Bloomington Pantagraph, has cut two full-time Statehouse reporting positions, bringing the total number of such print positions lost in the last decade to 11. That leaves only 11 daily newspaper reporting positions still in the Capitol today, assuming the Daily Herald and SJ-R do indeed fill their recently vacated positions. Nationwide, the number of newspaper reporters covering state Capitol action full time dropped from 524 to 355, more than 30 percent, between 2003 and 2009, according to a survey by the American Journalism Review.

Charlie Wheeler, former Statehouse reporter for the Chicago Sun-Times and now the director of a Statehouse reporting program at the University of Illinois Springfield, says the decline in the last 10 years is an extension of a gradual decline that's taken place over the last several decades. Earlier bureau closings, however, were a result of newspapers going out of business entirely, he says. "That was not somebody deciding, we're an ongoing operation, we just don't care about Springfield anymore, which in the case of Rockford, that was their decision. And should Arlington Heights not fill this, that would be their decision too, that we don't care enough about Springfield and state government to bother having a full-time presence."

While Illinois' papers that are now without Statehouse bureaus lament the loss and admit that coverage isn't as complete as it once was, they say they're still able to provide the necessary coverage. "Any kind of personnel decision of that nature is difficult, and I'm an old school editor and any time you have fewer reporters, I don't care what the beat is … the coverage isn't going to be as complete," Peoria Journal-Star managing editor John Plevka says, adding that coverage by the Associated Press and home office reporters helps fill the void. "Dealing over the telephone may not always be as effective as those conversations face to face … but we see them here, they [lawmakers] come back to their home districts. We still stay in touch with those folks," Plevka says.

Wheeler says covering an entity like the General Assembly from a distance means a reporter, and therefore the media outlet and its readers, viewers or listeners, will miss nuances and patterns that can make a big difference to a news story. "Why is it, for example, that newspapers rely on the Associated Press to let them know what's going on in Russia? They could just as easily pick up the phone and call somebody in Russia and ask them what's going on but they don't do it because they realize that folks on the ground have the expertise, have the sources, have the context and are able to present a more credible, accurate picture than somebody trying to cover it from afar," Wheeler says.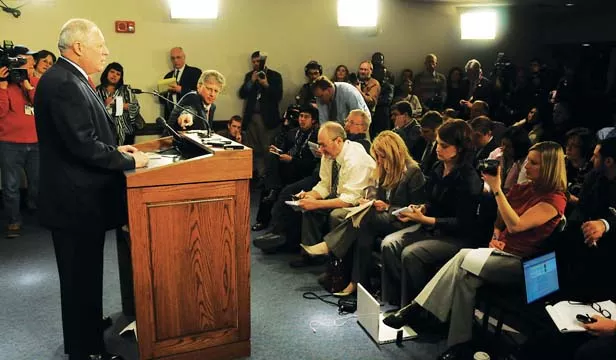 While traditional newspapers' Statehouse ranks are dwindling, another type of news outlet could be on the rise. In Illinois, a nonprofit run by the Franklin Center for Government and Public Integrity opened Illinois Statehouse News in December 2009, after recruiting Small Newspaper Group's last bureau chief, Scott Reeder.

"What's happening in Statehouse pressrooms across the nation would best be described as a tragedy," Reeder says, about bureau closures and layoffs. He says the changes have "created a void in need of filling. Nonprofits such as Illinois Statehouse News are just part of that answer."

ISN, which produces free audio, video and print reports for any outlet that wants them, sought inclusion last year in the Illinois Legislative Correspondents Association, which represents print and broadcast newspersons covering the General Assembly and Illinois government, but was denied membership as well as designated press room office space.

ILCA president Ray Long, the Chicago Tribune's Statehouse bureau chief, says the organization denied ISN membership because it lacked a track record. He says the association is now determining how nonprofits like ISN fit in. In the meantime, the ILCA has temporarily capped membership as it reviews its bylaws.

Rich Miller – an ILCA member, the author of a syndicated column that runs in Illinois Times, and owner of Capitol Fax, an insider's newsletter and blog detailing Illinois politics – says his business has grown "exponentially" since he started it in the early 1990s but says Capitol Fax was never intended for a general audience but to supplement regular news coverage for the benefit of "political junkies."

"For them [traditional news outlets] to be cutting coverage is not only shortsighted but greed-based and moronic," Miller says, pointing to the state's budget deficit, imprisoned Gov. George Ryan and impeached Gov. Rod Blagojevich. "On a citizen level and a journalistic level, I'm just appalled by it."

Long remains optimistic. "I think that we're just probably hitting the nadir and are about to climb back up," he says. "I believe that journalism is in the recovery mode and that will translate into more Statehouse reporters. … Every news organization understands that there has to be keen observance of a major legislative body like the Illinois General Assembly."

Wheeler says that, going forward, news organizations must recognize that covering Statehouse action is a duty. "I would hope that the people who are in charge of these media properties would think about …some of the responsibilities that come with the First Amendment, freedom of the press privilege and realize that there is a certain responsibility they have to serve as the eyes and ears of their readers … and keep track of what's going on in state government. And you really can't do it from a distance."

Contact Rachel Wells at rwells@illinoistimes.com.