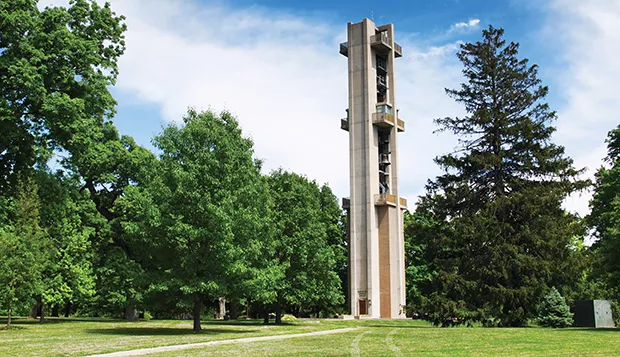 Springfield offers a wide range of venues for your wedding ceremony – from beautiful churches to lovely outdoor parks, from museums and historic sites to banquet halls and clubs, from formal to casual, large to small, and intimate to expansive. A popular place for outdoor weddings is Washington Park, with its colorful formal and informal gardens, open lawns and majestic trees. There are many optional sites for a wedding ceremony within Washington Park – the gazebo, rose garden, Roman Cultural Garden, annual display beds, Outdoor Gathering Plaza and Iron Springs, as well as an indoor exhibit hall for receptions. Springfield's Washington Park also has a unique feature that can be incorporated into your outdoor ceremony that most other cities don't have – a carillon.

The carillon is a Springfield icon. Couples who arrange for their ceremony in Washington Park may also hire the Thomas Rees Memorial carilloneur, Carlo van Ulft, to play the carillon as part of their wedding celebration. This can involve music before, after or even during the ceremony. Van Ulft has an extensive repertoire of music ranging from popular to classic from which you can choose. The view from the top of the carillon is spectacular, and special arrangements can be made to allow your photographer access to the top for memorable photographs from above.
The Washington Park Botanical Garden takes reservations for the next year on a first-come, first-served basis beginning the day after Labor Day. Reservations must be made in person. It is not uncommon for a line to form at the door to the Botanical Garden building before the sun comes up on the Tuesday following Labor Day. Reservations for the gazebo and Iron Springs are arranged through the park office at Bunn Park. All arrangements related to the carillon are made directly with carilloneur Carlo van Ulft (cvanuft@springfieldparks.org).
Outdoor weddings present many challenges and require a great deal of advance planning and coordination. A wedding at Washington Park is well worth the effort and has been a spectacular setting for weddings over many generations.
Lincoln Park and Erin's Pavilion/Southwind Park are other lovely Park District settings for weddings. For more information about having your wedding at a Springfield Park District facility, go to http://www.springfieldparks.org/rentals/weddings.aspx. – Karen A. Witter