The city's winter warming center has closed, with homeless people sent to the Salvation Army community center on Clearlake Avenue.
It's not clear how many people are staying at the Salvation Army, nor is it clear how long they might stay there.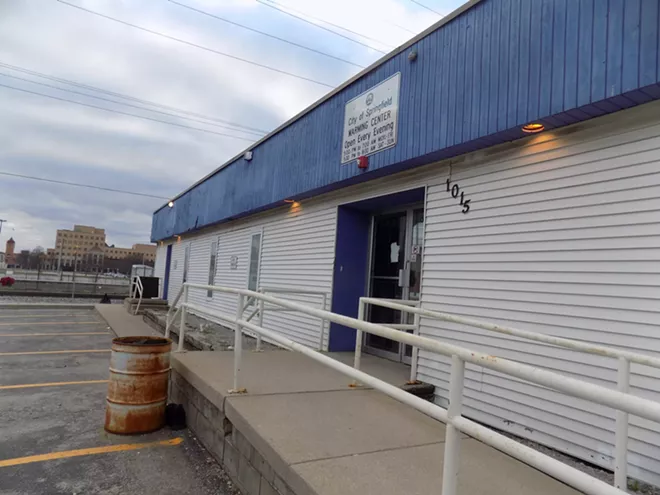 Mayor Jim Langfelder said he didn't know how many homeless people were sent from the warming center to the Salvation Army. He said that they will stay there for the duration of the stay-at-home order from Gov. JB Pritzker. "This is a stay-in-place order," Langfelder said. "That's what the intent is."
Crowding has been a concern at the warming center, but the Salvation Army building has sufficient space to keep people six feet apart, the mayor said. Langfelder said that showers are being added to the warming center, which will be used as a quarantine center if the need arises.
Illinois Times
learned a transfer was in the works by talking to homeless people at the St. John's Breadline on Saturday afternoon.
The transfer comes a day after Capt. Jeffrey Eddy of the Salvation Army told
Illinois Times
that the situation at the warming center on Madison Street, which the Salvation Army had been operating for the city, was growing dire. Besides insufficient space, two staff members had departed, Eddy said, and he was worried about approaching cold weather. And, since the Washington Street Mission and the city library closed earlier this week, the homeless have had no place to go during the day. St. John's Breadline has been handing out food without allowing recipients to enter the building.
"We're trying our best," Eddy said on Friday. "We're all in this together."
The Salvation Army building on Clearlake was proposed as a homeless shelter a few years ago, but the charity dropped dropped plans in 2017 in the face of community opposition.
Ward 2 Ald. Shawn Gregory said he found out that the warming center had been closed when a reporter called. "I definitely didn't know they were moved," said Gregory, who represents the area that includes the warming center and the Salvation Army. "I knew that there were some talks about what we should do about spacing out our homeless population. I didn't know it would start tonight."
Gregory said the homeless need help.
"We definitely want to make sure we're putting focus into our homeless population, making sure they're being taken care of as well as anyone else," the alderman said. "I just want to be part of those decisions."
Contact Bruce Rushton at brushton@illinoistimes.com