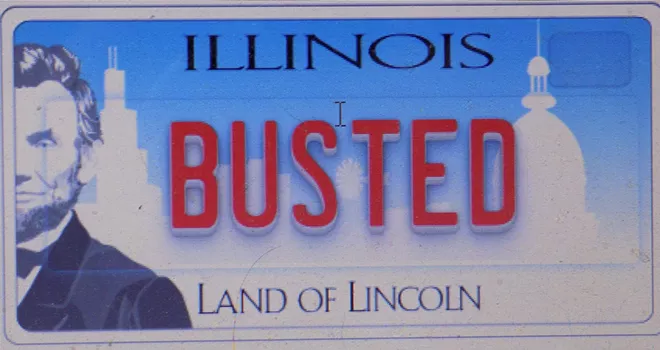 A top Illinois Secretary of State administrator ran a Ponzi scheme out of the state vehicle licensing division and stole hundreds of thousands of dollars, federal prosecutors allege in an indictment of Candace Wanzo made public Thursday.
During a two-year period that ended in the spring of 2017, Wanzo, 57, stole more than $303,000 in license, title and registration fees, according to prosecutors who say that she also stole more than $40,000 in sales taxes that were supposed to go to the Illinois Department of Revenue. Wanzo, who oversaw the public service center in the Howlett Building where license plates are issued and titles transferred, started stealing sales taxes in 2008, prosecutors say. In stealing fees due the secretary of state, she focused on vanity and personalized plates that had to be ordered instead of handed out upon payment, according to the indictment.
Wanzo told her staff to give her cash payments for license, registration and title fees, prosecutors say, and she bypassed a policy, instituted in 2007, barring cash payments for sales taxes by telling her staff to accept cash despite the policy, prosecutors say, and deliver her the money at the end of each day in an envelope. Wanzo told her staff to direct any complaints from the public about fees to her and to not inform anyone else at the secretary of state's office, prosecutors say. Wanzo even created her own complaint form, directing that the forms be sent to her, according to the indictment. If license plates were late going out due to her thefts, Wanzo would have them delivered by United Parcel Service instead of the U.S. Postal Service to conceal her crimes, prosecutors say.
To evade detection, Wanzo used money received from vehicle owners to replace money she'd stolen from unrelated vehicle transactions, according to prosecutors who have charged her with three counts of mail fraud, one count of theft and one count of misapplication of secretary of state fees.
Federal prosecutors who tally losses from stolen fees due the secretary of state starting in 2015 say that such thefts began earlier. After Wanzo was caught in the spring of 2017,
the inspector general found more than $155,000 in uncashed checks
and money orders made out to the state in her office. Although the indictment covers thefts of fees starting in 2015, the uncashed checks and money orders dated back as far as 2004, when Wanzo, hired as a private secretary in 1999, was promoted to administrator of the specialty plates section within the secretary of state's office. The inspector general also found hundreds of license plates in Wanzo's office, as well as a box of 1,000 vehicle registration stickers that had been reported missing. In a 2018 memo, a secretary of state personnel director wrote that total losses from uncollected fees were impossible to calculate "based on the disorder of your office and the boxes of unprocessed documents found in various storage areas."
Wanzo was placed on paid administrative leave when the investigation began in May 2017. Facing termination, she resigned a year later, citing health issues.
Wanzo was hired less than a year after Jesse White was first elected secretary of state. White hired Wanzo even though she'd pleaded guilty in 1991 to
embezzling more than $233,000 from Southern Illinois University
while working as a cashier in the bursar's office. In 2004, the same year that Wanzo was promoted to administrator of the specialty plates division, she declared bankruptcy in an attempt to scuttle a restitution order issued by a federal judge in the embezzlement case. That same year, the auditor general found that she'd been using a state car to commute from her home in Centralia to her job in Springfield, a round trip of nearly 200 miles. In 2009, on April Fool's Day, Wanzo was promoted to supervisor of vehicle services plates, a position she held along with her post as administrator of the specialty plates section.
The SIU embezzlement conviction and the attempt to evade restitution and the finding that Wanzo had been commuting in a state car did not impact her career with the secretary of state, according to her personnel file that shows no letters of reprimand or sign of discipline until 2018, when she was told that she was facing termination after 700 license plates, 1,000 missing license tags and six figures in uncashed checks and money orders were found in her office.
It's not clear why White hired Wanzo despite her criminal history, nor is it clear why she was promoted despite issues with using a state car that were documented by the auditor general's office in 2004. Since Wanzo was placed on administrative leave, the secretary of state has declined interview requests, sending written statements in response to telephone calls and emails requesting interviews. On Thursday, the secretary of state responded with an email after a phone call from
Illinois Times
, with spokesman Dave Druker congratulating the inspector general for a job well done.
"We applaud the extensive work of our Inspector General Jim Burns and his staff in uncovering and providing evidence and documents to the FBI and the U.S. Attorney's office, and their continued cooperation and support," Druker wrote. "This shows the importance of having a strong, independent inspector general to root out corruption and other unacceptable conduct."
White, Druker added, is "highly offended" at conduct described by federal prosecutors.
Contact Bruce Rushton at brushton@illinoistimes.com.