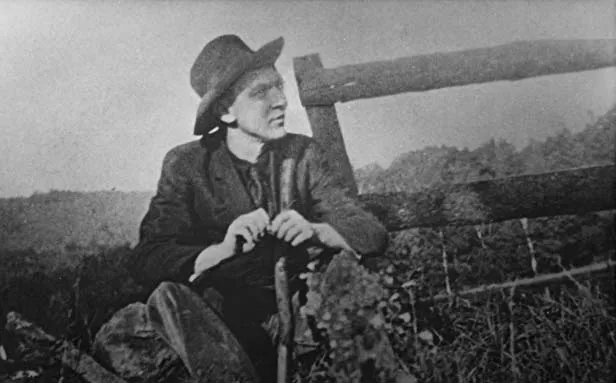 Yes, kids, I really did used to walk two miles to school. For the whole of my ninth grade year in 1962-63, I often walked from Washington Junior High at 21st and Jackson to our house near the Statehouse. I was not moved by any of the current faddish arguments for walking. Nor was I inspired by an adult model like the old school master of the great British historian, G.M. Trevelyan, who used to admonish his students, "O boy, you can never walk less than 25 miles on an off day!" Snobbery was a factor; riding a bike to class was so fourth grade. So was poverty of choice; my family didn't have a car, and often by the time basketball practice was over the city buses had stopped running.
Mainly, though, I walked because I liked it. It gave me a chance to clear my head (usually of thoughts of girls), to think and to plan (mainly about girls), and to revel in solitude before returning to a crowded house. I enjoyed it even during winter; if you tell me that there is a more perfect way to spend time than standing beneath the kitchen exhaust of the old
Gold-n-Glow
doughnut shop on 11th on a cold day, I will tell you that you are mistaken.
I didn't know it then, but in my meager way I was carrying on a noble local tradition. Springfieldians of various eras have performed prodigies of pedestrianism. Elijah Iles was the merchant, land speculator and political dirty trickster who has much to do with founding Springfield as anyone. He searched for opportunity in frontier Illinois as assiduously as a legislative hopeful seeks a friendly district, and among what he called his "numerous footsteps wanderings and doings" were several walks from Kentucky to Missouri and back.
Walking looms large in Lincoln lore as well. The young Lincoln's actual footprint might have been large – he wore size 14 boots – but his green footprint was admirably small. A poor man, he walked everywhere. He enlisted as a militiaman to put down the Black Hawk rising in 1832 and was eventually mustered out of service in Jefferson County, Wisconsin. With a companion he set out to walk back to New Salem, since their horses had been stolen. At Peoria, they bought a canoe and paddled to Havana, but they sold the boast on landing and walked the final 25 miles – a total of some 200 miles afoot. He famously walked miles to borrow books. To obtain the books he needed to study law, in 1834 Lincoln walked from New Salem to the Springfield office of attorney John T. Stuart and back.
Even Lincoln might have hailed a horse rather than try to match some of the treks of our hometown poet-tramp, Vachel Lindsay. In 1906, Lindsay walked from Jacksonville, Fla., through Georgia, the Carolinas and Kentucky before heading home to Springfield. The following year he walked from New York City to Springfield, and in 1912 set out to walk to Los Angeles, then Seattle before returning to Illinois. However, he bailed on the way west, in New Mexico and took a train to LA.
Wuss.
Running for office means that politicians cover a lot of ground, but they don't do it on foot. The hole in the shoe revealed by that famous photo of Illinois Gov. Adlai E. Stevenson on the 1952 campaign did not get there because Stevenson walked so much but because he repaired his shoes so little. As Christian Chensvold explained in his blog, Ivy Style, many well-bred Princetonians of his generation "took great pride in wearing shoes that looked like they had long outlived their useful lives." They wanted to show that they were above the need to look smart, "because they not only had climbed the [status] ladder, they owned it."
By the 1970s walking any distance was so rare a pastime that a man could get into the papers just by doing it. Beginning on July 4, 1971, governor candidate Dan Walker set out to walk nearly 1,200 miles from one tip of Illinois to other, in a restless search for newspaper coverage. Walker would recall, "I didn't realize what an ordeal it was going to be. I was in good shape. I played a lot of tennis and I figured, well, anybody can go out there and walk. And I found out that it just is not that easy, particularly on concrete in the middle of the summer. So we underestimated it very, very much. We had a lot of problems."
Had we the wit to realize it, the first two years of the Walker administration could have been predicted from the haphazard, make-it-up-as-we-go-along way that he organized his walk. Mr. Walker got blisters as punishment; Illinois got Jim Thompson.
NOTE: Earlier versions of this piece had me warming myself in the fragrant exhaust from the ovens of the Mel-O-Cream doughnut shop on 11th Street. My oasis was in fact the Gold-n-Glow.
Contact James Krohe Jr. at KroJnr@gmail.com.