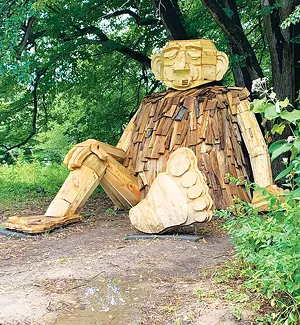 Visually impaired individuals can now more fully enjoy Lincoln Memorial Garden (LMG). The Educational Center for the Visually Impaired (ECVI) partnered with LMG to install beacons that trigger highly descriptive audio narratives about the garden's history and points of interest through an AWARE app developed by Sensible Innovations in Chatham. The technology works with smartphones; however, bone conduction headphones (available in the nature center) were purchased to enhance the experience. One point of interest is the giant troll. This is an excerpt of the narrative:
"In front of you...sits a large nine-foot-tall by nine-foot-wide sleeping wooden troll. This sculpture was inspired by the Danish artist, Thomas Dambo, and constructed by...high school students during the ...Summer Art Camp sponsored by the Springfield Art Association. The sculpture is made completely out of pine, oak and walnut wood...The troll is leaning up against a large tree. His left leg is stretched out while his right leg is bent and supports his arm...His left foot is pointing to the sky at a relaxed angle while the other foot invites visitors to sit on top of his right foot...He has a large square nose and a snaggle-tooth that peeks out between his lips...His eyes are closed as if he is enjoying a quick nap."
The ECVI helps visually impaired people live safe, independent and fulfilling lives and be a part of the community. A $3,000 Access to Recreation grant from the Community Foundation for the Land of Lincoln helped make this project possible. LMG executive director Joel Horwedel endorsed this idea when presented by Peggy Dyson, ECVI executive director. LMG is committed to enhancing access to all visitors and recently developed an accessible trail near the nature center.
This new tour will launch on April 29 at an event hosted by the ECVI and LMG.