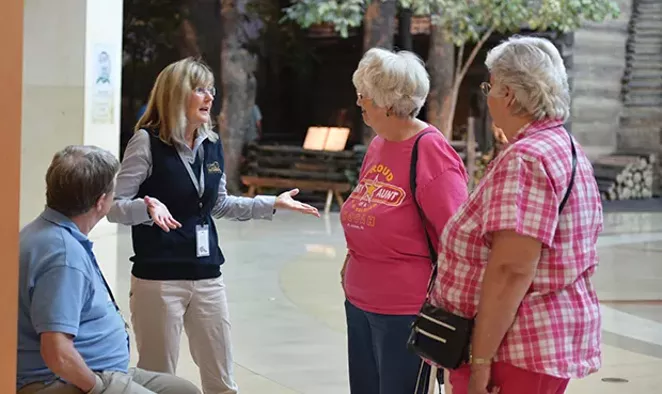 For retirees, to go from having eight or nine hours a day of structured time to waking up to a day of nothing on your schedule is something of a culture shock. Studies show those people with strong connections to family and friends seem to weather the transition best. Volunteering is one way for seniors to stay connected and add a little structure into their week.

Fortunately, in Springfield there are plenty of opportunities. In addition to the more traditional options that exist in almost every community, such as Habitat for Humanity, hospitals and food banks, we have a plethora of tourist sites. More than 300,000 people a year visit Springfield from all over the United States and the world, mostly pulled here by the Abraham Lincoln sites, but also by the Frank Lloyd Wright house, museums and Route 66 landmarks.
Judith Wagenblast has been volunteering at the Illinois State Museum for the past six months and loves it. She admits to struggling with the transition to retirement four years ago. "I had a really hard time the first year, even though I had some projects," she said. "Now, I'm balanced."
She emphasizes that it's important to find a balance between personal projects and low-key time for home. It took a while for her to choose a direction, since she is interested in so many different things. "I have loved the State Museum since I first went there when I was 12," she said. "There are so many places here in the Springfield area that I could volunteer at, but I felt as if they have really gone through some changes in the last few years and they need help."
Giving back is one reason for volunteering. Along with about 105 other seniors, Richard McLane has been volunteering in the play museum at the Illinois State Museum since 2001 and loves it. After a career in the Federal Highway Department, he was glad to be able to spend more time with kids. "The idea is to have them learn while they're having fun," he said.
Dana-Thomas House volunteer Dave Hicks knew he wanted to be a tour guide before he even retired. "I was always a fan of the Dana house," he said. One of his favorite aspects of being a tour guide is meeting people from all over the world.
A large percentage of volunteers are retirees, and the sheer number of volunteers at local historical sites is surprising. The Abraham Lincoln Presidential Library and Museum has around 550 volunteers, the bulk of whom are seniors. The Lincoln Home has 108 volunteers; both require a minimum of eight hours a month. Volunteers can give tours of the Lincoln home or just walk around in period costume greeting guests. For gardeners, there is the opportunity to work in the heirloom garden. "All the produce that's harvested is donated to the local food pantry," said community volunteer ambassador Jared Kaylor.
Volunteers at both places can serve as greeters or ambassadors and give out information on other sites in Springfield. Volunteers who prefer something quieter can work in the reading room of the ALPLM transcribing.
Margo Carlen oversees volunteers for the Old State Capitol, Dana-Thomas House, Lincoln's Tomb, Governor's Mansion and the Vachel Lindsay Home, coordinating more than 200 people. These sites have no minimum time requirements and offer options to be tour guides or greeters.
Volunteers can work their hours around other commitments, travel, and family. Some volunteer the minimum, while others come in as often as they can. "They all love to volunteer," said Jeremy Carrell, director of volunteer services at the ALPLM. "The Boomer generation loves to give back."
Volunteer opportunities
The Abraham Lincoln Presidential Library and Museum will be holding a volunteer orientation on Tuesday, Sept. 25 at 5:30 p.m. at the library. If interested in this one-hour orientation, call 217-558-8872 and make a reservation. This orientation is only offered twice a year.
The other sites mentioned in this article take volunteers year round.
• Illinois State Museum: Call 217-558-8872 or visit www.illinoisstatemuseum.org.
• Lincoln Home: Contact Jared Kaylor at 217-391-3235.
• Old State Capitol, Lincoln's Tomb, Governor's Mansion, Dana-Thomas House: Contact Margo Carlen at
217-720-7509.