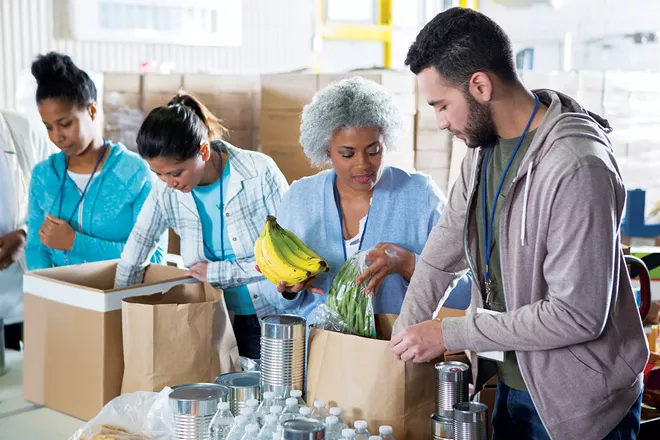 Retirees looking for a way to stay busy while helping others have many opportunities, especially since organizations often need assistance during weekday business hours. Whether you have a certain skill, such as cooking or working with children, or want to focus on a particular field such as medicine, education or tourism, there are a wide variety of ways to become involved.
One way to find a volunteer position, whether for just a few hours or on a more permanent schedule, is to search the United Way of Central Illinois online list (http://volunteer.springfieldunitedway.org ). Organizations post volunteer needs and an individual can find an opportunity of interest.
Cooks might want to provide evening meals, needed 365 days a year, for the residents at Helping Hands Shelter. Meals for 40-50 people need to be prepared at home and brought to the site. (www.helpinghandsofspringfield.org or call 217-522-0048). Evening meals are also needed for families who are staying at the Ronald McDonald House while a child is in the hospital. The family has often had an exhausting day at the hospital and can be comforted with a good meal. (br@rmhc-centralillinois.org or call 217-528-3314).
Both Helping Hands and Ronald McDonald House are also seeking volunteers for other work. At Helping Hands, daytime help is needed for answering phones, arranging appointments, and other administrative tasks. Ronald McDonald volunteers can assist families upon check-in, help with cleaning and more.
Maybe you don't have hours to give to volunteering, but there are still ways to help. Contact Ministries has an emergency shelter at 1100 E. Adams to provide shelter for women with male children over the age of 12 who are often ineligible to stay in other shelters. Taking needed supplies such as towels, bedding, laundry supplies and food donations is appreciated.
Contact Ministries also offers weekly Wednesday morning shopping for 20 women who need clothing and other items. Volunteers can help sort and organize items on Monday and Friday or help with the store on Wednesday (217-753-3939 ext. 12; email executiveassistant@contactministries.com).
If you have a few hours a week, Daily Bread and Meals on Wheels through Senior Services of Central Illinois, are two programs that need drivers to deliver hot meals to homebound seniors. Daily Bread volunteer drivers deliver 20 meals between 9:30 and noon, and Meals on Wheels volunteer drivers deliver 5-10 meals between 11:15 and 1 p.m. (call 217-528-4035).
If you enjoy teaching others, Lawrence Education Center provides high school credit courses and English as a Second Language classes to young adults and utilizes volunteers from Fishes and Loaves to help tutor adults 17 and over with low reading levels (217-529-3333). Principal Kathi Lee says, "Some of our students are reading at a third- or fourth-grade level. The volunteers from Fishes and Loaves provide much needed help."
If you enjoy working with the public, volunteers are needed at the Memorial Hospital Koke Mill site to greet patients and escort them to offices in the building. At Memorial Medical Center, the main hospital, volunteers can join the Escort Volunteer program – escorting patients and visitors and transporting lab specimens and medical records. Daily shifts are available Monday through Friday (www.memorialmedical.com/community/volunteers).
Help in the medical field can go beyond actual patient interaction. Hospital Sisters Mission Outreach needs volunteers to sort, count and package medical supplies that are shipped across the world (217-525-8843).
Want to drive a train? Starting in July, the Springfield Zoological Society will need volunteers to drive the train at the Henson Robinson Zoo (217-585-1821 or email springfieldzoosociety@gmail.com).
Maybe you like riding trains, or you're a history buff or into tourism. The Lincoln Home National Historic Site Trails and Rails Program seeks volunteers to ride from Springfield to Chicago and back on Amtrak, talking about central Illinois, showing props and sharing information (217-391-3221).
Cinda Ackerman Klickna is a retired educator who lives in Rochester and enjoys finding ways to give back to the community.