Funk's Grove is a sweet spot, especially for those looking for some tall perspective in these pandemic times. Just off I-55 some 15 miles south of Bloomington, the place offers pure maple sirup, a museum full of minerals and towering trees looming over an outdoor chapel.
Those trees and their ancestors have been around through some significant history in the area, settled in 1824 by Issac Funk. Still-standing Civil War-era structures, the birthplace of commercial hybrid corn and the midpoint of Route 66 in Illinois make Funk's Grove unique.
While you wait for all COVID-19 restrictions to lift, your best bet is watching fifth- and sixth-generation Funks tap maples to collect sap for their premium sirup, according to Debby Funk, who heads the operation with her husband, Mike. Sap collection continues until the weather turns warm and the trees start to bud. "That ends the season because the sap has an off-taste," she explains.
Funk says that in normal times, visitors would be welcomed into the sugar house to see the sap turned into sirup, but the family doesn't want to take any chances this year. Visitors also can't go in the gift shop but can buy sirup and other maple products at the walk-up window.
The family loves continuing the tradition, including the different spelling of syrup, Funk says. "We're able to make really good maple sirup that we know people appreciate. It's an actual product that customers can see how it is made and know where it comes from."
The 2,000 gallons of sirup produced each season sell out in August or September, she says. Funk's Grove gets visitors from around the world, many of whom are traveling nearby Route 66.
Any time of year, visitors can find a serene respite at the Chapel of the Templed Trees, where ancient timbers form a leaf ceiling over American Red Elm-log pews and a stump for a pulpit. The open-air setting is popular for weddings and as a place to commune with nature. Some of the trees host inspirational plaques and are part of an 18-acre nature preserve within the larger Funk's Grove, one of the largest remnants of virgin forest in Illinois and a National Nature Landmark.
Nearby is the Funk's Grove church and cemetery, further documenting the area's history. Two generations of Funks in 1864-65 built the church from white pine shipped by railroad from the east. Horse and hog hair helped bind together the plaster ceiling. Today's visitors, limited by COVID-19 restrictions to appointments, can view such original features as the Funk's Grove walnut ceiling beams, altar rail, pulpit and pew dividers used to separate men and women.
Walking paths and a covered picnic shelter grace the grounds.
Another good place for walking is the seven miles of foot trails at Sugar Grove, just down the road and open from dawn to dusk. Several patches of restored prairie grass, woods, birds and a creek provide interest, and all but one of the hiking trails are dog-friendly. Children can explore nature at the outdoor Imagination Grove with a climbing tree, lookout tower and creek access. A corn crib and restrooms are open too.
In non-pandemic times, the Nature Center building is home to native wildlife such as reptiles, amphibians and insects and hosts educational programs, blacksmith demonstrations and star gazing.
Also awaiting pandemic subsiding is the Civil War-era Funk home, museum and restored pre-Civil War barn. Bill Case, tour guide and historian for the three sites, is eager to welcome the public back, once things open up more in Illinois.
"We are an historic house and there are many, but the difference here is that the 13 rooms are wide open and almost everything in the house is original," Case says. "It tells the unique story of a family that has influenced the whole world" with the first commercial sale of hybrid corn in 1916.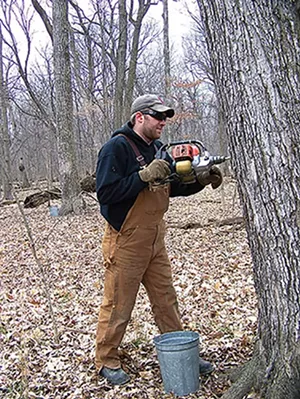 Lafayette Funk Sr. finished the house in 1864 as a wedding gift to his fiancée. Case notes that Lafayette Sr. helped start the state fair, boosted the University of Illinois College of Agriculture and served as a director of the Union Stockyards in Chicago. His eldest son, E.D. Funk, and E.D.'s cousins started the seed company.
It was Lafayette Funk II, one of E.D.'s eight children, who traveled the world collecting thousands of minerals and opened the museum to house them and his other collections. Today the building includes a fossil room, a Native American artifact room, an ultraviolet room for fluorescent minerals and multiple cases of rare Chinese carved soapstone.
Visitors can look at antique buggies, sleighs and saddles. The Funks also were famous for raising Percheron draft horses, Case says, and a wing off the museum houses horse-drawn farm equipment. The restored barn has stalls inhabited by goats and sheep today.
Once tours open, visitors can enjoy them for free from the beginning of March to the end of December except for Thanksgiving and Christmas days. Case recommends making reservations.
For information about Funk's Grove, go to www.funkspuremaplesirup.com (sirup making and sales), www.funksgrove.com (area, church and cemetery history) and www.funksgrove.org/PrairieHouse (tours of house, museum and barn). For information about Sugar Grove, go to www.sugargrovenaturecenter.org.
Mary Bohlen, a Springfield travel writer, first visited Funk's Grove as a child.