You can find information about almost any kind of history in the small town of Benton. This is where Charlie Birger, the Prohibition-era criminal, was the last person to be hanged in Illinois, as well as the town where the first Beatles record was heard stateside. Come to this southern Illinois hamlet, tour the sites then head further south. Stay at the Irish Inn and savor the beauty of Bell Smith Springs in the Shawnee National Forest. Make plans now before summer heat sizzles and energy fizzles!

Car buffs will love the Franklin County Garage. The building was built in 1910 and was a former Ford dealership in Benton. The dealership has been restored to its original condition and features autos and memorabilia of the era. For those fascinated by the Prohibition-era gangster Charlie Birger, they can see his car, a 1912 Ford Model T, on display. Convicted of hiring a hit man to kill the mayor, Birger was hanged on April 12, 1928. Birger is just part of the gangster history of this area. He has an almost Robin Hood-like romanticized past and his story reads like a Life Time Movie.

The Franklin County Garage was the first car dealership in southern Illinois. "Cars came in on rails. They would bring them here and put the wheels on them and take them out to be sold," the tour guide says.

The museum includes other beautiful cars, like the 1916 Dort, of which there are only 50 or so still in existence, and a 1914 Hupmobile. These cars were built in Detroit by Hupmobile from 1908 to 1941. "Everything here is local," the guide added about the beautiful automobile collection.

What about that Beatles connection? George Harrison's sister, Louise, was living in Benton when George spent two weeks here in 1963. While in town, Harrison played with a local band, the Four Vests, at the Eldorado VFW hall. George had sent a copy of the song She Loves You to his mother, who passed it on to his sister. She was able to get station WFRX to play the tune and it was deemed to be the first playing of Beatles music in the U.S.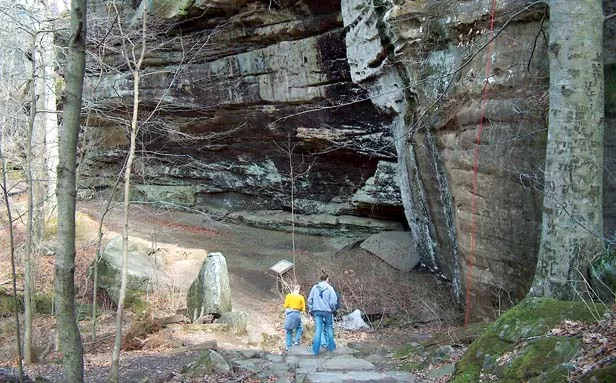 About a week later during his visit, Louise got George a gig on WFRX and George was interviewed by the station. At the Historic Jail Museum and Franklin County Tourism Bureau they have a room that includes that radio interview. The museum is the former jail and today serves as the home of the Franklin County Tourism Bureau. According to the website, "This beautifully restored 1905 structure houses memorabilia of the gang era from the days of Prohibition, as well as mementos from famous Benton natives, including General John A. Logan, actor John Malkovich, NBA basketball star Doug Collins, and Beatle George Harrison, who visited his sister in Benton in the summer of 1963."

While visiting Benton, head downtown, where at least three antique shops offer a variety of antiques and collectibles.

Benton is just an hour or so northeast of the Irish Inn outside of the town of Ozark, Ill. This great bed and breakfast sits on the edge of the Shawnee National Forest and is a fun place to stay. Lynn McCreery and her Irish-born husband, Brian, include information about the inn on their website http://irishinn.tripod.com: "We are located right in the Shawnee National Forest near the Tunnel Hill State Bicycle Trail, Bell Smith Springs, Burden Falls, Dixon Springs, Ferne Clyffe, Garden of the Gods, Jackson Hollow and Falls, vineyards, wineries (nearest are Hogg Hollow, Bella T, Windy Hill, Cache River Basin and Shawnee), Lake Glendale, the Ohio River, Trigg Tower, Lusk Creek Canyon, Millstone Bluff, and other beautiful natural sites. Stay in a stone and log chalet, cool in summer with blazing log fires in winter. You will enjoy the company of a genuine Belfast-born innkeeper, and there is no extra charge for the blarney, storytelling and good Irish luck!"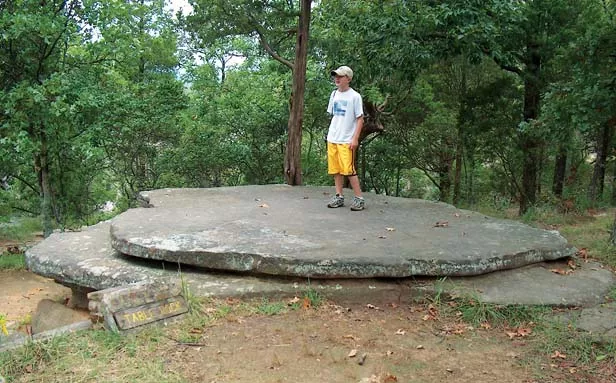 One of the McCreerys' favorite places to tour in the Shawnee National Forest is Bell Smith Springs. The USDA, which administers the national forest, provides this description: "Bell Smith Springs is one of the most beautiful recreation areas the Shawnee National Forest has to offer. It contains a series of clear, rocky streams and scenic canyons bordered by high sandstone cliffs and an abundance of vegetation unique to Illinois. The trail system consists of eight miles of interconnected trails featuring strange and wonderful rock formations, such as Devil's Backbone, Boulder Falls and a natural rock bridge. Hiking this system of trails is a favorite activity because of the rock features, scenic overlooks, hidden springs and lush flora and fauna."

The USDA website (USDA.gov) also offers a map depicting the springs and campgrounds. Keep in mind that Bell Smith Springs is just one of many lovely sites and the Irish Inn is just one of the places to stay for the night, if you like to camp or stay in cabins, and would like more details about what to see and do, check with the Southernmost Illinois tourist board at http://www.southernmostillinois.com.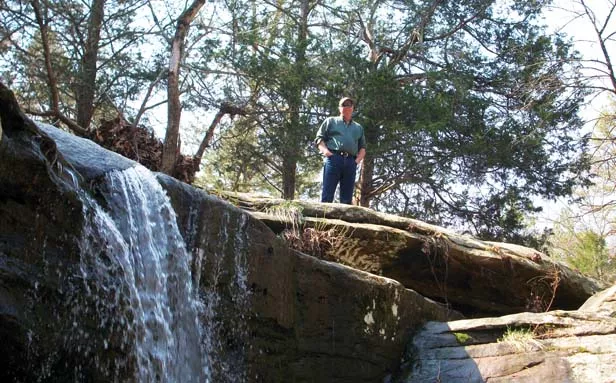 Cindy Ladage, who lives on a farm outside of Virden, works part time for the state of Illinois and is a freelance writer.