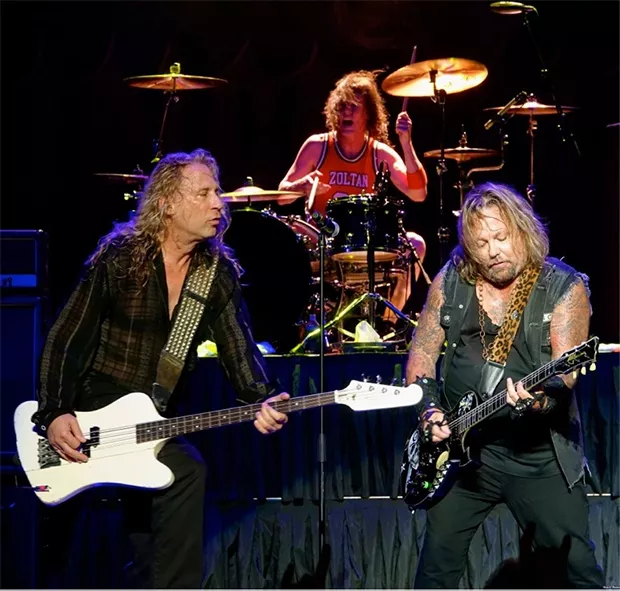 Megadeth was originally scheduled to perform at the Illinois State Fair Grandstand for Friday, Aug. 9. However, not long after the announcement was made public, lead singer and band founder Dave Mustaine was diagnosed with throat cancer and immediately canceled the tour for health reasons.

A replacement tour was soon found to fill the date. Vince Neil, lead vocalist for Motley Crue, along with 80s hit-makers Autograph ("Turn up the Radio"), as well as the all-female band VIXEN, were booked.
.
Autograph took the stage first with singer/guitarist Simon Daniels (replacing original vocalist Steve Plunkett), who seemed to add a bit of intrigue and energy to the lead vocalist position and not once missing a beat.
VIXEN was next to take the stage and came out of the gate hot with Lorraine Lewis on lead vocals (replacing original vocalist Janet Gardner) and owning the stage and crowd. VIXEN closed out their portion of the show with the hit, "Edge of a Broken Heart."
Both openers had about 30 minutes to perform their sets, and Vince Neil took the stage at 10:15 p.m. with his touring band. The band consisted of Dana Strum on bass, who played in the late 80s band Slaughter as well as The Vinnie Vincent Invasion, Jeff Blando on lead guitar and my personal favorite, Zoltan Chaney on drums. Chaney has set a whole new standard as far as percussion goes and is a show in himself. The band played everything from "Shout at the Devil" to "Wild Side " during its roughly 60 minute set.
This tour, being a last minute addition, was poorly attended even at $17 a ticket. The organizers decided to utilize the whole open track for this event, instead of a VIP area, and it definitely made the experience more enjoyable as it allowed everyone to interact and enjoy the show without being confined.
The Grandstand act for Saturday, Aug. 10, is Bad Company with Foghat opening. Check www.illinoistimes.com for a review following the show.