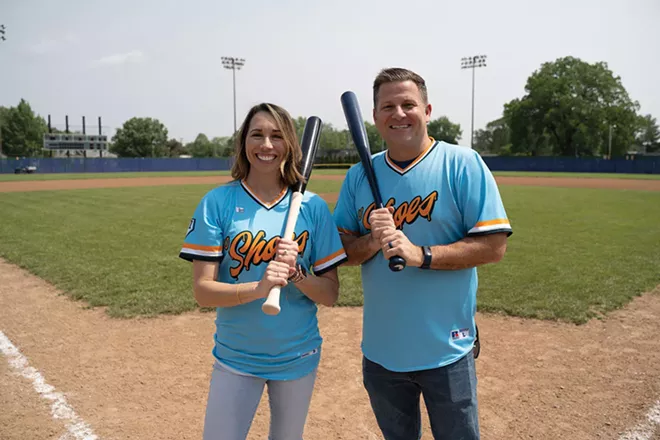 It may be the first team in the history of American sports named after an open-faced sandwich.
Jamie Toole and his wife, Melissa Gaynor, who head Springfield's Lucky Horseshoes, say it is an example of how the new baseball team is determined to be community-oriented.
They received hundreds of suggestions for what to name the team that they and several other investors recently acquired. But they settled on naming it after a uniquely Springfield cuisine.
They passed over some more Lincoln-centric names such as The Stovepipe Hats and the Rail Splitters.
"The 'name the team' was so fun," Toole said. "Before I moved here, I thought a horseshoe is just what it is: a horse's shoe. And then we tried them. You can probably tell that's why I've got the extra 20 pounds. I've tried every one: Dublin Pub, D'arcy's, Obed and Isaac's and Steak 'n Shake."
While the previous baseball team, the Springfield Sliders, also featured college players in a summer wood-bat league, Toole said the community should be prepared for radical change.
"For the last several years they've been selling baseball, and I believe we're not selling baseball. I believe we're selling entertainment," he said. "We're selling community. We're selling bringing people together. Let's connect on the nine things that we agree on out of 10. And so for the one thing that we don't agree on, we don't have to hate each other."
To fulfill this idea, Toole turned to an unlikely source: a professional wrestler.
Jeff Jarrett, a career wrestler and promoter, also is a part owner of the team. He contends that the focus of every baseball game should be entertainment and building community.
"At professional wrestling events, we want you to come experience it, not be just a spectator. It's not just about what happens in the ring, or in this case, what happens on the field. We truly want you to experience the marketing, the merchandising, the concessions and be super engaged," he said.
This coming season will feature a variety of celebrity appearances such as professional wrestlers Road Dogg, Jerry "The King" Lawler and Kevin Wallace. NASCAR legend Kenny Wallace will visit as well.
"We have all kinds of attractions. A guy getting shot out of a cannon from centerfield is going to land on home plate. We've got a world-famous juggler coming. It will be all kinds of entertainment – just like professional wrestling," said Jarrett.
The concessions will feature Springfield-area foods such as horseshoes in miniature baseball helmets, a beer garden highlighting area craft brewers, milkshakes from Krekel's Custard and a host of other local flavors.
Toole said he hopes to attract more fans into the stands by having Springfield-area athletes on the field.
"We live in a hotbed for good baseball," Toole said. "I can't believe how good Lincoln Land and UIS are. And they are on the rise. Junior college kids are some of the best players in the country. So, selfishly, I want those kids to stay home and play. We want the best kids in our area.
"Let's say you go to LSU (Louisiana State University) and you're away from home, and you're down there working hard every day and going to the gym, going to class. Oh, and then they assign you to go play summer ball in this community that's off in some other place. Eventually, there's some homesickness, and you want to go back home and see friends and family. Summer wood-bat leagues have a lot of turnover. This gives a local kid a chance to stay home and sleep in his own bed. If they are comfortable, they're more likely to stay the season."
The players will not be paid, but housing can be provided with host families, he said.
"Outside of getting a paycheck, they basically have the same experience that they will in the minor leagues. It's a preparatory league," he said.
The Horseshoes will play at Robin Roberts Stadium, which is next to Lanphier High School. Mayor Jim Langfelder said the new investment by the Horseshoes' ownership is a part of the revival of North Grand Avenue.
"This group is very energetic," he said. "And they each bring different talents to the table in their areas of expertise. Jeff Jarrett has experience with WWE wrestling. And then Jamie Toole's been involved with the minor league system, so they know what they're doing."
Before the first pitch is thrown, the Horseshoes have been able to pencil something into the win column: sponsorships.
Local businesses such as O'Shea Builders have stepped forward with money to back the team.
"Baseball is their platform, not their purpose," said Mike O'Shea, president of O'Shea Builders. "And that sealed the deal. It's the kind of thing O'Shea Builders involves itself with: charitable giving and involvement with the community. They're great people. And they have come out swinging – no pun intended. They have come to Springfield to make a difference and bring Robin Roberts Stadium back to life with really good baseball and entertainment for all ages."
Scott Reeder, a staff writer for Illinois Times, can be reached at sreeder@illinoistimes.com.