The black tent was the closest shelter. I was worried about my phone and purse contents. Folks were crowded under the Myers Building overhang. It was really starting to pour. The sky was dark. Two people under the black tent trying to paint the pavement welcomed me. Ah, lucky me I thought, nice folks.
Scanning down the street, I didn't' see my gang. I noticed a painted square nearby by Zara's. It was finished. No one was in sight and rain was washing away the masterpiece.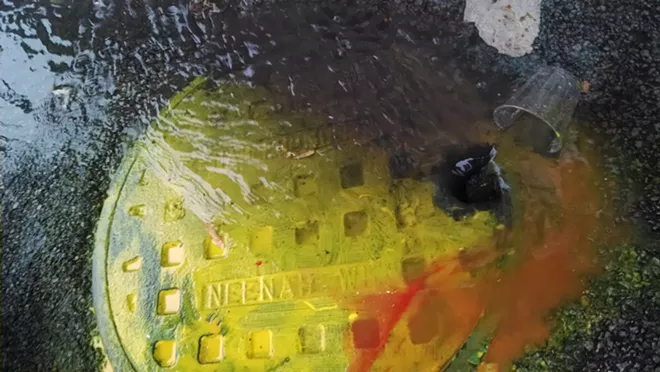 The colors were running into the paint under the tent that was keeping me dry and into what I now spied as from Bob Evans.The wash of paint and water was intriguing me.
But my people -- Where were my people? My people were nowhere in sight. At the gate they said they hadn't arrived yet. Wait … is that Nan? James? The blue tent was only half way erected. My people were there the entire time as I stood waiting out the storm. Their project once started was now washed away.
Saturday started off hot but sunny and beautiful. As would be with Mother Nature, she decided to wait until Springfield Art Association's Paint the Street started before throwing in the rain, thunder, lightning and wind.
Folks sought out store alcoves and overhangs. I meet three other friendly folk and two great looking dog buddies. Meet Midas the yellow lab and his people.
And here's Joe Blankenship and his buddie, Vider, a German Shepherd. I found out Joe Blankenship's Dog Class had purchased a square and Midas's mom and dad were painting it. Joe is a certified dog trainer specializing in obedience, problem solving, agility classes, therapy classes, socialization and grooming. His website is www.joeblankenship.com.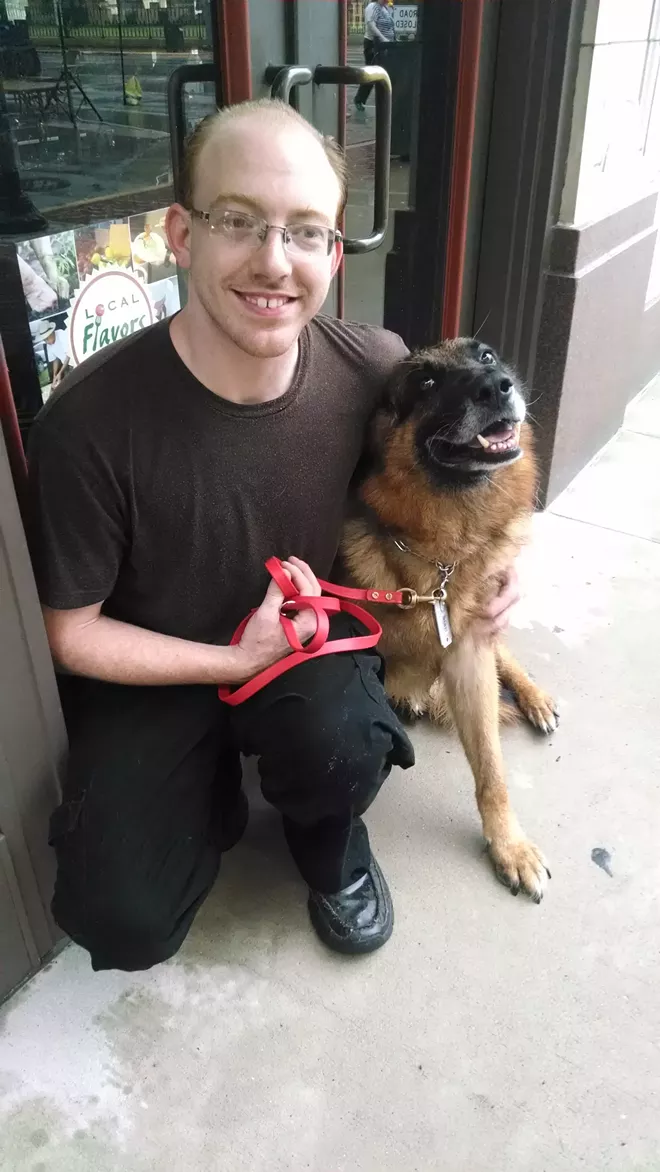 I love art. I love dogs. I think many folks do. One of the best parts of functions such as this is meeting new people. New people – and new dogs.
James took this photo below of the tattoo guys finishing up their square. Above is the IT logo washed away. We tried! Hope to see you out and about soon.
Send poems and blog ideas to astienstra@yahoo.com.