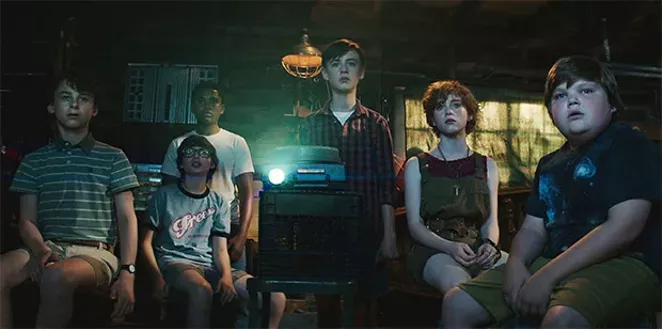 Having gone through multiple directors and various screenwriters, Stephen King's It has finally made it to the big screen, an event that's been a long time coming for those disappointed with the lackluster 1990 mini-series that, inexplicably, has a cult following. As helmed by Andy Muschietti, whose only previous feature, Mama, was long on atmosphere but short on story, this adaptation is not without its problems. It's overlong and fails to build any sense of momentum due to its narrative structure, yet the film manages to accurately capture the sense of childhood innocence that's precious and all too easily corrupted and is buoyed by the fine work of its young cast.

Derry, Maine, is a town in which evil is allowed to thrive due to the indifference of those who live there and a tragedy in its past that's cursed the community. Child abductions are far too frequent here, the latest victim being 6-year-old Georgie Denbrough (Jackson Robert Scott) who follows his errant paper boat down a sewer during a rainstorm and encounters a malevolent clown named Pennywise (Bill Skarsgard). After toying with the poor boy, this embodiment of evil savagely rips his arm off and drags him away.
Without question, this opening sequence is very well done and the film never really tops it, though not for lack of trying. It proceeds in fits and starts – as seven preteen outcasts – Richie (Finn Wolfhard), Bill (Jaeden Lieberher), Ben (Jeremy Ray Taylor), Mike (Chosen Jacobs), Eddie (Jack Dylan Grazer), Stanley (Wyatt Oleff) and Beverly (Sophia Lillis) – set out to track down Pennywise and must venture into his supernatural turf.
Muschietti does his best to generate a sense of suspense, but the screenplay, which is credited to three separate writers, hampers him. Though the film only covers the first half of King's massive tome, which runs more than 1,000 pages, it was obviously a daunting task to adequately cover the author's many themes and subplots. Writers Chase Palmer, Cary Fukunaga and Gary Dauberman include the novel's seminal moments but there's a lack of cohesion, as well as feeling, throughout. As Pennywise exposes and torments each of the film's heroes with their deepest fears, Muschietti pulls out all the stops to jolt us out of our seats, the jump scares proving effective more times than not.
However, there's very little in the way of sincere emotion at play here. While we sympathize with the plight of these young characters, the screenplay provides few opportunities where we come to care for them. Thankfully, the cast brings an unaffected enthusiasm to their roles, and the movie's best moments are those in which they interact, a natural humor emerging from these scenes that acts as a nice counterpoint to the manufactured scares.
As for Skarsgard, it's obvious he's relishing the chance to tackle this iconic role, and he makes the most of the opportunity. There's a malevolent glee to his line readings and movements that you can't help but chuckle at due to his enthusiasm. Computer generated effects are seamlessly added to his performance, the character's supernatural shenanigans rendered in a natural manner that makes Pennywise all the more threatening.
In the end, It is an effective, if flawed, thriller that gets by on the charm of its cast, the sense of camaraderie they project, and its memorable villain. What with It, Part 2 in the works, here's hoping a more cohesive screenplay will be written that will provide the solid emotional underpinning lacking here.
Contact Chuck Koplinski at ckoplinski@usd116.org.