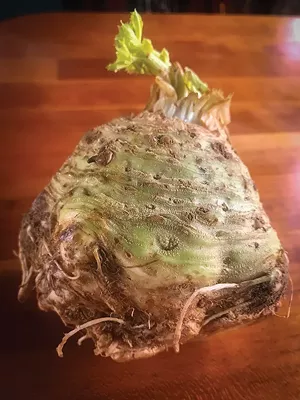 If you've not yet met celeriac, allow me to introduce you. Celeriac, also known as celery root, is the ugly duckling of the produce aisle. It is a bulbous, knobby root with a rough, brown, gnarled exterior. Unlike traditional celery, which is bred for the stalks, celeriac is bred for its roots. The stalks of celeriac are very fibrous and practically inedible, but hidden beneath the root's gruff exterior you'll find a slightly sweet, slightly nutty-flavored white flesh, tasting like a cross between celery and parsley. Celeriac is not widely used in the U.S., but it's quite popular in Europe. In France, celerie remoulade, a cold mayonnaise-based salad, is as common in the markets as potato salad is here.
Celeriac differs from most root vegetables because it is not very starchy, making it a great low-carb substitute for potatoes. Celeriac is high in soluble and insoluble fiber, both of which are essential for colon health. Celeriac is one of the best sources of vitamin K available, which may reduce risks of bone fracture. One cup of celeriac provides 80 percent of the daily recommended value of vitamin K. Celeriac is also very high in Vitamin C.
Celeriac is at peak during the cool months of fall and early winter, and keeps very well. If stored between 32 and 41 degrees and not allowed to dry out, it can last for as long as six months. It is usually harvested when it's three to five inches across, but it can grow to the size of a cantaloupe.
It can be enjoyed raw, especially grated and tossed in salads, a benefit for people with an aversion to the stringiness of celery. Raw celeriac's rather intense celery-like flavor can tend to dominate in salads, so it's best paired with other strongly flavored fruits and vegetables, such as carrots, beets and apples.
Celeriac can be roasted, stewed or blanched. Its flavor profile pairs well with thyme. If you're craving the comfort of mashed potatoes but are trying to cut down on carbs, try mashing celeriac. Or lower the carbs of your mashed potatoes by using half celeriac. It will impart a sweet, herbal taste to your mash. Celeriac mash makes a delicious topping for a cottage or shepherd's pie. If you're craving pasta, and zucchini zoodles just don't do it for you, you can spiralize celeriac. Celeriac even makes damn good french fries.
To peel celeriac, a sharp knife works better than a vegetable peeler. To accomplish this safely, cut off a bit of the top and bottom with a chef's knife, and stand it upright on your cutting board on one of the flattened ends. Remove the tough skin by cutting downward, working your way around the root. Once peeled, celeriac's white flesh will start to turn brown. This can be prevented by keeping it submerged in acidulated water (2 cups of cold water with 2 teaspoons of white vinegar or the juice of ½ lemon) until ready to use.
Celeriac remoulade
Celeriac remoulade is a quick and easy-to-make classic bistro salad.
Serves 2-4
Ingredients
½ cup mayonnaise
1 teaspoon Dijon mustard
2 tablespoons fresh lemon juice
½ teaspoon sea salt, plus more to taste
Freshly ground black pepper
1 celeriac (about 1 pound)
Preparation
Combine the mayonnaise, mustard, and lemon juice, salt and a few grinds of black pepper.
Peel the celeriac and grate it on the big holes of a box grater.
Mix the dressing with the grated celeriac. Add additional salt, pepper, mustard or lemon juice to taste.
Serve cold. The salad will keep for up to 2 days in the refrigerator.
Celeriac soup
Serve warm or chilled, Vichyssoise-style
Serves 4
2 tablespoons unsalted butter
2 tablespoons olive oil
1-2 leeks, white parts only, coarsely chopped (or substitute a medium onion)
2 garlic cloves, thinly sliced
Kosher salt
1 large or 2 small celeriacs, peeled and cubed
4 cups chicken stock (low sodium if store-bought)
2 cups water
1 teaspoon white pepper
teaspoon cayenne
In a large pot, melt the butter with the olive oil. Add the leeks or onion and a pinch of salt and cook until translucent, about 5 minutes. Add the garlic and cook for another 2 minutes.
Add the celeriac, stock and water. Bring to a boil, then reduce to a simmer. Cook until the celery root cubes are soft and easily pierced with the tip of a knife, about 45 minutes.
Remove the celeriac and half the cooking liquid and puree in a blender or with a stick blender. Season with white pepper and cayenne. Add salt to taste. Thin as needed with the remaining cooking liquid.
Celeriac mash
Try this low-carb alternative to mashed potatoes or use as a topping for a cottage or shepherd's pie.
Serves 4
Ingredients
1 large or 2 small celeriacs
1 cup heavy cream
2 cups chicken stock (low sodium if store-bought)
1 bay leaf
1 sprig thyme
1 teaspoon kosher salt
3 tablespoons cold unsalted butter, cubed
Freshly ground black pepper
Preparation
Peel and cut celeriac into 1-inch cubes.
In a saucepan, combine the celeriac, cream, chicken stock, bay leaf, thyme and a pinch of salt. Bring to a boil, then lower heat to a simmer until celeriac is tender, about 20 minutes.
With a slotted spoon, discard the bay leaf and thyme sprig and transfer the celeriac into a blender. Add about half of the cooking liquid and puree on high speed. Slowly add the cold butter cubes a few at a time until incorporated. If mixture is too thick, thin with some of the remaining cooking liquid. Season to taste with salt and pepper.
Roasted celeriac steaks
Roasting celeriac gives it a meaty bite and unique mellow flavor. Scoring the steaks allows the marinade to penetrate and the centers to cook evenly.
Ingredients
½ cup red wine
cup olive oil
1 tablespoon smoked paprika
¼ cup soy sauce
1 tablespoon maple syrup
½ teaspoon dry thyme
½ teaspoon freshly ground black pepper
1 large or 2 small celeriacs
Preparation
In a small mixing bowl, whisk together the wine, olive oil, smoked paprika, soy sauce, maple syrup, thyme and black pepper. Put ¼ cup of the marinade into a resealable bag. Reserve the remainder for basting.
Wash and dry the celeriac. Slice into ¾-inch slabs, and carefully slice off the outside skin. With a paring knife, score the top of the slabs with shallow lines ½-inch apart in a cross-hatch pattern. Place the celeriac slabs into the resealable bag with the marinade.
Preheat the oven to 350 degrees. Line a baking sheet with parchment. Remove the celery root steaks from the marinade and place on the tray, scored-side up. Brush the surfaces with some of the reserved marinade and put the baking sheet in the oven.
Cook for 15 minutes, then turn over and brush with more marinade, and cook for another 15 minutes.