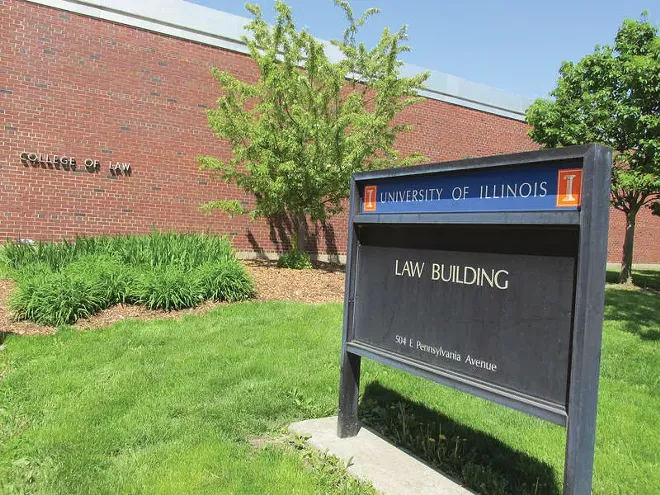 A University of Illinois at Urbana-Champaign law professor has been found in violation of the university's sexual misconduct policy. That's according to internal investigative reports from late last year, obtained by Illinois Times through a public records request.


The law firm hired by the university to investigate new claims against Jay Kesan from 15 women suggests that "significant employment action be taken" against the tenured professor.


A former student lodged a complaint against Kesan with the university in November 2018, a month after prior sexual harassment allegations became public.


After receiving new investigative findings from the Office for Access and Equity, the dean of the College of Law recommended in February that the university pursue "serious sanctions, up to and including dismissal."


Kesan disputed the findings in a statement to Illinois Times. He wrote that the report "makes no attempt to be fair or neutral."


According to a university spokesperson, Kesan has not been allowed at the College of Law for over a year and is on paid administrative leave. His last reported salary was $238,183.21.
In a statement, the university said the matter is under review and stressed it aims to provide a safe environment for students, faculty and staff.


The initial investigation


The university faced criticism over its handling of the initial complaints against Kesan. Reform efforts followed, including the formation of a UIUC committee on faculty sexual misconduct.


At a #MeToo forum in October 2018 at the College of Law, Kathy Lee, an Urbana resident with friends in the law school, asked what was being done to protect students from Kesan's behavior, which was the first time allegations were publicized.


A university report was subsequently uncovered by media that detailed allegations from three women of harassment. A letter noting claims of unwanted sexual behavior was also uncovered, dating back to 2002.


In 2017, the university told Kesan to undergo training and that he had to miss out on pay-bumps for a period of time.


A university finding of sexual misconduct likely would have come with more severe sanctions, but his behavior – including unwelcome touching, inappropriate sexualized comments and "ogling" – was not at the time deemed "severe or pervasive" enough to qualify as sexual misconduct.


After calls for his resignation, Kesan wrote a letter to the law school community admitting to and apologizing for the conduct described by victims. He stated he would take a voluntary unpaid leave for calendar year 2019.


Kesan had been scheduled to return to teach in January 2020. However, weeks before then, it was announced he would instead be placed on "university-sanctioned leave."


New claims against Kesan


The most recent investigations include details from "as many as 14 different people" over a period "as long as 15 years."


There are two reports. One involves claims from a former student detailing "a series of actions in 2014 of a sexual or gender-based nature," including prying into her personal life, repeatedly urging her to meet with him privately, and running his fingers on her bare skin "from about two inches above (her) knee, to very close to her hip" while parked in a car.


According to that report, Kesan said he did not recall the incident. The investigator said the touching bordered on sexual assault. Kesan was found in violation of both the sexual misconduct policy and code of conduct as a result of the woman's claims.
The reports, authored by attorney Peter Land of law firm Husch Blackwell, state that while on leave in 2019, Kesan underwent counseling and learned that he "needs to be more cognizant of how he is perceived."


Kesan testifed he often gets close to people when speaking as he is hard of hearing. When asked why complaints were coming from women as opposed to men, Kesan answered, "It could be that the problem is me."


Land found Kesan also violated the sexual harassment policy in one other instance, per the account of former student Jessica Lanford.


Lanford, who was also a witness in the initial investigation, said she was approached by the university's Title IX office in March of 2019 to again give testimony. She said she was wary of the issue once more coming into her orbit, as the initial outcome was disappointing.


"I had the first time around really felt that I was doing the right thing by sharing what had happened to me, that I could trust the officials at the university to do the right thing with information that I was sharing," she said.


Throughout the past year, she remained hopeful that this time the university would "get it right," that is, find Kesan in violation of policies and issue serious sanctions.
Kesan wrote to Illinois Times that Lanford's claims had already been part of a previous investigation and questioned why a new decision was reached.


The initial investigation into Kesan took more than two years. The latest effort took more than six months. University policy says investigations should be completed within 60 days when possible.


Reform efforts


In the midst of the #MeToo movement, universities across the country have been grappling with how tenure protections and other factors unique to higher education – like heightened power differentials – can enable bad behavior. Kesan's situation has drawn national attention as some argue it exemplifies gaps in current policies.


UIUC law professor Robin Kar headed the committee tasked with researching best practices and suggesting ways to change the university's investigative and disciplinary processes for faculty.


It found complaints about the time investigations took were widespread. "We concluded that the expeditiousness of these processes was something we needed to improve," said Kar.


The committee also suggested the sexual harassment policy broaden what it considered qualifying behavior, and that the university hire more confidential advisers to work directly with victims.


Last year, an investigation by NPR Illinois and ProPublica found that UIUC faculty who had violated university sexual harassment policy in recent years had their reputations protected.


Some were put on paid leave for months. Some signed nondisclosure agreements with the university, in which the university promised to keep the details of their departures secret unless required by law.


It's not only victims who have a close eye on what policy changes the university needs.
One is Kathy Lee, whose friends formalized complaints with the university years ago. "The reason they came forward was because they want to see change for people in the future,"Lee said. "And they did not feel that anything had changed for the future."


Those friends include Lanford. Having reviewed the new investigative report provided to her by Illinois Times, she said, "I absolutely agree with the findings, but I'm concerned that procedurally there's continued confusion."


Contact Rachel Otwell at rotwell@illinoistimes.com. Mary Hansen of NPR Illinois contributed to this report.


If you have been a target of sexual harassment or assault, you can reach a person trained to help at the National Sexual Assault Hotline: 800-656-HOPE (4673) or online.rainn.org.